It was a show of superlatives. The IAAPA Attractions Expo 2017 in Orlando boasted the biggest ever attendance, a packed out exhibition floor and smiling faces all round.
By Owen Ralph
November 13 to 17 was certainly a great week for IAAPA as it began its 100th anniversary celebrations. During the Kickoff Event at Attractions Expo on Tuesday morning, audience members witnessed a ceremonial groundbreaking (below) for the association's new global headquarters in Orlando. But it was the show itself at the Orange County Convention Center (OCCC) that really made the earth move.
Beating last year's record-breaking attendance by more than 10% – 39,000 Vs 35,100 – was quite an achievement. IAAPA is on a roll. Even as its trade shows in Europe and Asia continue to thrive, the 'mothership' in the theme park capital of the world still has considerable pulling power.
Sponsors of the IAAPA Attractions Expo 2017 included:
Platinum: accesso, DOF Robotics, Dynamic Attractions, LDP, Picsolve, Proslide and Zero Latency. Gold: Holovis, Polin Waterparks, Thinkwell, Vekoma, Wartsila and WhiteWater. Silver: JRA, Kraftwek Living Technologies, RWS Entertainment Group and The Nassal Company.
The Expo is the focal point of the year for many attractions industry professionals, not just those in parks and FECs. In line with IAAPA's ever-expanding membership, it also attracts representatives from zoos, aquariums, museums and more. Attendees can 'shop' the show floor. They can sit on multiple panel discussions and presentations from industry leaders and experts. And while doing so they can enjoy privileged access to world-class attractions.
Just your typical booth at IAE17. VXF Creates
Networking with the Na'vi
A highlight this time was Thursday night's IAAPA Celebrates at Pandora – The World of Avatar event at Disney's Animal Kingdom. As many as 3,000 professionals got to mingle among the Na'vi in the new land and enjoy its bioluminescent rainforest and two stunning attractions to full effect after dark. And of course Expo attendees could network extensively with industry colleagues old and new across the week.
The IAAPA Attractions Expo 2017 pumped an estimated $51.3 million into the local economy. That's over a million dollars for every official hour of proceedings. But of course a lot of action also takes place outside the trade show and conference, whether that's at the many evening events, breakfast meetings or simply in the hotel lobby.
"It was a great show, and a testament to the healthy state of the industry," Andreas Andersen told Blooloop, fresh from being inducted as IAAPA chairman for the coming year. "I enjoyed every minute, meeting colleagues from all over the world. I am quite confident that the Expo has a long and bright future ahead. In the world of digital market places and accelerating change, there will still be a need for the physical meetings."
In addition to Andreas' new role, Amanda Thompson OBE, managing director, Blackpool Pleasure Beach was elected Second Vice Chairman and Extreme Engineering's EVP Phil Wilson was also elected to the IAAPA Board of Directors.
About two-thirds (25,300) of those in attendance were classed by IAAPA as qualified buyers, up 12% on 2016. The 1,114 exhibitor count was a not a record number. However, between them they took up 576,235 net square feet (53,533 sq m) of space – pretty much a sold-out floor.
Alien creature in the laboratory at the pre-show for Avatar, Flight of Passage
Nick Varney keynote
To accommodate all the booths this year, the IAAPA Theater was moved off the show floor and out towards the North Concourse of the OCCC. The room was used for the Kickoff Event, Opening Reception, Brass Ring Awards Ceremony and the GM and Owners' Breakfast with Nick Varney, where the Merlin Entertainments CEO had observations to make about ride queue times, the media and intellectual property.
In total there were 138 education experiences provided during the IAAPA Attractions Expo 2017. These ranged from ranged from seminars and panel discussions to multi-day institutes and symposia and also various behind-the-scenes tours. Highlights from Varney's breakfast keynote, as well as contributions from senior executives to two other sessions, appear here.
During the week, visitors to IAAPA Attractions Expo raised approximately $123,000 for Give Kids The World (GKTW) through fundraising efforts such as a golf tournament, motorcycle ride, fun run/walk, silent auction and individual/corporate donations.
 GKTW's Pam Landwith and her late husband Henri were among three new inductees into the IAAPA Hall of Fame. Joining them were It's a Small World composer Richard M Sherman and Puy du Fou founder Philippe de Villiers.
Quality and quantity
"The show was outstanding. The events were top-notch," said David Rosenberg of Monterey Bay Aquarium, now IAAPA first vice-chair. "This is the only show you can come to and get the diverse presence from all different constituencies in the attractions industry. It inspires new ideas and helps you stay ahead of the curve."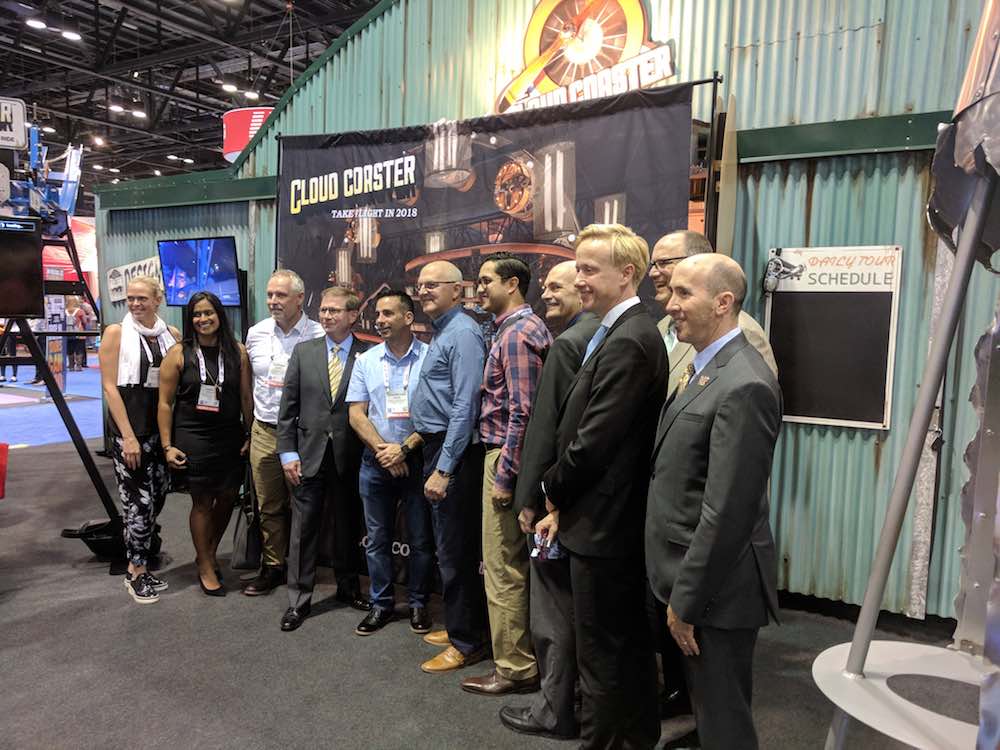 "The industry is busier than ever," said Cale Heit, newly-installed CEO at Forrec. "The quality of projects has improved so much in recent years. People are coming to this show much more knowledgeable. It seemed more global this year too. Everyone wants entertainment, and that's good for us. Is there enough talent in the industry to sustain it all? I think IAAPA and the TEA are already doing a good job growing the next generation of leaders. It's now a question of if we can bring them through quick enough."
Industry trends
As JRA's Shawn McCoy said in his presentation to the Emerging Trends in Immersive Design session on Monday, virtual reality (VR) continues to be employed as a storytelling technique across the industry. A walk across the show floor at IAAPA might lead one to ask "is there anything you can't stick a VR headset on?"
Yet many observers now expect augmented reality (AR) and mixed reality (MR) to have greater long term potential. This is thanks to their ability to enable shared experiences. Which of course is a primary pursuit sought by those visiting attractions with friends and family. "Disney is not a fan of VR, but it is a fan of AR," said McCoy, highlighting a Star Wars game the entertainment giant introduced recently.
An increasing number of ride manufacturers are partnering with media-based technology and content providers. Other companies blur the line between the two. It's also been interesting the past few years to observe several theme park operators from Asia establish media-based attraction divisions. Fantawild, which operates over 20 parks in China, has been an IAAPA exhibitor for some time. A few years ago, the Shenzhen-based OCT Group launched OCT Vision, and has been a participant ever since. Taking up IAE booth space for the first time in 2017 was South Korea's Lotte World with its VR Space offering.
New concepts revealed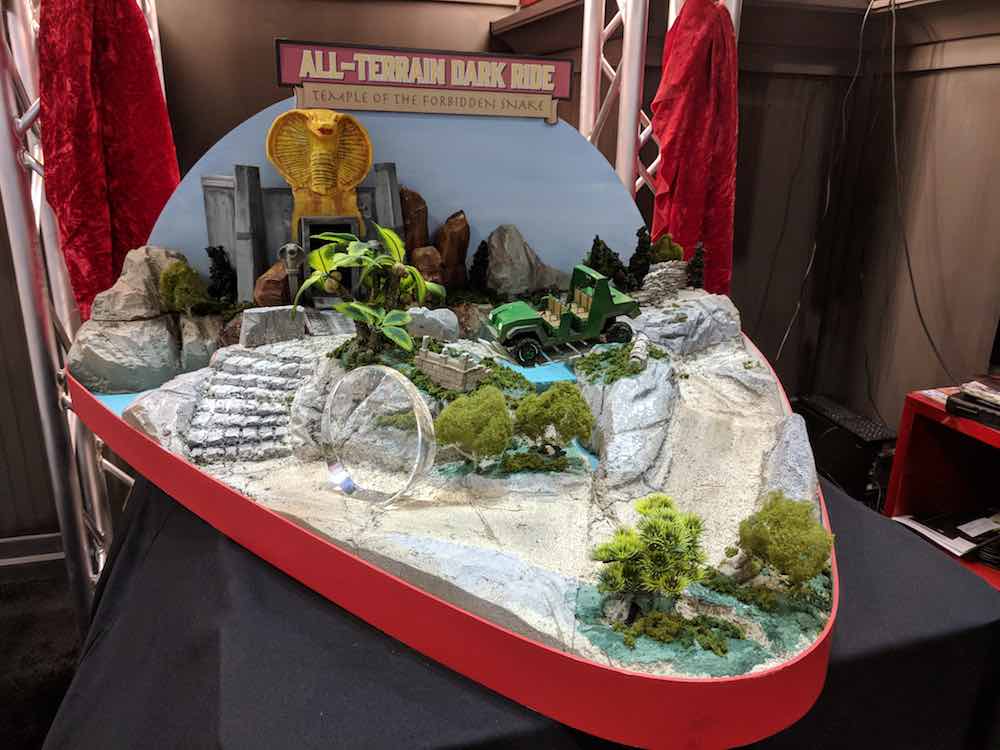 For a third successive year, Dynamic Attractions scooped Best New Product Concept in the Brass Ring Awards, the only company ever to win this particularly category. The recognition this time came for its All-Terrain Dark Ride. This was one of two new products launched by Dynamic, the other being its modular single-seat Flightcycle.
As with the new Q-Ride concept from Taiwanese rival Brogent Technologies, it's clear that these flying theatre specialists are keen to increase not just the scope of their product portfolio but also their client base, targeting FECs as well as top tiers parks and attractions. In Brogent's case, the Ocean Experience VR content demonstrated during the show would be particular well-suited to aquarium facilities.
Holovis chose IAE to launch its new Ride & Realm concept. This combines an interactive, multi-variant dark ride with an app that extends the narrative out across the entire theme park. According to the company's Peter Cliff, "it brings together everything we've done so far." A first installation could appear as soon as 2018. By and large though, buyers in Orlando were seeking out suppliers for projects somewhat further on the horizon.
Ubisoft has long held ambitions to bring its IPs from the gaming screen to location based entertainment.  IAAPA was the showcase for two new virtual reality attractions. The first is a collaboration with LAI Games to create a VR arcade experience based on the Raving Rabbids IP, where the players can set themselves up with the VR headsets thereby reducing the amount of attendant intervention.  The second was a Triotech VR maze, currently with Rabbids IP but Assassin's Creed is coming soon, which has a small but expandable footprint and high quality graphics and game play.
Continuing the VR theme, thanks to Zero Latency for the opportunity to try out the Zombie Survival experience at Main Event V Play Virtual Reality.  The evolution of both the game and the equipment just from last year is impressive and will give this free roam VR experience legs.
Planning ahead
Now at media-based attraction specialist CAVU Designwerks, industry veteran Michael Turner was still enjoying IAAPA after all these years. "This is one of the top shows I've attended — ever, " he said. "The traffic was there right away. People are making decisions quicker to get into suppliers' schedules."
"Buyers know that they have to allow longer lead times these days," said Vekoma's Charlotte van Etten. "We are already looking at some projects in 2022. However we are also developing some new non-coaster products for 2018/19. It seems everyone is busy. We have projects all over the world. I don't think the success of EAS has affected this show, because some people go to all the shows anyway."
For Simworx, which signed an order during the week to deliver the industry's first ever Immersive SuperFlume together with Interlink, it was an IAAPA to remember. "I can't believe our luck," said managing director Terry Monkton. The UK-based firm has secured three times as many orders in the past year as in 2016 and is now fully booked through until June 2019. On top of this, it has secured a £46 million ($61m) strategic co-operation agreement with a Chinese theme park developer. This will see Simworx supply a total 12 attractions to four new parks through until 2021.
Rides at the IAAPA Attractions Expo 2017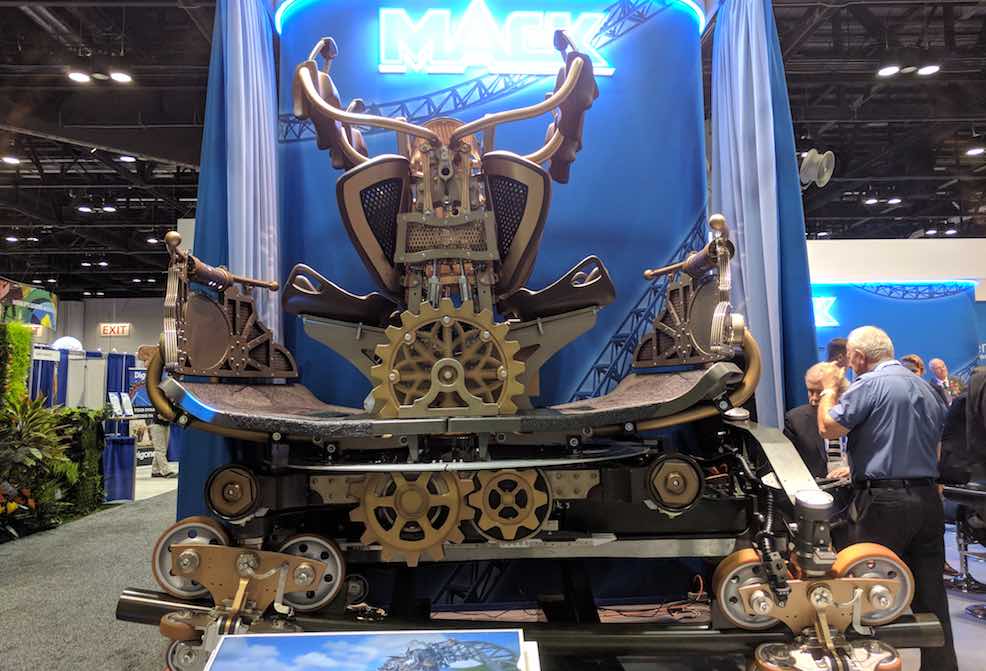 Mack Rides created a lot of interest on its booth when it unveiled a steampunk-themed ride vehicle for Time Traveler. The world's fastest, steepest and tallest spinning coaster will open this spring at Silver Dollar City in Branson, Missouri. Park president Brad Thomas spoke of parent company Herschend Family Entertainment's delight to be dealing with Mack, a family-owned firm with eight generations' experience in the business.
Proudly displayed on the booth of ProSlide was its 16th first place Brass Ring Award. The company's Double TornadoWAVE, as seen at Universal Orlando's Volcano Bay, was recognised as Best Waterpark Ride (US$2m+) for 2017. ProSlide has lots on its books for 2018, including no fewer than 10 water coasters, said Chelsea Hunter.
"It's been a really good show for us," said Intamin vice-president Sascha Czibulka. "We had many good contacts and meetings. I cannot think of another show in recent years where we returned with so many promising leads. I think it is safe to state that we will see a number of high profile Intamin rides in the years to come."
Award time
As well as the new inductees into the IAAPA Hall of Fame, the association chose to honour a further four individuals for their ongoing outstanding contributions. Announced during the GM and Owners' Breakfast on Wednesday morning, the IAAPA Service Award recipients for 2017 were James 'Chip' Cleary, currently with Europa-Park, Ken Whiting of Whiting's Foods, Matt Heller of Performance Optimist Consulting and Ripley Entertainment's Jim Pattison Jr. Meanwhile Chloe Hausfield of JRA was recognised as Young Professional of the Year.
The full list of Brass Ring Award winners is too long to include here, but spanned many categories. From Food and Beverage Service Excellence to Best Live Entertainment, Public Relations and more, multiple parks, attractions and IAAPA exhibitors were honoured. There were notable wins for Polin Waterparks (4 awards for innovative products, exceptional booth design, image and branding), Falcon's Creative Group (for its work on for its work on Heroes & Legends featuring the U.S. Astronaut Hall of Fame), RWS Entertainment (for its Dance Dance Dance: Heartbeat! show at Hersheypark) and two Best New Product Awards for Whitewater.
Also announced during the week were the latest TEA Thea Award winners, who will pick up their trophies from the TEA in April.
Parties at the IAAPA Attractions Expo 2017
The annual Blooloop party was held on the Tuesday night at BB King's Blues Bar. It was kinda fun, so people tell us. Not that we're prone to strumming our own guitar.
Generously supported by Gold sponsors Alterface, Polin Waterparks and American Wave Machines and by silver sponsors Holovis, zoOceanarium, Gateway Ticketing, Geotourist, Picsolve (who also provided photography on the night), The UK DTI and The Deluxe Group, the mapping display (above) was created by LCI productions and powered by Barco projectors.
(For a full gallery of images from the party courtesy of our friends at Picsolve please click here.)
In addition to Chairman's Reception and Opening Reception, there were official IAAPA get-togethers for different regions and industry sectors/constituencies during the week. But the networking certainly did not end there. Multiple other receptions and parties gave Expo attendees the chance to unwind and catch up with industry colleagues once the official business of the day had finished. And that's not to mention the happy hours from various exhibitors before attendees had even left the show floor.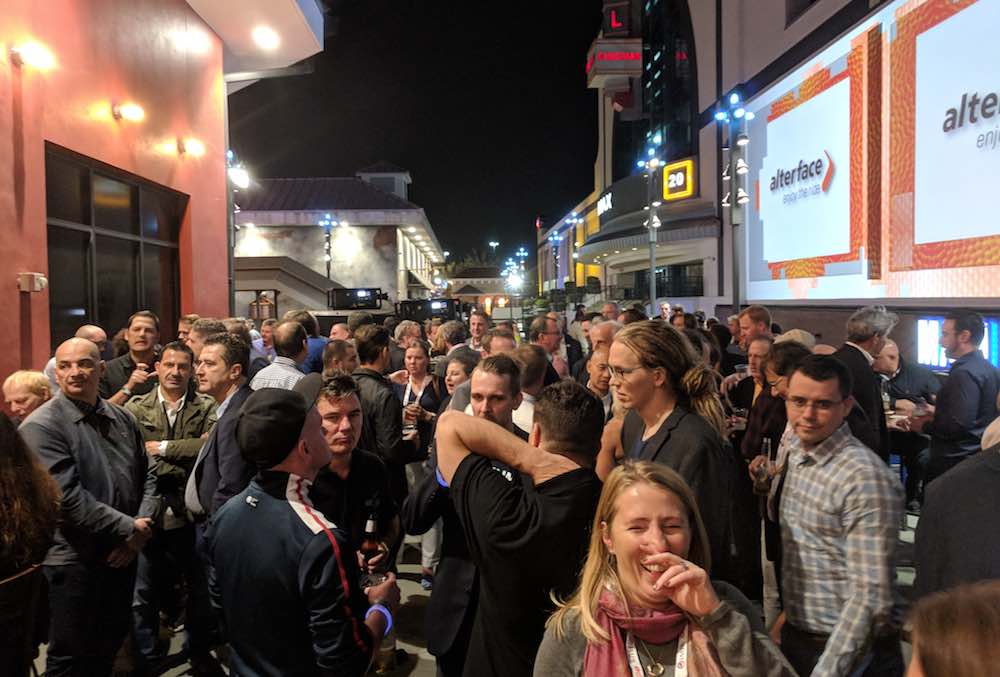 The sheer number of companies and organisations throwing parties this year should perhaps be viewed as a sign of industry confidence. Evening events were staged by Holovis, BALPPA, WhiteWater, Steelman Partners, the TEA, Great Coasters, The Hettema Group and more.  Over at the Hyatt Regency, the good folks at Ripley's and Premier Rides were kind enough again to cater for those who didn't know when to call it a night.
IAAPA Attractions Expo returns to Orlando's Orange County Convention Center from November 12 to 16, 2018.