Located at the entrance to Universal Studios Beijing, the Universal Studios Grand Hotel will be an immersive take on Hollywood's 'Golden Age'. NUO Resort Hotel will be a luxurious offering inspired by China's ancient royal gardens.
"We are proud to welcome guests for a stay at those two extraordinary hotels for a perfect complement for the theme park experience when we open," said Dorian Rommel, managing director of UBR's hotel management branch.
"We're confident that the two hotels will embrace a new level of theme park hospitality that is beyond expectation, along with one-of-a-kind guest experiences and services, as well as create an ideal destination for an urban staycation."
The Universal Studios Grand Hotel is the world's first Universal-themed hotel. The interiors are decorated with posters of famous Universal films as well as behind-the-scenes photos.
World's first Universal-themed hotel
The hotel boasts 800 rooms and suites, including family-friendly accommodations inspired by DreamWorks Animation's Kung Fu Panda. F&B offerings include Universal Studios Lotus Garden and Universal Studios Red Dragon Lounge.
The hotel's Kids' Club features crafts, video games and film screenings at the in-house cinema, which includes director-style chairs and popcorn-shaped stools.
NUO Resort Hotel is designed to feel like a private retreat, surrounded by beautiful gardens with interiors based on Chinese culture, art and ancient royal gardens.
There will be a traditional Chinese tea set in every room and suite, and dining options include a tearoom celebrating Chinese tea culture, as well as restaurants JIA and Café Royal.
Universal Beijing set for May opening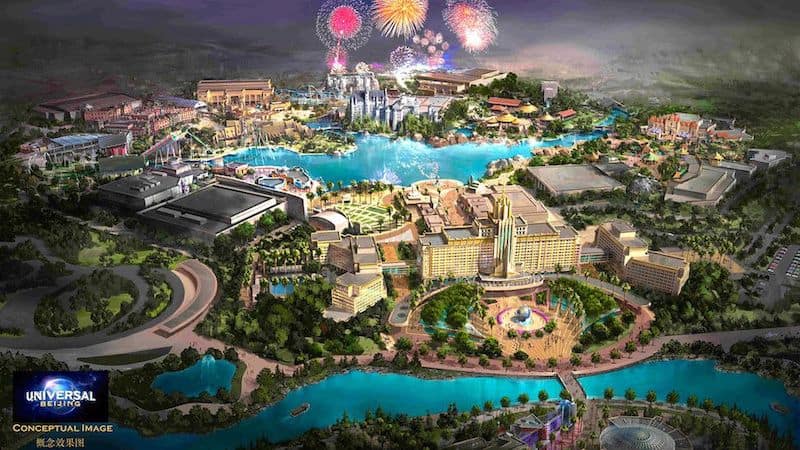 Universal Studios Beijing will boast seven themed lands, including The Wizarding World of Harry Potter, Kung Fu Panda Land of Awesomeness, Hollywood, WaterWorld, Transformers: Metrobase, Minion Land, and  Jurassic World Isla Nublar.
Earlier this year, UBR announced a partnership with Tencent Interactive Entertainment Group (IEG) to integrate Tencent IP into the theme park's entertainment experiences.
It was confirmed in January that construction of Universal Beijing is moving "full speed ahead", with the attraction on track to launch in May 2021. 
Images: Universal Beijing