Nostalgia is a fascinating concept and one that most people can quickly embrace. This is because it creates a link between something new and their own fond memories from the past. Selling the idea of nostalgia is brilliant, but it can also be tricky, especially for theme park chains. Things that may lock in perfectly to the local culture in one location may miss by a mile in another location. 
Lately, we've seen quite a few entertainment properties try to tap into the nostalgic feel of the 1980s, with varying degrees of success. The creators of the hit Netflix series, Stranger Things, have perhaps been the ones who have done it best, followed by several others. For instance, the Cobra Kai series, also by Netflix, as well as Jumanji, Wonder Woman '84 and the ongoing series of Transformers films. 
The rise of theme park nostalgia
Alton Tower's latest promotion for its 2021 season raised my eyebrows with the introduction of The Retro Squad. This trio of Transformer-esque robots has been sent from another planet. Their mission? To help bring more fun to the park by transforming into a trio of high-tech and wild flat ride experiences.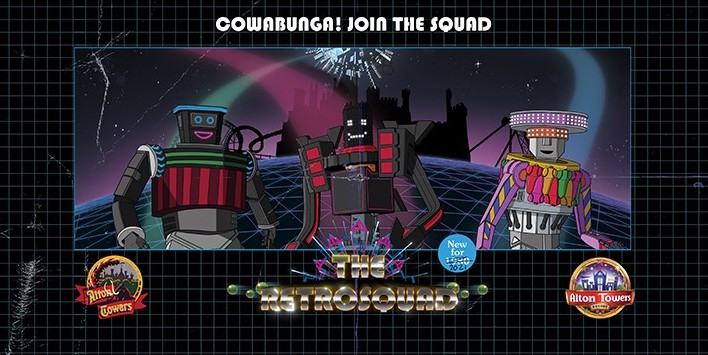 The Retro Squad was introduced with an '80s looking animated promotional trailer and matching musical background score. Based on the attention and comments I've seen so far, it has worked in a glorious fashion. Linked with the pent up demand of theme park fans tired of being in lock-down, the Retro Squad has managed to tap into the fond memories of another time period. One where carefree fun was easily available.
The idea of promoting a small collection of flat rides as a new addition to a modern theme park has been something of a hard sell by today's marketing teams.
In previous decades, parks often added new flat rides more often than roller coasters and had few problems promoting them. But, after years of non-stop promoting new attractions as a "World's First", or as the biggest, longest, fastest (or any other "est" you can think of), the ability to promote more simple, nostalgia-inducing, flat rides to the public seems to have been lost on most theme park marketing departments.
A reminder of the good times
This is where tapping the idea of nostalgia comes in. Often, nostalgia reminds people of good times with friends and family, which is exactly the kind of audience the average theme park wants to attract.
However, the idea is not new. Certainly, Alton Towers isn't the first to successfully tap into this concept. Before the pandemic, Cedar Fair also experimented with this same concept at several of its parks, to great success.
Carowinds introduced a collection of four refurbished flat rides to the park in 2017, in the rethemed Country Fair area. This move was tied in with the re-branding of the park's existing Vekoma Boomerang coaster as an aerial stunt flight team called the Flying Cobras.
The County Fair area was then expanded in 2019 with the introduction of a "Blue Ridge Junction" street. This contains the park's new Copperhead Strike launched coaster from Mack Rides and also sees the return of the park's Larson Flying Scooter ride as the Mountain Gliders. Both attraction zones have been very successful in tapping into the local culture of the Carolinas.
Embracing local history
Cedar Fair has been playing at the nostalgia game for some time, with additions at other theme parks as well. For example, the Route 76 area that the company added to Valleyfair in 2014, or the return of many throw-back elements for Kings Dominion's 40th Anniversary, also in 2014.
In fact, Cedar Fair was going to go for nostalgia in a major way in 2020, before the COVID-19 shutdowns. It had announced both a 100th-anniversary celebration at Knott's Berry Farm and a 150th-anniversary celebration at Cedar Point. Now, these delayed celebrations will take place in 2021, inviting guests to remember and celebrate the long history of each park. 
It would benefit parks in all locations to embrace their local histories by creating areas and attractions in their parks to tap into the fond memories of their local market. And it doesn't always have to be through a ride, though that is a creative way to add a collection of well-budgeted flat rides to your park.
Other ideas are throwback events that celebrate the local food culture. Especially if it can tie into a local holiday or tradition, or a wider one, like Oktoberfest, Mardi Gras or Carnivale.
Surfing, circuses and more
There are endless other fun ideas that could be brought to life in new ways. For example, a celebration of surf culture. In an area with no ocean, this could be done by bringing in some portable wave machines and professional surfers to put on performances. They could even try to teach a few lucky guests in the crowd the art of catching the perfect wave. 
Or what about a circus-themed event? Ever since the Ringling Bros. and Barnum & Bailey Circus retired touring in 2017, we've lost yet another entertainment icon from the days of old, when kids would get excited that "the circus was coming to town."
It wouldn't be hard for a theme park to bring back some circus nostalgia for the summer. Minus the animals, of course. There are plenty of live entertainers out there who have been out of work due to COVID. Performers that would likely jump at the opportunity to perform for the crowds once again. And it certainly wouldn't be a stretch for any theme park to promote the return of fried carnival-style foods and tasty treats with a circus theme. 
Theme park nostalgia helps to test the waters
Want to take it further? It wouldn't be a bad time to add some new rides to your park. Even if they were just temporary additions leased from a well-vetted travelling carnival ride company. After all, this is what Alton Towers is doing for 2021.
This nostalgia concept also serves as test marketing, helping theme parks determine what kind of attractions the local market likes. Solid guest reactions to these kinds of additions could be a great help in plotting out possible future permanent additions.
In the end, I see this as a continuation of what some of the most innovative parks managed to do in 2020 by hosting a variety of special events and celebrations at their parks. After all, creativity and innovation are still at the heart of the themed entertainment business.