Following Blooloop's round-up of new attractions for 2018, we take a look at some of the freshest family rides this season.
1) KAMELEN – Tivoli
This new family roller coaster at the famous Copenhagen amusement park replaces an older coaster by the same manufacturer called Karavanen. To increase capacity, Tivoli asked Zierer for a longer train, with eight rather than six twin-seater cars.
The ride is similar in layout to Jungle Rally, installed last season at another Danish park, Djurs Sommerland. However, to accommodate the long train, the lift hill had to be made a little higher. The total track length is 73 metres (240 feet).
Kamelen is one of two coaster upgrades planned this year at Tivoli. In December, a new ride called Mælkevejen (Milky Way) will replace the former Odinexpressen – both rides are powered coasters from Mack Rides.
2 & 3) NØDDESVINGE & MOTORBØLLEN – Fårup Sommerland
The last new attraction at this summer amusement park in North Jutland, Denmark, was purely for thrill-seekers. Now, two seasons after the addition of Hvirvelviden (a Zamperla Discovery), Fårup is catering to younger visitors with two fun new family rides.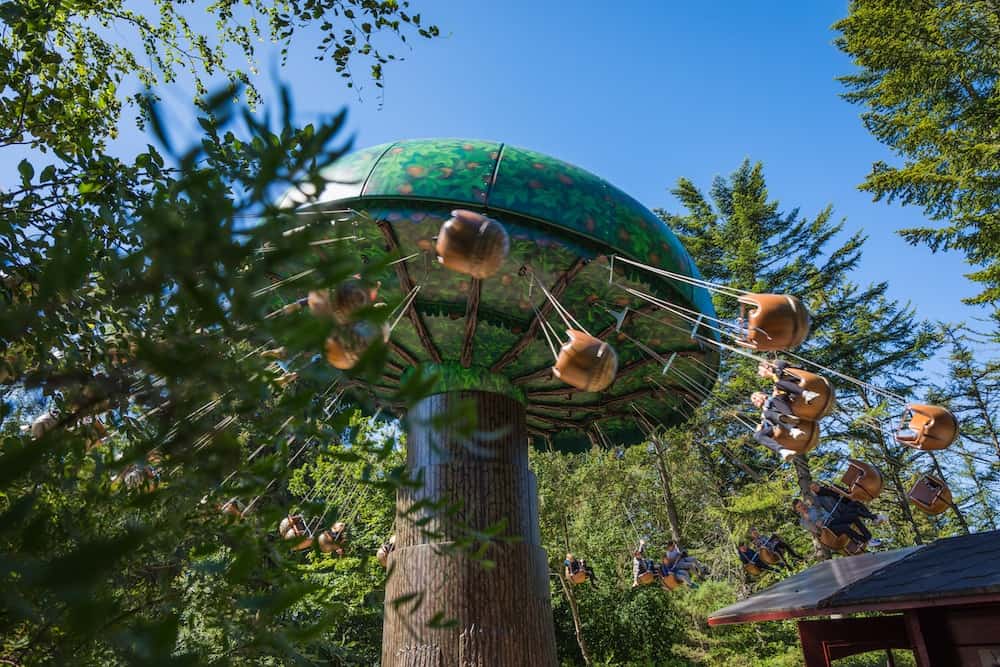 Nøddesvinge (pictured above) replaces an earlier Wave Swinger from Zierer with a custom-themed version that fits the park's forest surroundings. Guests must be at least 1.2m tall to ride. The ride's 24 single seats are complemented by a further eight double seats.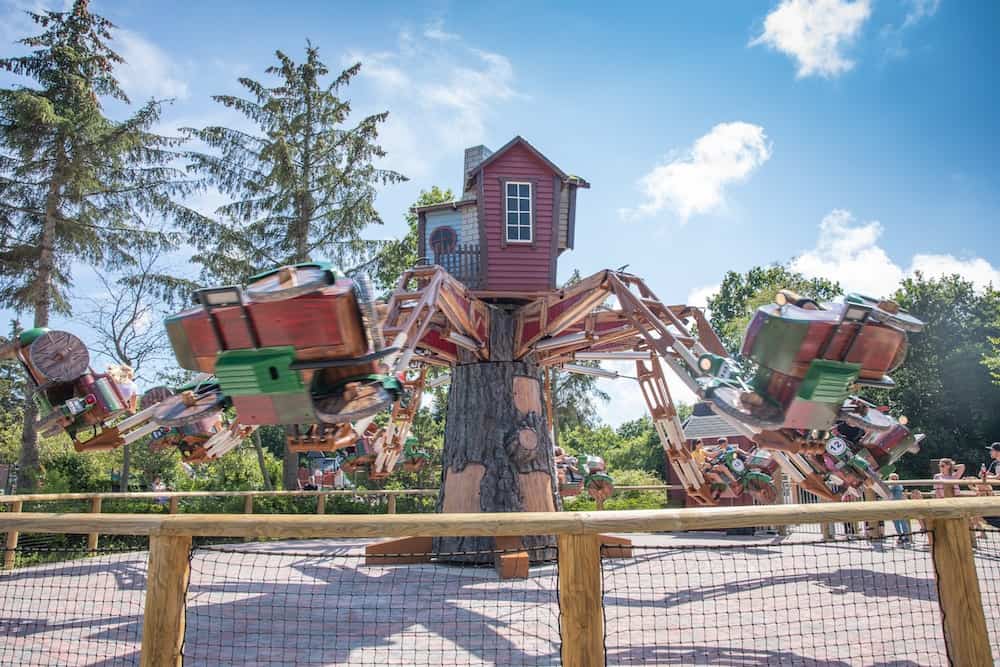 Meanwhile, Motorbøllen, a Sidecar ride by Technical Park (above) is a great attraction for children to enjoy together with their parents. Passengers can control the height of their ride vehicle and sound effects add to the experience.
4) DINO DISK'O – Parc St Paul
After opening a wooden coaster (Wood Express) last season, this park outside the northern French city of Beauvais has added another 'coaster' attraction for 2019. Dino Disk'O isn't technically a roller coaster because it isn't powered by gravity, but it is a lot of fun.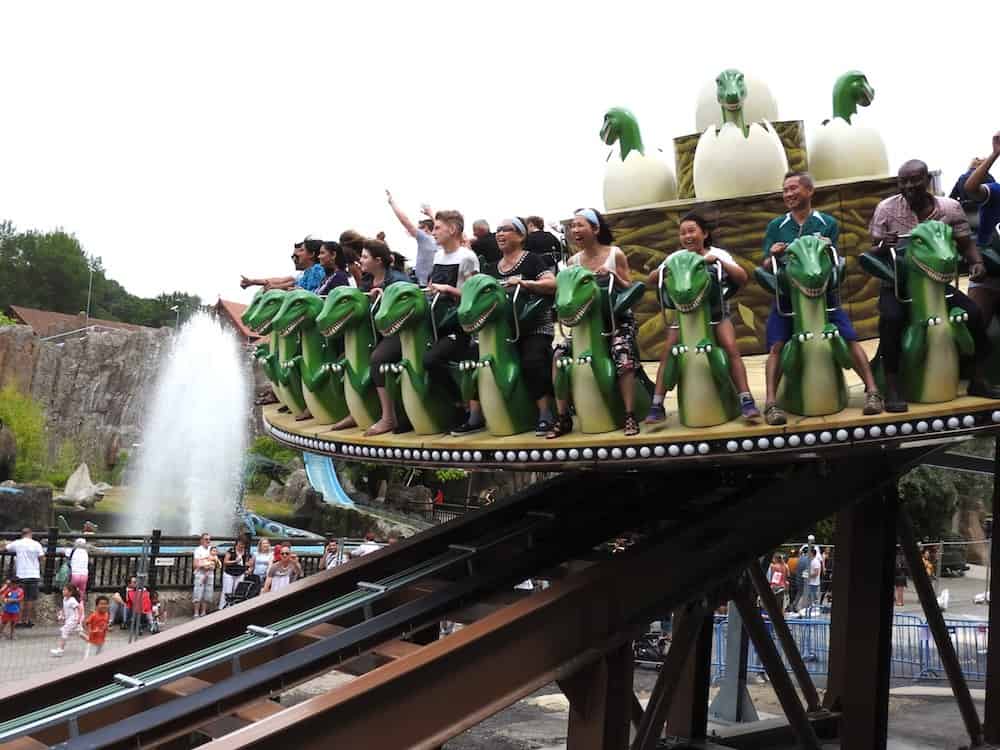 The ride is a Disk'O Coaster from Zamperla featuring 40 mini dinosaurs that riders sit astride on a giant disc. As the disc spins, it travels up and down the undulating track, which features a camelback hump in the middle. This delivers higher G-forces and weightlessness than a regular Disk'O ride.
Although it opened to guests over the first weekend of July, the ride is not yet fully themed. As this design from ABC Decors shows, the finished product should be quite a show-stopper.
5 & 6) ERDBEER-RAUPENBAHN & MELKERTURM – Karls Erlebnis-Dorf Rövershagen
The German strawberry jam maker Karls has branched out into the attractions business in recent years with its Karls Erlebnis-Dorf ('Experience Village') parks. Following the introduction of the potato-themed K2 roller coaster last year at Karls in Elstal outside Berlin, the Karls Erlebnis-Dorf site in Rövershagen near Rostock recently opened its first coaster.
Erdbeer-Raupennahn (Strawberry Caterpillar Train, pictured below) from the SBF/Visa Group is a custom-themed version of one of the world's most ubiquitous roller coasters. This is joined by a second new attraction from the same manufacturer. Melkerturm (Milk Tower) is a 16m (52ft) tall drop tower featuring a rotating column.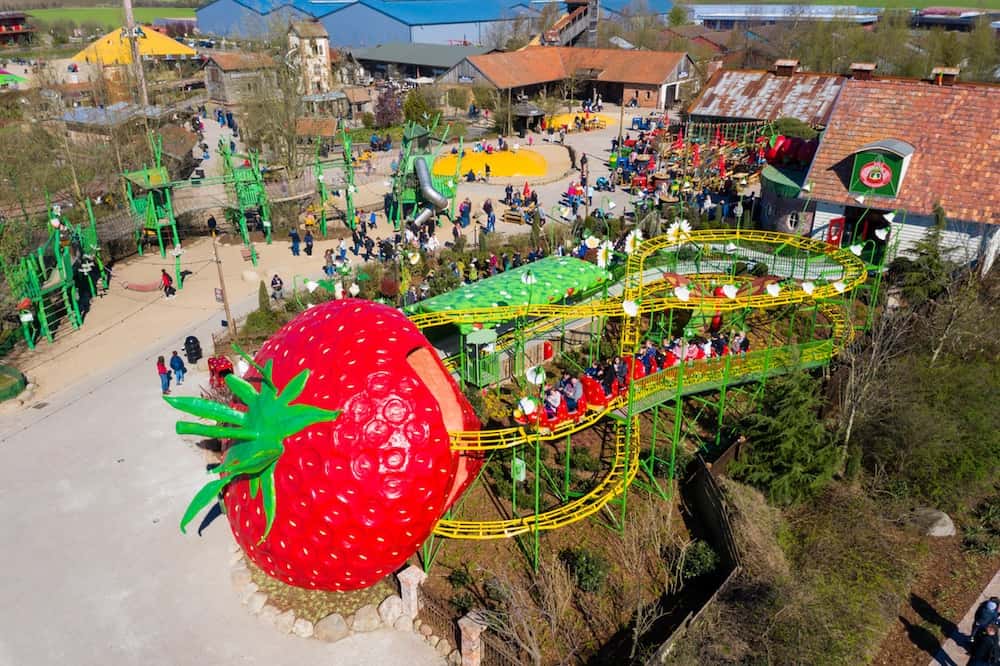 But the family rides don't stop there. In November, the park will open an indoor entertainment centre called BonBon Land. This will feature a family coaster, a slide that children can ride in potato sacks and an interactive tower from Sunkid Heege.
7 – 11) SAUSE-LAND & GUMMIBEERCHENLAND – Karls Erlebnis-Dorf Elstal
Since December, families visiting Karls in Elstal have been able to enjoy an indoor area dedicated to the company's Gummi Bear jelly sweets. Named Gummibeerchenland, it features three family rides from SBF/Visa. These are a kids' freefall tower, autoskooter (bumper cars) and a mini Tagada ride called Beerchen Schleuder (Bear Slider).
A further two rides are featured in the new Sause-Land, namely Erdbeer Drop (a double Nautic Jet from Sunkid Heege) and Löffel Jet (Zierer Jetski). The outdoor area also features a playground. A huge inflatable slide was added in May.
The new attractions keep coming at Karls. Set to open in December will be another indoor area: Marmeladen Land. This will include a Miami ride, spinning jam jars and a shop selling Karls products.
12) THUNDERBIRDS ­– Fort Fun
This Western theme park in the scenic Sauerland region of Germany recently opened a new Native American themed area. Launched on May 29, the centrepiece is a custom-themed Air Race from Zamperla.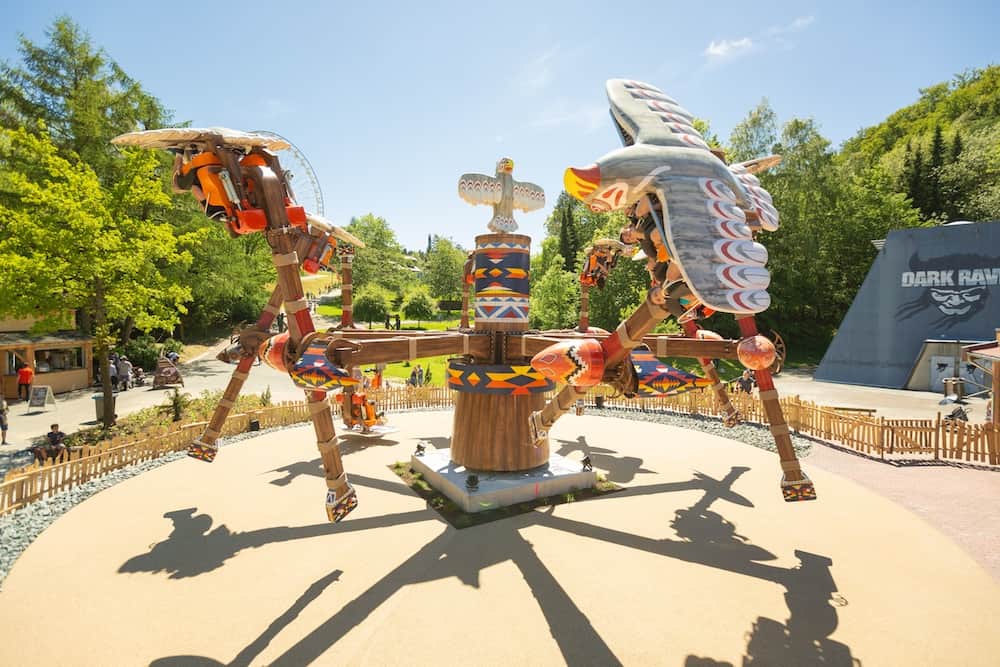 Thunderbirds is at the more extreme end of what you might class as a family ride, delivering acceleration of 3G and both clockwise and counterclockwise rotation. Nevertheless, anyone over 1.2m in height can ride. As the bird-themed ride vehicles perform acrobatics in the sky, special sound effects play. Each of the eight birds seats two people.
The park's owner, the Looping Group has invested over €1 million in the attraction and its theming.
13 & 14) FUTUROPOLIS – Futuroscope
The famous French science and technology theme park has created a new kids area by retheming some of its existing attractions and adding two fresh ones. For younger Futuroscope guests, Futuropolis offers a counterpoint to the park's largely indoor media-based attractions and film shows.
The two new attractions take advantage of the lakeside setting. They are Sauvetage Academy (a Zierer Jetski, below) and Stadium Aqualympique, five four-bed trampoline pods on water by the French company Wao (left).
The above are joined by the rethemed Les Apprentis Pompier (Metallbau Emmeln Fire Rescue), Les Machines de Quo (Sunkid Heege), Mission Eclabousse (ABC Rides splash battle), La Rivière En chantier (water playground by Hüttinger), Les Ailes de Vinci (Zamperla Magic Bikes), L'Ascenso Fusée (Preston & Barbieri family tower) and Graines de Pilotes (a driving school with cars from the Pouzet Group).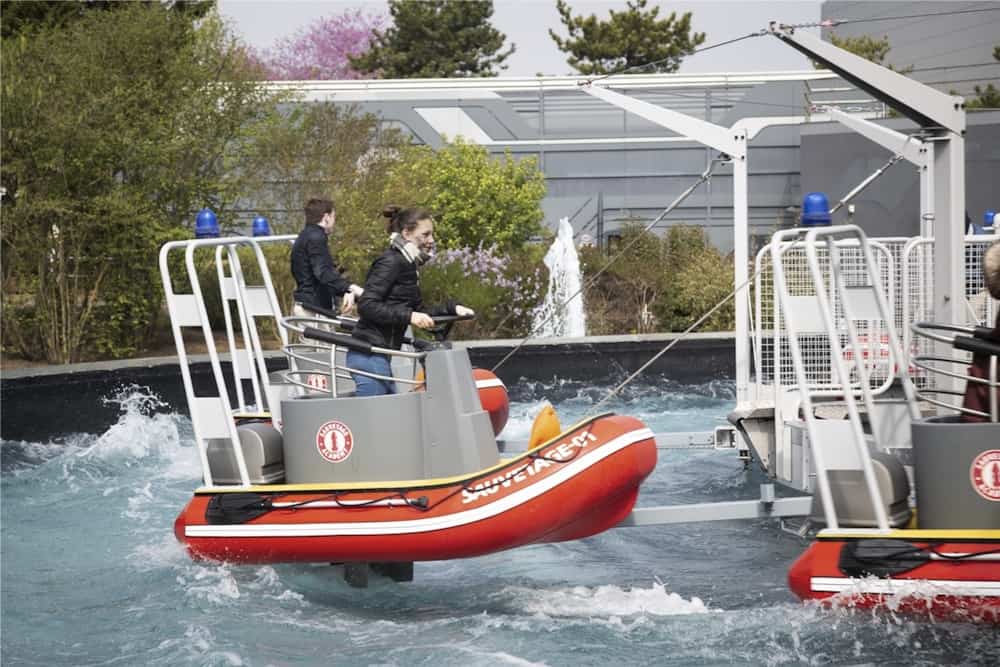 Almost half the attractions at Futuropolis are accessible to children over 0.90m (3ft) if accompanied by an adult.
15) PIERRE DE TONNERRE – Parc du Petit Prince
This attraction, with a name that translates as 'Thunderstone', takes guests of the French park on an intergalactic mission. Passengers will find themselves caught in a black hole as they ride one of five asteroids. Each loses control before racing through a meteorite that apparently crashed into the site of the park in Alsace back in 1492.
The family spinning coaster from Reverchon features a train of five two-seater cars. Guests as short 95cm can ride if accompanied by an adult.
Founded on the site of the former Bioscope park in 2014, Parc du Petit Prince features a variety of rides, play equipment and 4D/VR experiences. Among them are a tethered balloon ride and Aerobar from Aerophile, whose founders are among the park's backers.
16 & 17) PYRAMIDEN RALLYE & WÜSTEN X-CURSION – Legoland Deutschland Resort
Germany's Legoland theme park has expanded its Egyptian-themed area this season with the addition of two new family rides. In doing so, it has increased the former Reich der Pharaonen to 10,700 square metres.
Now known as Land der Pharaonen, the area is home to the existing interactive dark ride (from Mack and Lagotronics) Tempel X-pedition. This is now joined by Pyramiden Rallye, a Fire Rescue from Metallbau Emmeln (as pictured below). A classic interactive attraction found in many Legoland parks, this has been given an Egyptian twist by encouraging young guests to put out a fire at the entrance to a pyramid in order to protect the treasures inside.
The other new ride at is a world-first. Wüsten X-cursion stands 14m tall and features eight balloons, each accommodating four standing passengers.
In the best Legoland tradition, this too is an interactive attraction. Guests can determine the height of their flight (up to 9.7m) and the rotation of the balloon by pulling on a wire hoist. The manufacturer is Ride Engineers Switzerland. Fire burner sound effects add to the experience.
18 ) FLIGHT SCHOOL – Tayto Park
Ireland's Tayto Park continues to add new family rides each season. Last year the family-run business introduced its first steel coaster. Ladybird Loop is a Compact Spinning Coaster from SBF/Visa. New for 2019 is a larger but still family-focused construction called Flight School.
Supplied by Zierer, the Force 281 ride (a reference to the length of its track in metres) features a single train comprising 10 twin-seat cars. During the 1-minute ride, passengers reach a top speed of 46km/h (29mph). The ride's maximum height is 11m. Dublin-based Prop Me Up supplied the signage.
Located in Country Meath, north of the Irish capital, Tayto Park's signature ride remains its wooden coaster Cú Chulainn, which opened in 2015. A fourth roller coaster is scheduled to open, subject to planning permission, in 2021. This will be a large steel construction. Tayto Park is keeping any further details under wraps until the autumn.
19) YUKON WINGS – Le Pal
This theme park located in central France has added a further Canadian flavour to its offering this season with the addition of a custom-themed WindstarZ ride from Zamperla. The interactive attraction is in the Yukon Valley area of the park, which was launched last season with Yukon Flyer, a quad bike launch coaster from Intamin.
Maple leaf flags feature proudly on the hood to each of the ride's 12 hand-glider ride vehicles. Meanwhile, the rest of the structure has been painted to look as if it were built from wood. Passengers 'pilot' their own aircraft by pushing and pulling the control bar above their lap in order to make the gliders go up, down and tilt. Each ride vehicle seats two people, with a minimum height requirement for accompanied passengers of just 1.05m.
More family rides will follow over the coming years in Yukon Valley. With its 2,000 specially planted trees, the area replicates the wide-open natural spaces of northern Canada. Also new for 2019 is Wolf Forest, an animal exhibit.
20) DURCHDGEDREHTE WIRBELSTURM – Family Park
This new attraction at the Austrian park near Lake Neusiedlersee is a Kontiki raft ride from Zierer. Its name translates as 'Crazy Whirlwind' and it is located in the Bauernhof (Farmyard) themed area of the park.
The attraction seats up to 24 passengers at a time and is 22m (72ft) long. Children aged 4 to 7 and over 1m in height can ride with together with an adult.
Now part of the Compagnie des Alpes portfolio, Familypark features a selection of German and Swiss-built attractions assembled by founders and previous owners the Müller family.
21) GRANDE ROUE PANORAMIQUE – Didiland­
Despite their iconic attraction status, not every amusement park features a Ferris wheel. The French park Didiland, located in the northeast of the country, has put that right this season with the addition of a 20m-diameter (65ft) construction from Technical Park. This follows the addition of an Apollo Sidecars attraction from the same manufacturer last season.
Named the Grande Roue Panoramique, the new wheel is accessible to anyone 90cm and taller. It features a total of 16 gondolas, which can be loaded two at a time.
22) RADIOBILARNA – Furuvik
Bumper cars are surely up there with a Ferris wheel, carousel and roller coaster as one of the all-time classic family rides. This Swedish amusement/animal park run by Parks and Resorts Scandinavia had added a track to its line-up for 2019.
Radiobilarna (Radio Patrol Cars) is the generic Swedish name for such a ride. Some parks might opt for a custom-theme. However, Furuvik is not afraid to celebrate the 'Tivoli' spirit. The park ordered the track from Italian manufacturer Gosetto in classic carnival-style together with thousands of LED lights.
The Bertazzon cars were previously used on the Radiobilarna track at sister park Gröna Lund in Stockholm. After a full refurbishment, they are now ready for their new life in Furuvik. Gröna Lund guests missing the bumper cars can console themselves with the fact the ride has made way for a B&M inverted coaster opening in 2021.
23) NUI LAU – Rainbow MagicLand
Located just outside Rome in Valmontone, Rainbow MagicLand opened in 2011 but has new owners for this season. Keen to put their stamp on the park, they have created a new themed area called Tonga. In line with what appears to be a growing trend within the industry, they have achieved this by retheming several existing rides and adding a new one to anchor the area.
In the case of Tonga, the new attraction is Nui Lua, a log flume from Reverchon Attractions. The water ride features two drops and comes complete with a smoking volcano. As several parks retire ageing water rides, it's good to see this Italian venue add such a classic.
The other rides in Tonga were all supplied by the SBF/Visa Group, and have been in place since the park's launch.
24 & 25) DINO SPLASH & K3 ROLLER SKATER – Plopsaland De Panne
Belgium's busiest theme park has given two of its large family rides a new look for this season. The most dramatic transformation is on the flume ride Dino Splash. Formerly known as Boomstammetjes, the Mack Rides attraction now has a prehistoric theme, featuring 15 animatronic dinosaurs and volcano. The renovation of the 30-year-old water ride represents an investment of €5 million for the Plopsa Group. Take a 'ride' for yourself in the video below courtesy of Plopsa Fans.
Meanwhile, Plopsaland De Panne's Rollerskater (Junior Coaster) from Vekoma now has a fresh look thanks to a tie-up with the girl band K3, who are part of the Studio 100 (Plopsa's parent company) portfolio. In July, the park even hosted a K3 Roller Disco Weekend.
Both of these new-look family rides feature themed props from Themebuilders. Dino Splash also has an audio system from Lagotronics Projects.
More family rides: New dark rides at multiple theme parks
Here are five more family rides we haven't detailed above. And they all take place in the dark.
Since early April, visitors to Spain's PortAventura World have been able to enjoy Europe's first Sesame Street dark ride. The interactive Street Mission in the resort's main PortAventura park is a mixed media attraction produced by Sally Corp in collaboration with partners including Alterface and ETF Ride Systems.
This season, Alterface also delivered its first Erratic Ride at Walibi Belgium, featuring the company's in-house IP Popcorn Revenge, as pictured below. This too features ride vehicles from ETF but is notable for its compact footprint and non-linear ride path.
In autumn, the leading German amusement resort Europa-Park will launch a new dark ride called Snorri Touren. Developed together with Jora Vision, this will feature a storyline starring an octopus that lives in the world of Rulantica, which also happens to be the name of the park's eagerly-awaited waterpark.
Walk-through family attractions
Technically Legoland Windsor Resort's Haunted House Monster Party is a dark ride, but not on tracks. The attraction features a walk-through section culminating in a custom-themed Mad House from Vekoma. The walls of the room rotate around the guests. This gives the impression that they are moving, as they gaze at the Lego banquet before them.
And at Chessington World of Adventures Resort, also operated by Merlin Entertainments, families can now enjoy a new walk-through experience called Room on the Broom – A Magical Journey, as pictured above. The attraction brings to life scenes from a storybook penned by celebrated children's author Julia Donaldson. It follows the introduction in 2017 of The Gruffalo River Ride Adventure.
Ride and attractions listed in no particular order. Images courtesy of parks and ride manufacturers featured. Background image: Gummibeerchenland at Karls Erlebnis-Dorf Elstal, Germany.