Adventure tourism and indoor VR attractions have more in common than you might think. Firstly, they are both currently seeing a huge rise in popularity. And also, both have a huge amount of pricing power.
Wonwhee Kim, founder of The Park Database, looks at the trend towards experiences over objects.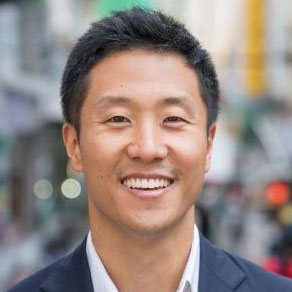 The summer months are here, and adventure tourism is having a moment.  The pricing power of adventure tours is certainly something to consider, as more people go in search of new experiences. Adventure tourism hotspots are emerging in Eastern Europe, Scandinavia, South Africa, and Southeast Asia.
The Park Database has noted the spending power of typical adventure sports tourists. There is an average of $3,000 spent per itinerary (Adventure Travel Tourism Association). These adventurous experiences range from safaris to cultural tours, hiking to kayaking.
Adventure tourism and a new generation of adrenaline junkies
There is something of a generation shift at play, as millennials are in search of meaningful experiences to spend their money on, rather than luxury goods. In Southeast Asia, the average kayaking experience generally costs over $300. Even zipline courses – comprised of 30 seconds on a harness – command prices that average $100.  Many operators have been able to package entire 4-hour experiences based on 'flights' through the treetops, taking advantage of stunning local scenery too.
Whether ziplining, kayaking, snorkelling or biking, attraction operators would do well to consider the rewards of introducing extras that they can upcharge for or designing full packages for a complete experience.
Indoor VR attractions
The popularity and expansion of indoor VR experiences have been consistently on the rise over the past five years. Led by operators such as Zero Latency, the VOID, and VAR LIVE, scores of VR projects have sprouted up globally.  With total control over guest experiences, indoor VR experiences can take up spaces between 200 and 2,000 square meters, on average. However, the VOID has announced projects nearly 10 times the size.
As in all high-growth industries, not all ventures are successful. There are a few notable closures such as the VR Zone Shinjuku, which shuttered less than 2 years after opening.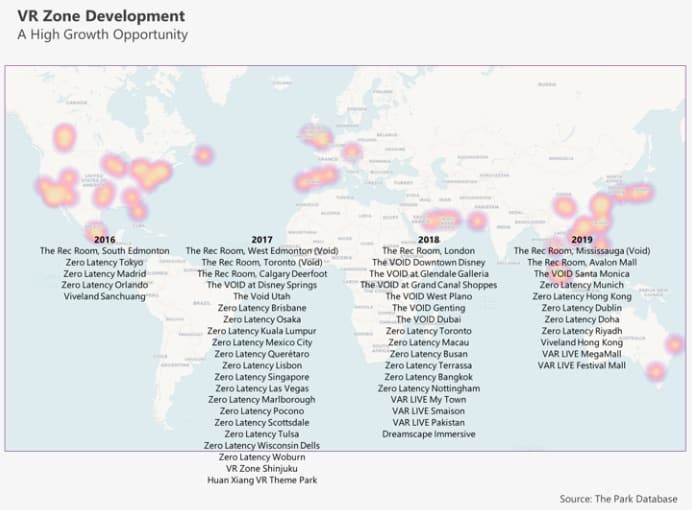 The map above shows the hotspots of VR zone development – although the places where there is an absence of development might be more interesting.