The Park Database team takes a closer look at ticket prices as a benchmark of visitor spending and explores the trend for immersive experiences.
By The Park Database team
What can theme park ticket prices tell us about visitor spending, and where will the trend for immersive entertainment take us?
Ticket Prices
In any feasibility study or evaluation of an attraction's economics, the four variables that are of the highest importance are visitation, spending per visitor, profit margins, and overall development costs.
We like to review ranges for these assumptions periodically. In this case, we're looking at the ticket prices of top global theme parks and waterparks as a benchmark for visitor spending.
The price averages for theme parks skew higher. But, this skew is almost entirely driven by the major brands: Disney, Universal, Seaworld, Cedar Fair, and Six Flags. And there is only a handful of these. For the majority of all other theme parks not in the above list, pricing is virtually equivalent to that of waterparks.
As we've written about before, this implies there is a virtual price floor on these kinds of LBE experiences. And if developing an attraction, a waterpark is almost guaranteed to be more profitable than a theme park, where the development costs are several times higher.
Immersive experiences
Of the trends we've been following this year, the one that excites us the most is 'immersive'.  This is not a  recent trend, but we sense that we are well into the growth phase of this movement.
What are we referring to? Immersive experiences can take many forms, from Instagram museums and immersive theatres to expanded escape rooms and interactive puzzles. They are multi-sensory attractions that offer visitors open-ended exploration opportunities.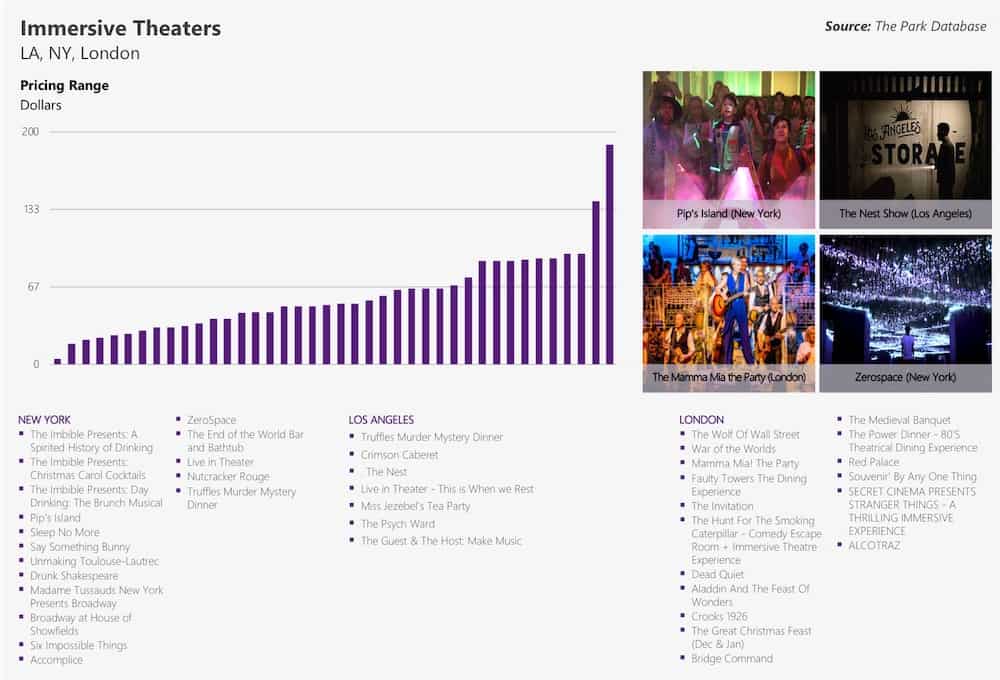 Most are smaller attractions accommodating only a handful of visitors. The average footprint is well under 1,000 square meters, the threshold for a typical FEC. Due to their high engagement though, ticket prices are virtually equivalent to that of theme parks.
Combined with smart marketing campaigns that constantly keep supply under the level of demand, revenues are high. Conditions like these drove up the valuation for the first-mover Museum of Ice Cream to an eye-watering $200 million.
And also, the appeal is global. These attractions have roots in the thespian/cultural capitals of New York, London, and Los Angeles. Now, they have even penetrated the world's largest consumer market (China) in a big way.
Top image: Atelier-des-Lumières– an example of a popular immersive experience. Kind courtesy of Culturespaces, photo credit E.Spiller