Once in a while, we like to take a pulse on the state of the market.  Our industry review uses a Bloomberg terminal to explore the financials of the world's publicly-traded theme park and leisure operators.  Here we've charted revenues and cash flows of the major names, and some things jump out at us immediately.
By The Park Database team
Firstly, Oriental Land Company's towering performance is not much of a surprise, as it owns and operates two of the most popular theme parks in the world – Tokyo Disneyland and Disneysea.
Merlin's revenues place it second on the chart, however, its recent profitability is less so. As measured by free cash flow, it lags behind regional operators such as Six Flags and Cedar Fair.  Although of course, this might be due to its continued expansion. Merlin continues to spend a lot of CapEx, notably for its upcoming Legoland New York.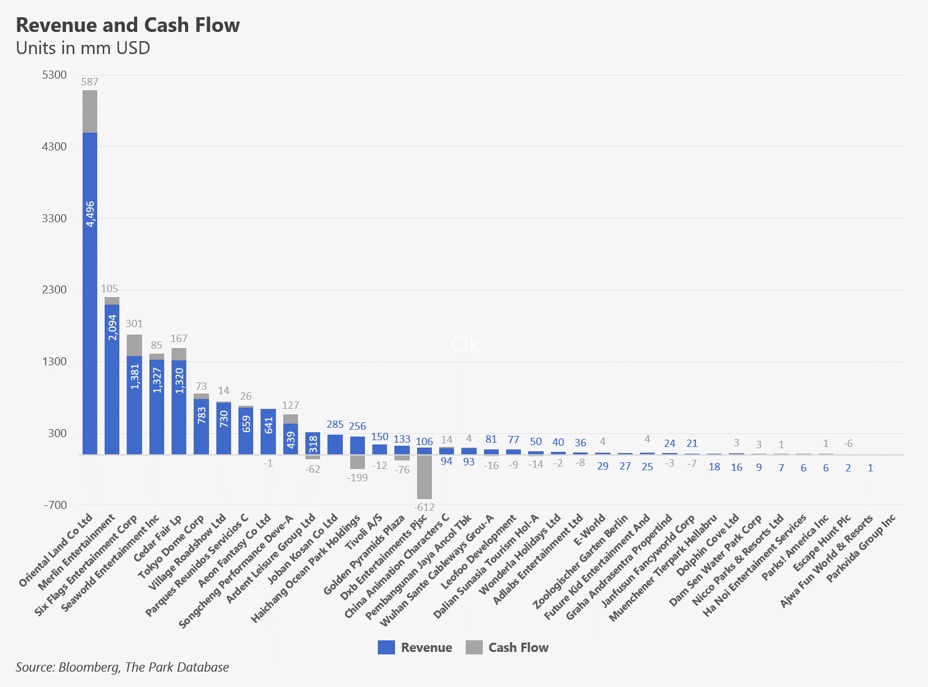 On the negative side, for a company that's spent billions of dollars in development costs, the consistently negative cash flow of DXB Entertainments (Dubai Parks & Resorts: Bollywood theme park, Legoland Dubai, Motiongate) should be somewhat of a disappointment. It has recorded more than $500m in average annual losses. We trust that the right people have been tasked with bringing it around.
Industry review – Asia spotlight
On these charts, two of the largest publicly listed theme park companies are Japanese operators.  How much longer before Chinese operators rise higher on the list?  Songcheng is the operator of the Romance show series in China. It currently generates more in free cash flow than Merlin and is almost at par with Cedar Fair.
Perhaps taking inspiration from Disney, Songcheng is a true media company. It generates half of its revenues from its theme parks and the other half from the online streaming platform 6.cn. Unlike Disney, however, we're not really sure how 6.cn is complementary to its theme parks.  You'll see what we mean if you visit the site.
Communications companies vs. theme parks
On that note, you might notice two significant omissions. The two largest theme park operators in the world, Disney and Universal Studios, are not on the chart.  Bloomberg considers both to be communications companies, rather than amusement park or leisure operators.
Universal Studios' parent company, Comcast, derives less than 15% of its revenues from theme parks. And the corresponding ratio is approximately 33% for Disney.  They may be the most successful theme parks in the world, but technically they are media channels.
In our next blog post, we will be looking at attraction business models that go beyond just selling tickets. Previously, we have discussed the rise in adventure parks.