Universal Beijing Resort construction is moving "full speed ahead" and the park is on course for a May 2021 opening. The park is now preparing for full operation, featuring signature attractions such as The Wizarding World of Harry Potter, Transformers and Jurassic World.
Universal Beijing has announced it has now completed all major construction and is expected to open, as planned, in May 2021.  The Resort unveiled signature attractions at the Beijing Radio and Television (BRTV) Global New Year Ice and Snow Night Gala.
"We are now entering the stage of full operations preparations, to ensure a one-of-a-kind experience for guests from China and beyond as we prepare for the opening in 2021," said Tom Mehrmann, General Manager of Beijing International Resort Co., Ltd. Theme Park and Resort Management Branch.
See also: The best new extreme thrill rides for 2021
The project was first conceived over ten years ago and construction has involved over 500 designers and artists, more than 500 suppliers and global partners, and over 100,000 construction workers.  It's the result of a collaboration between Universal and local partners, including the Beijing Tourism Group.
Next phase to focus on detail work and system testing
Now the major phase of Universal Beijing Resort construction has ended, the focus will switch to interior details.  This involves putting the detail into the various themed settings, rides and other facilities.  Casting for entertainment talent is underway and training and rehearsals will take place over the coming months.  Service and security training will also be ongoing.
Next generation digitalisation
The resort's digital system will also be implemented during this next phase. Mehrmann, in a presentation for Blooloop, explained that the system is expected to be "next generational".  Guests' experience will be guided from pre-visit to post-visit via apps which he promises will be "the best you've seen. The software drives the hardware," he said.
Seven themed lands capitalise on major Universal IPs
As previously reported, Universal Beijing Resort will centre around seven themed lands, built around a central lake. These will be The Wizarding World of Harry Potter; Kung Fu Panda Land of Awesomeness; Hollywood; WaterWorld; Transformers: Metrobase, Minion Land; and  Jurassic World Isla Nublar.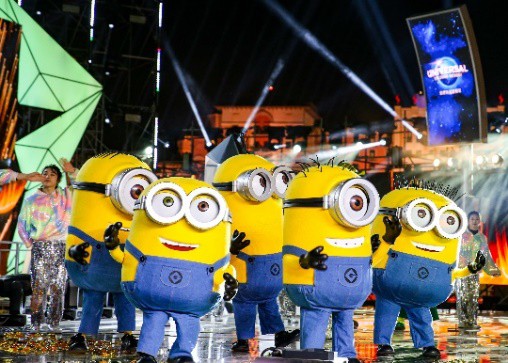 Each land will contain its own themed rides and immersive experiences alongside shows and themed shops, restaurants and further F&B outlets.  In all there will be 24 shows and entertainments using a combination of live performance and interactive props and sets.
Shows will include the WaterWorld Stunt Show, featuring a water battle with explosions and crashes, and Lights, Camera, Action! in the Hollywood land, featuring directors Steven Spielberg and Zhang Yimou.
See also: The best new themed attractions for 2021
Mehrmann also added that Universal is known for using its IPs in inventive ways and that the attractions will combine visceral and cerebral experiences to give guests goosebumps.
First themed resort hotels
The Resort includes the Universal Studios Beijing theme park and Universal CityWalk Beijing.  The latter comprises a retail, entertainment and dining complex, alongside two hotels.
The Universal Studios Grand Hotel will be the first Universal-themed resort hotel – a contemporary interpretation of the glamour and glitz of Hollywood's Golden Age.  Meanwhile the NUO Resort Hotel is the first resort hotel from NUO, one of China's luxury hotel brands.  Set alongside the park's waterway it aims to create a serene retreat amidst the bustle of the resort.
The two hotels will be operated by Beijing Tourism Group and Kempinski Hotels, through Key International.
See also: Universal Beijing announces first group of travel trade partners
Universal Beijing Resort construction, on time, within budget
Mehrmann points out that, even with Covid, the initial resort build has been delivered on time and within budget. He also stressed that this next phase in the resort's development will focus on high safety standards and sustainability with hopes the resort will gain LEED certification.
"The excitement is palpable," he said, promising that the new resort will take Universal's promise of extraordinary journeys to extraordinary places to fresh limits.