Ahead of the opening of Jurassic World VelociCoaster at Universal's Islands of Adventure on June 10, Universal Orlando has shared an exciting POV video of the new ride.
"Feel the rush of the hunt as you race through the jungle alongside Velociraptors in this POV," said Universal. "It's the Jurassic World VelociCoaster, the apex predator of roller coasters."
Jurassic World VelociCoaster will be the most intense coaster experience at Universal's Islands of Adventure, sending riders 155 feet in the air, at up to 70mph.
VelociCoaster is the world's first coaster based on Jurassic Park and Jurassic World . It's also the fastest and tallest launch coaster in Florida and features an original story.
Jurassic World VelociCoaster POV
In addition, original cast Chris Pratt, Bryce Dallas Howard and BD Wong are reprising their roles as Owen Grady, Claire Dearing and Dr Henry Wu for the attraction.
VelociCoaster riders will race alongside Blue, Charlie, Delta and Echo – a pack of Velociraptors. They will travel across 4,700 feet of track, and enjoy a barrel roll above the lagoon at Islands of Adventure.
In addition to the VelociCoaster POV video, Universal Orlando has announced it is increasing its starting base rate from $13 per hour to $15 per hour, effective from June 27.
This represents the biggest wage increase in Universal Orlando's history. The attraction in Florida is giving more than 18,000 employees a raise based on the new rates.
Jurassic World coaster opens June 10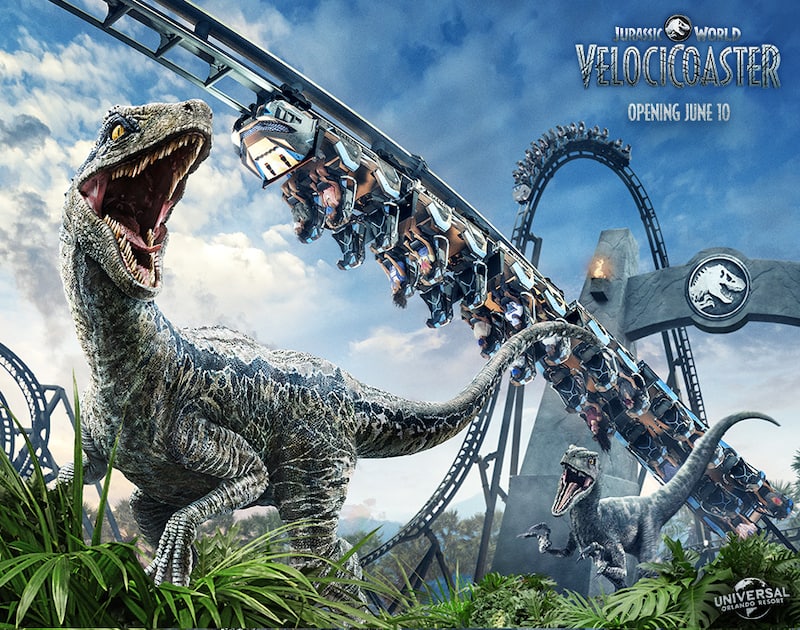 "We are excited about our future and we want team members who will be excited to be part of that journey," said John Sprouls, executive VP and chief administrative officer for Universal Parks & Resorts.
"This is about taking care of both our current team members and those who will be joining our team. We know a great guest experience begins with our team members – and we will continue to provide the best work experience we can."
Elsewhere, Universal Studios Hollywood boasts a new Indominus rex at Jurassic World – The Ride, which features fluid motions and synchronised movements.
Images: Universal