After more than a year of closure, Universal Studios Hollywood tickets can be purchased online from April 8, but are only available to residents of California.
"It has been a very challenging year and we are overjoyed to have arrived at this moment," said Karen Irwin, president and chief operating officer of Universal Studios Hollywood.
"We are incredibly thrilled to finally be able to open Universal Studios Hollywood, return team members to work and welcome guests back to enjoy our amazing rides."
Universal Studios Hollywood is opening with its new ride The Secret Life of Pets: Off the Leash!, which is inspired by Illumination's film, The Secret Life of Pets.
The Secret Life of Pets: Off the Leash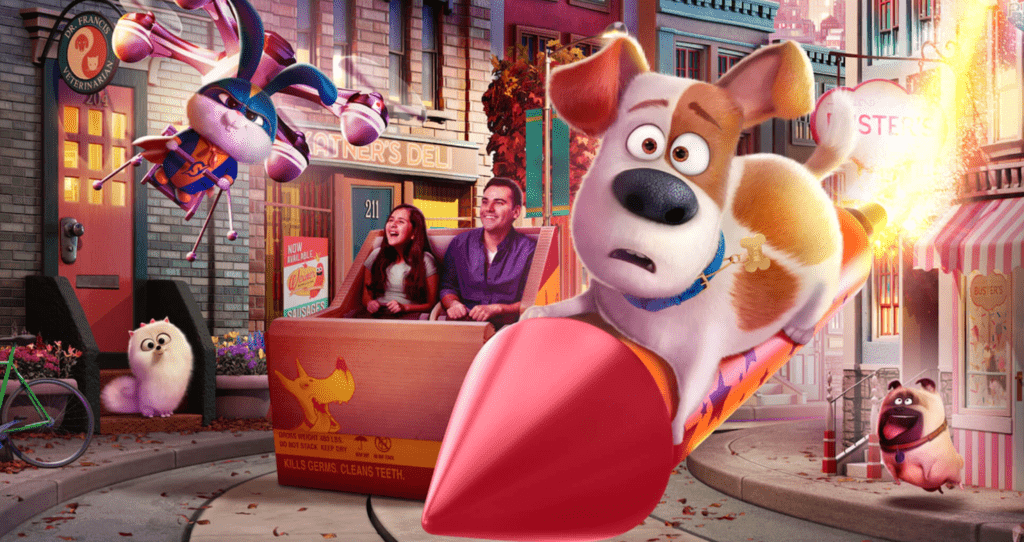 The Secret Life of Pets: Off the Leash is located on Pets Place at Katie's apartment in NYC. The ride boasts 64 technologically-advanced animated figures with hyper-realistic media and projection mapping.
Riders will embark on a journey across NYC where they meet Illumination characters including Max, Snowball, Gidget, Chloe and Duke. The animals are all programmed to include mobility, such as head tilts and ear curls.
The ride also features state-of-the-art optical enhanced gesture-tracking technology in order to identify each guest as one of 15 stray puppies. Ride vehicles resemble cardboard boxes.
In addition, visitors to Universal Studios Hollywood will get the chance to enjoy a new realistic dinosaur at Jurassic World – The Ride, which first opened in summer 2019.
Indominus rex at Jurassic World – The Ride
They will meet the Indominus rex, who takes on the Tyrannosaurus rex in the ride's finale and spans nearly 55 feet horizontally from head to tail.
The Indominus rex features fluid motions and synchronised movements, from subtle blinking and arm flexing to clenching her jaw to reveal razor-sharp teeth.
Based on Universal Pictures and Amblin Entertainment's Jurassic World films, the thrill ride uses state-of-the-art visual effects and technology. Jurassic World – The Ride was brought to life by Universal Creative.
Images: Universal Studios Hollywood