Vekoma Rides, the Dutch roller coaster specialist, has announced the opening of its new suspended family coaster, Dragonflier. The ride is part of the new Wildwood Grove area at Dollywood, which is now open to visitors.
Vekoma's new coaster Dragon Flier is just one of the attractions in the newly opened Wildwood Grove area at Dollywood. The $37m expansion was announced in 2018 and opened for business on the 9th May 2019. The official opening ceremony was led by Dolly Parton as well as the President of Dollywood, Craig Ross. Peter van Bilsen, Vekoma Rides' senior VP of sales and marketing, was there to open the Dragonflier coaster.
The suspended roller coaster, dips and darts through landscape and geysers of the new themed land letting guests soar with a dragon fly.
Wildwood Grove
Wildwood Grove is the largest expansion in Dollywood's history. It features 11 new experiences for visitors to enjoy. "This area is going to give families a place to explore, play and imagine together—but more importantly—it's a place where they can spend more time together," says Dolly Parton. "I believe everyone has a song in their heart that needs to be set free. Wildwood Grove will be a place where families can learn together about what their heart song truly is."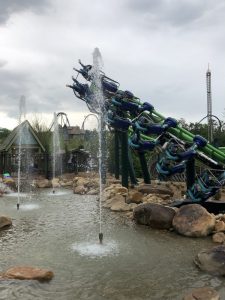 Other attractions include a trek through the Black Bear Trail, an indoor play area, water play at Wildwood Creek and a mockingbird themed ride. At the centre of Wildwood Grove, the Wildwood Tree is a unique night-time experience, with almost 650 lighted butterflies coming to life in the evening.  The area is also home to three new costume characters for visitors to meet – Flit, Flutter and Benjamin Bear.
Vekoma is one of the largest roller coaster manufacturers in the world, and the company appointed a new CEO at the end of 2018.
Meet the team at IAAPA Expo Asia in Shanghai 12-14th June 2019 on Booth #1322. 
Images: Dollywood and Vekoma.