Vekoma Rides, the Dutch roller coaster specialist, has completed a new project for Erlebnispark Tripsdrill in Germany with two unique new roller coasters.
Vekoma Rides is pleased to announce that visitors to Germany's popular Erlebnispark Tripsdrill will soon be able to enjoy two brand new rides: a family boomerang coaster and a suspended thrill coaster. Both feature exclusive theming that is relevant to the region. They also have a unique intertwined layout with the tracks crossing over each other on several occasions.
Two new coasters
The family boomerang coaster is named Volldampf (Full Steam Ahead) and features a train which runs both forwards and backwards. The theming is in the style of a 19th-century steam train and is inspired by a Swabian folk song called Auf de Schwäbische Eisenbahne.
This new ride has ten carriages and can seat a maximum of 20 guests, seated with individual lap bars. During the experience, visitors enjoy a break turn, camelback and twisted camelback, s-curve and curved stall, up to a height of 22 metres. The track length is around 500 metres and the ride reaches speeds of up to 60 kilometres per hour.
The thrill coaster is called Hals-über-Kopf (Head over Heels) and has theming based on the local tale of the Sieben Schwaben (Seven Swabians).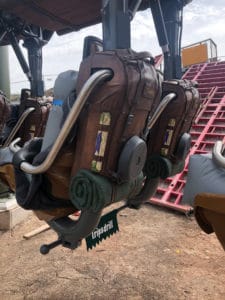 The design includes a shield and lance on the back of each car, as well as a rucksack on the back of each seat with equipment such as a pan, map and blanket.
This ride features cutting-edge technology with machined chassis and steering wheel booties, meaning that it runs smoothly and needs less maintenance. There are two trains with ten double seats each.
The track reaches over 30 metres high and includes several inversions, airtime moments, sharp turns and twists at a top speed of 80km/h.
While waiting in the glass-roofed station, guests will be able to see the rides as they sail past.
Last year, Vekoma also celebrated the opening of its new suspended family coaster, Dragonflier. The ride is part of the new Wildwood Grove area at Dollywood.