Tap into the experience gifting trend in the right way this Christmas, to maximise voucher sales and give business a serious boost.
By Simon Jones, Digital Visitor
With studies revealing we are increasingly choosing to splash the cash on experiences rather than material possessions, smart-thinking experience brands need to use stellar visitor attraction marketing to make the most of the run-up to the holiday season. Here's how to get your message to cut through the Christmas noise and make the experience economy work for you.
Last year, research from Barclaycard revealed that 52% of Brits would rather spend their hard-earned money on entertainment and events than material items like clothing and shoes. What's more, the same number would be more likely to tell their friends about a top experience rather than a shiny new purchase.
However, the same study also found something else interesting. Only 28% of businesses are focusing their efforts on matching customer expectations in this experience-driven economy. A gap in the market? We think so.
Voucher sales and experience gifting
As we start the slip 'n' slide into the most wonderful time of the year, attractions not only need to tailor experiences to be sold as experiential gifts but also reach out to the right audience in a strategic and meaningful way to combat the saturated holiday gifting market.
But how to make your experience gifting stand out?
Make sure your content is king
Quality content that reflects the trends for visitor attractions should always play the starring role in your marketing. But at Christmas, gifting messages fill social feeds. And standard formats just won't cut the mustard.
Develop impactful content, designed to excite and engage your audience while tapping into those all-important festive season emotions. According to a Harris Group study, 72% of millennials would like to increase their spending on real-life experiences and life-long memories, so it's safe to say that there is an eager audience for experience gifting.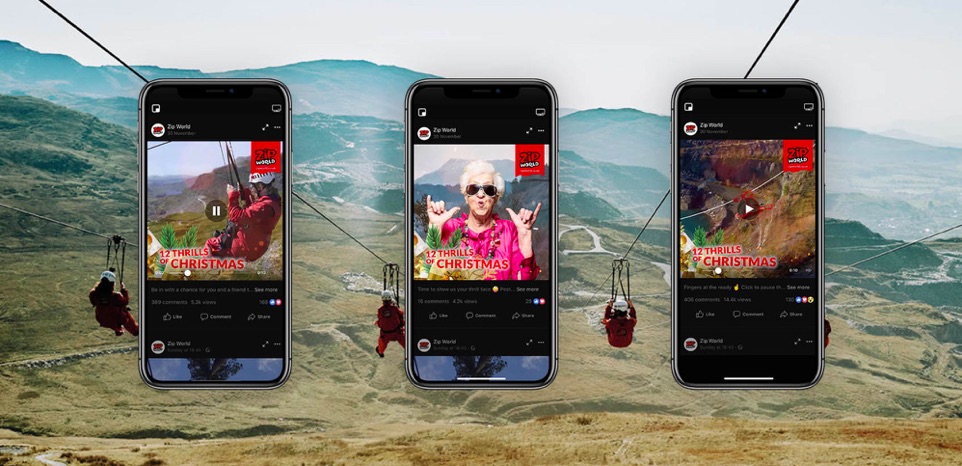 Working with adventure experience brand Zip World, we created innovative content, such as authentic adventure footage and animation, to encourage consumers to give the gift of adventure at Christmas rather than material items that could wind up gathering dust.
During the critical festive month, Zip World ended up nearly 25% up on sales. Emotive storytelling and the holiday spirit equals travel marketing heaven.
Get it in front of the right people
There's no point giving blood, sweat, and tears to your content if your target audience isn't seeing it. But helpfully, Christmas is a set deadline. Consumers are focused on organising their shopping to coincide with the big day.
Christmas searches start as early as September, from the minute the weather begins to turn. Not to mention Black Friday, Cyber Monday and the January sales on the horizon. So, starting your experience gifting campaigns as early as possible will stand you in the greatest stead.
We find a mix of social media advertising and paid search utilises the most cost-efficient and impactful placements Facebook while simultaneously making use of top keywords and search intent via PPC.
Retarget for the win
So, you've nailed your Christmas content and started rolling it out to your audience. Now it's time to use social media retargeting to engage with those who do not convert. Did you know that retargeting can deliver 2-3x the sales that regular advertising delivers? There's no excuse to not use this lucrative strategy to stay competitive as the holiday rush takes hold.
With Google's 'The Future of Travel' report finding that consumers are on board with the principles of retargeting if it's tailored correctly and reports claiming website visitors who are retargeted with display ads are 70% more likely to convert on a retailer's website, it's clear that the right retargeting campaign could be hugely lucrative.
Try using high-spec imagery and video to showcase your experience in the most compelling manner, while implementing retargeting advertising across social media platforms. You could snap up those on-the-fence customers as they get into the holiday head-space.
Retargeting might sound easy in theory. However, be sure to allocate appropriate time and budget. This will help to ensure your campaign avoids the common pitfalls. For example, over-exposure and generic, lacklustre content.
Make no mistake, the demand for a more experiential life is growing across the generational board. Target key gifting times in the calendar with visitor attraction marketing that offers your customers something unique, and you could reap the benefit of rising revenue as you make the experience economy work for you.