Is it time to rethink the concept of admission to your local theme park?
By Lance Hart, Screamscape
After watching some interesting moves take place within the industry this year, mixed with some older ones; it appears that the old standard concept of paying one price for theme park admission is being tested. It looks like it is making way for something new.
Disney's seasonal pricing and date-based options
As usual, The Walt Disney Company is leading the way in this new approach. Back in 2016 they changed the pricing for the Disneyland Resort and Walt Disney World theme parks to use a new Seasonal Pricing structure for 1-Day tickets to their parks. The basic concept was to designate the various days of the year into three pricing tiers. This was based on how busy the parks were expected to be; Value, Regular or Peak days, each with a slightly increased price.
The thought was that it might help spread out the crowds a bit from the peak days by adding some value pricing to the slower days; and thus increase attendance on the slower days. While even the most uninformed guests know to expect that the parks would be extremely crowded during the Summer, Spring and Christmas Holiday periods; the program also helped show off which months of the year were the slowest for those able to adjust their travel plans to take advantage of it.
Jump ahead to the present day, Walt Disney World has just expanded this concept to also adjust the pricing levels for their multi-day ticket options as well; where guests are now asked to select the dates in which they will visit, and their ticket price is created as an average price of the various tiers the visit will fall on.
Universal Studios
The Universal Studios parks were also quick to follow along with the concept of Seasonal Pricing in 2016 for their American parks; adding in some extra discount incentives to encourage guests to pre-purchase their tickets online in advance. The timing also worked out well for the Hollywood park. It hoped the concept would help control crowds when they opened their version of The Wizarding World of Harry Potter that same year.
Universal Studios has also just announced that they will expand the concept of Seasonal Pricing to their Japanese theme park in 2019. The new three-tier system coming to Universal Studios Japan will see the current ticket price discounted slightly. This discount is applicable for those who visit on a Value level day when business is slow; while seeing slight ticket price increases for those who visit on Regular and Peak days. As of this moment, The Oriental Land Company which owns the Tokyo Disneyland Resort has not announced any changes to their park pricing; though I'd have to think that it is something they would be closely looking into.
The concept makes me wonder if other large chains like Six Flags, Merlin, Cedar Fair or Parque Reunidos
are also considering making changes to the way they price admission into their parks. So far most of the changes seen from the American parks like Six Flags and the SeaWorld Entertainment parks have been focused instead on upgrading their annual pass programs by switching over from traditional 12-month or season-long passes into new "Membership" style programs. This is where guests become subscribers and enroll in monthly payment programs. They are then offered higher priced membership tiers. These include other benefits like free parking, purchase discounts or even bring-a-friend passes.
Pay-as-you-go
I've also seen another unique concept. This was introduced by Bobbejaanland in Belgium; which replaced the concept of traditional park entry with a pay-as-you-go mobile app based system. Using the app, guests aren't paying per attraction; but rather an hourly fee based on how long they are in the park. This breaks down to about €7.20 per hour, but caps off at €35.50 for the entire day; the equivalent of 5 hours.
I find this concept interesting. It adds in the flexibility to just visit a park for a few hours early in the day. It measn the visitor can leave if things get too crowded. In addition, it turns the park into a potential evening destination. It could also be a popular option for couples. They may want to hit a park for a few hours, enjoy a couple of rides or an evening nighttime spectacular. Something like this could also be a popular option for those who live in someplace like Orlando. Dropping into a park like Epcot for just a few hours in the evening would be fun. A bite to eat and a fireworks finale would serve as a nice way to end a work day.
Dynamic pricing for SeaWorld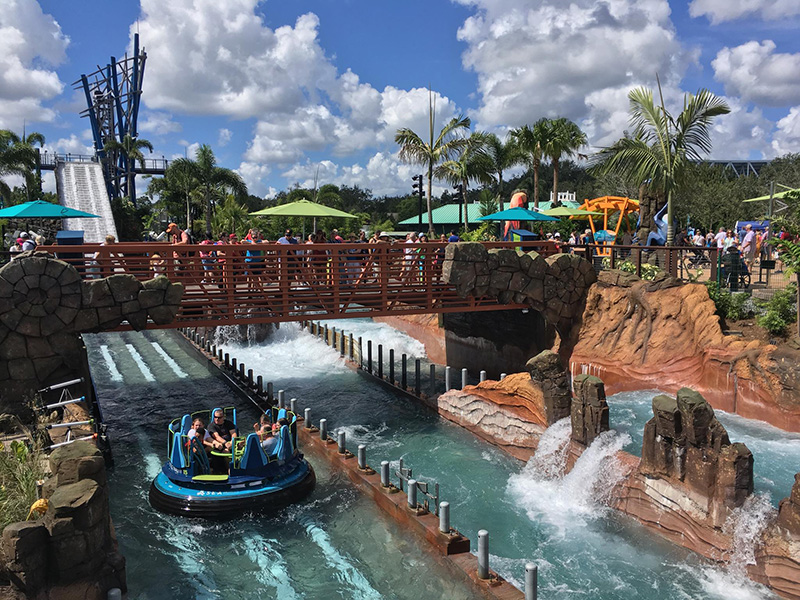 While the majority of the focus has been on admission pricing, SeaWorld Orlando did test out another flexible pricing concept back in July; much to the irritation of their guests. Guests arriving at the park quietly saw the price of parking begin to change. This was ranging anywhere from $22 to $30, based on how crowded the park was.
SeaWorld confirmed that they were testing out a new dynamic based pricing method for parking at the time. The only mention of this in print for guests to know in advance was on their website. It says that "General parking starts at $22" followed by the suggestion that they could pre-pay for parking online at a lower cost at $20.65. Compared to risking a $30 parking fee at the gate, clearly pre-paying would be the way to go.
While I don't know if SeaWorld has continued the practice of changing their parking prices, the concept to me is a bit flawed if it is based on anticipated crowd levels. Arriving at the park on a peak day generally means you will be parking much further away than normal from the gate. This goes against the idea of the "Preferred Parking" concept, where you pay more to park closer, instead of paying a higher price for a worse experience.
Theme park admission and its increasing parking fees
To be honest though, given the rising cost of ticket prices, especially in the Orlando and California markets; I think it may be time to truly re-evaluate the concept of the parking fees. The price has risen almost across the board over the past 20 years. This from being a flat $5 to $7 up to current levels where many parks charge $25 to $30 just to park.
Parking is somewhat of a sacred cash-cow for most attractions. However, this kind of thing has always seemed to create a negative first-impression to guests. It is their first experience upon setting foot on the property; only to be followed by a long-walk to the gate, potentially more sticker-shock while purchasing admission; followed by lines through security checks before guests finally entering the park itself.
Perhaps it may be time to simply drop the parking fees entirely; possibly padding the price of tickets a few dollars to make up the difference. After all, if you are charging $25-$30 just to park, at that point it suddenly starts to become cheaper for your guests to park for free off-site and call an Uber to take them the rest of the way. Just something to think about.