Another amazing week of developments: from a Meow Wolf dark ride to a Highlander drop tower, while a third attempt to resurrect a former Ghost Town in the Sky attraction has confirmed, a popular haunt event is now dead and buried.
1) Disneyland Resort requesting to end tax incentive deals with city of Anaheim
In what may be the most unexpected bit of news for the week, Disneyland Resort is now asking the city of Anaheim to "end all tax incentive deals" the company had in place with the city. One began in 2015 and prohibited the city from adding an "entertainment tax" to the price of admission. This was in exchange for Disney investing at least $1 billion into the California resort by 2024. The obligation will have been already met in Spring 2019 when they open Star Wars: Galaxy's Edge, with more projects already on the way to go above and beyond that by 2024. The other was approved in 2016. That would give Disney a $267-million rebate on the existing hotel-tax in exchange for the construction of a new 4-star luxury class hotel. This project had just been put on hold as disagreements regarding this deal when the site of the hotel location shifted by 1,000 feet.
According to Disney these deals had "become divisive. Leading to an unstable business climate and a difficult working relationship with the city". As the older deals had become a hot-topic of contention between the company and new political climate in Anaheim, this is seen as a bold move to begin anew again and improve relations with the city and local residents.
2) Luna Park at Coney Island
Luna Park at Coney Island announced expansion plans that will take place over the 2019 and 2020 seasons. These plans will increase the size of the property by an additional 50% once complete. The two phase plan will first add new food, games, a zip line coaster and ropes. A new log flume ride will follow in 2020.
3) Aquarium at the Boardwalk in Branson, Missouri
Plans to convert the former Grand Palace theater in Branson, Missouri into the Aquarium at the Boardwalk, a new 46,000 sqft attraction. If the timing for it all works out, the new aquarium attraction would open in 2020. It will also feature an extensively themed outdoor facade. This facade would appear as if a giant octopus was sitting across the top and down the sides of the building.
4) Meow Wolf and Elitch Gardens team up to create Meow Wolf's Kaleidoscape
Meow Wolf, the artist collective group behind the popular themed attraction in Santa Fe, New Mexico have teamed up with the Elitch Gardens theme park in Colorado. They are working together to transform the park's Ghost Blasters dark ride. It will be a brand new immersive experience attraction in 2019 called Meow Wolf's Kaleidoscape. "Riders who journey on Meow Wolf's Kaleidoscape will be transported to other-worldly motion, deep sound, wild color and interactive moments that create an immersive world around you. This intriguing attraction will be the first artist-driven dark ride the world has ever seen."
The idea is also interesting because the dark ride will serve as a preview of what guests can expect from a new Meow Wolf art complex set to open nearby in 2020.
5) Tivoli Gardens celebrates 175th anniversary
Tivoli Gardens in Denmark just turned 175 years old the other day and as part of the celebration, the park opened their latest thrill ride called Tik Tak, a new custom themed spinning and flipping Shake R5 from Mondial.
6) Hersheypark prepares for construction of new park entrance plaza
While nothing has been officially announced by Hersheypark just yet, they have filed building permits with the local government offices. These permits detail the future construction of a new park entrance plaza area by 2020, as well as requesting FAA permission to build a new coaster with a maximum height of 220 feet.
7) SeaWorld San Antonio to add two new rides
SeaWorld San Antonio has filed building permits that detail what the park has planned for their 2019 expansion. The plans specifically mention a new turtle exhibit will be built along with two new flat rides, perfect for tweens: a Huss Airboat and a Zamperla Midi Discovery.
8) Circus Circus Adventuredome to cancel Fright Dome
Typically once a park has a successful Halloween event, it quickly becomes an annual tradition that never ends. Strangely, the Circus Circus Adventuredome theme park in Las Vegas announced rather last-second that they would no longer be home to the popular Fright Dome haunt event which has been held for the past fifteen years. Unlike most theme park haunt productions, Fright Dome was actually an outside attraction from Egan Productions. The company I believe, would lease out the Adventuredome to serve as home to their Fright Dome event each season. According to Egan Productions, they did not make the decision to stop Fright Dome. It was rather one on the part of the casino who no longer wanted to host the popular event.
9) GhostTown descends from the Sky to become Adventure Park
The site of the former Ghost Town in the Sky amusement park in Maggie Valley, North Carolina will once again open to guests in 2019. This is yet another attempt to revive the once popular attraction from yet another new owner. This time the park will be relaunched and rebranded as GhostTown Adventure Park when it opens in "Late Spring 2019" according to the new website. There has been no further details of what the park will offer at this time.
Over the years, the mountain top park required guests to reach it through different ways. They would have to ride from the parking lot at the bottom either by bus, a sky lift or a funicular to the top. Once they get to the top, they will be able to see the western themed town and cowboy gunfights. Opening as Ghost Town in the Sky in 1961, it ran successfully until it closed down in 2002. Then a new owner bought the park. Under new management, they were able to open the park briefly from 2007 to 2009, before closing the park. Another new owner tried to change the vision of the park somewhat. In 2014 to 2015, the park opened with limited operations as Ghost Town Village. However it was forced to close the park yet again.
Having been closed more than open between 2003 and 2018, there will be some challenges to revamp it as a successful new attraction for the long run. We wish the newest owners the best of luck.
10) New Gyro Drop tower announced at Hansa Park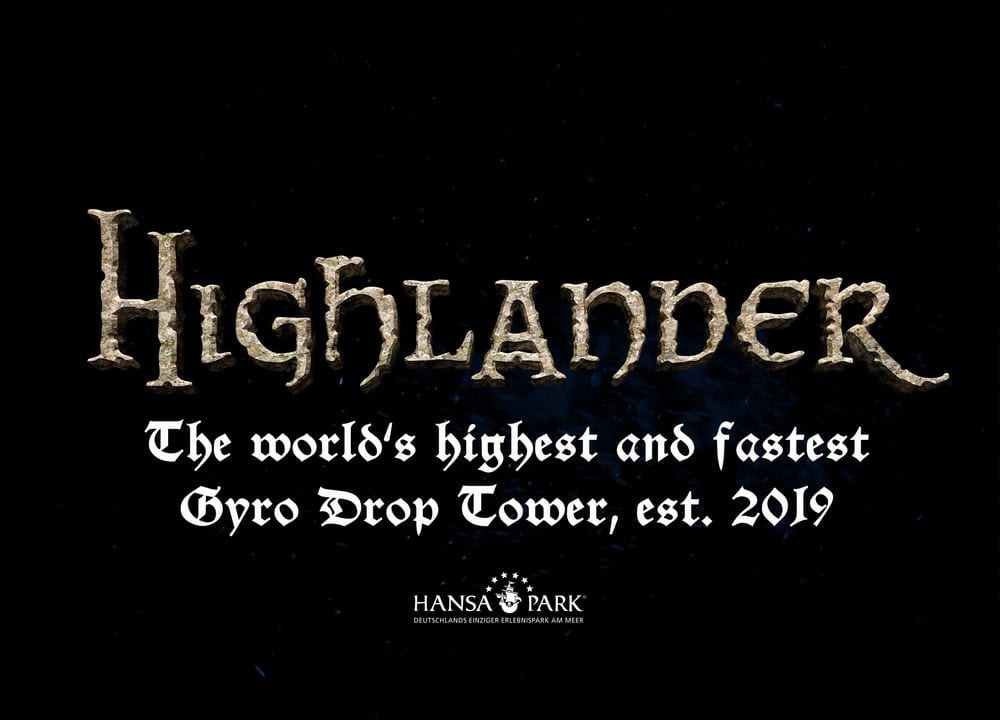 Hansa Park announced they will open the world's highest and fastest drop Gyro Drop tower in 2019 as Highlander. Funtime will build the new attraction and it will stand at 120m tall (393ft). It will feature a drop of 103m (338ft) with seats that will tilt the riders out 30º at the top of the tower. Riders will then drop at 74.56mph.