This summer sees the opening of the world's tallest water coaster at Schlitterbahn Galveston Waterpark.
Featuring transparent sections that give guests sudden and unexpected views of the park below, MASSIV is the latest addition to the company's collection of record-breaking rides.
Blooloop spoke with Gary Henry, Schlitterbahn Waterparks and Resorts' President and CEO, about the new attraction and the company's origins and aspirations. And, why he believes waterparks are maturing into a more 'family-friendly model'.
Keeping it in the Family
The company was founded by Henry's parents, Billye and Bob Henry, who decided to move their family to the country in 1966 with the idea of buying a campsite. The land Bob first identified was north of Houston, and very remote.
"I think his vision was a place that families sent their children during the summer for a children's vacation, " says Henry.
Henry's mother, reluctant to be thirty miles from the nearest town, found another property at New Braunfels, between San Antonio and Austin. The site was fifteen acres, with 32 rental units on it.
"So, in very short order, they purchased it and the family packed up and moved from Houston to New Braunfels. From 1966 until 1977, my father built the resort up. My brother and I, who were 13 and 11 when we moved, worked hard at that. We got the resort from 32 units up to 112."
(While Henry's parents are now retired, it is still very much a family business. Henry is operational head of the complex, his brother is responsible for the development side of the business, and his sister does the merchandising.)
Having studied engineering at the University of Texas, Henry went on to business school, did a further degree in accounting, and went to work for Parker Anderson and Company as an accountant for a year.
Deciding he no longer wanted to live in a big city, Henry left Houston and moved back permanently to the New Braunfels area.
"That was the time that we decided we wanted to add a lot of slides and start building a water park attached to the resort, " he says.
Disney's River Country Meets Wet 'n' Wild
Henry's brother Jeff, who had sold his business in 1976 and gone travelling with a friend, saw the simple water slides that were built along the coast around Key West and was inspired.
"When they got to Orlando they went to Disneyworld, and at that time Disneyworld had an attraction called River Country, Disney's take on an old swimming hole type thing, with swimming pools and some children's play areas, and a couple of water slides. He was intrigued by that."
Driving a little further into Orlando he saw Wet'n'Wild, which had just opened.
"It was the opposite of River Country. River Country was homey, Wet'n'Wild was concrete, steel towers, fibre glass water slides, very polished. He looked at that and said, OK, that's a different take on this new entertainment option. He got on the phone and called the family, and said, 'This is something maybe we could do on the property we have, in New Braunfels.'
Two rivers, the Comal and the Guadalupe, run through New Braunfels.
A Waterpark Sort of History
"New Braunfels already had this sort of history of people floating down the rivers in inner tubes. So. the idea of combining Wet'n'Wild and River Country into a controlled water park environment was just a natural extension of what already existed.
"So, in 1977, we started digging the reservoir system on a tributary of this Comal River, creating a series of reservoirs.  In 1979, we opened the first iteration of Schlitterbahn, with a castle tower and just four fibreglass flumes, all in the 350 linear foot range. People loved it."
The following year, a swimming lagoon, children's play area, and the first tube chute were added.
"A tube chute is nothing more than a synthetic river, if you will, that starts at a high elevation. We move water to the top of the hill, then it flows through this concrete trough, through a series of pools and drops, pools and weirs, and you float through this river system and end up in a pool somewhere at a lower elevation.
"And, what we've learned from that is that it was a man-made version of river systems that existed in New Braunfels at that point in time. People could get in an inner tube and float through this system and end up in the same area, so they would exit the pool at the bottom, then climb the stairs and do it again."
A High-Capacity Shared Experience
"What was unique about it was that, unlike a fibre-glass flume, where you've got one person on the ride at a time, it was a shared experience: as you're floating through the tube chute, your friend, your daughter, your child, is right next to you – you can go over the weirs together, you can talk, splash, have fun. And, it's very high capacity, so people loved it – they didn't spend time waiting in line.
"So, that was kind of the genesis of the Schlitterbahn park.  That was the mindset and mentality of what we were doing. We wanted the hominess of the River Country, but we wanted the capacity of a natural river, where people could float together, and you could put a lot of people onto a ride."
Year after year, further elements continued to be added: fibre glass slides, chutes, themed play areas.
Schlitterbahn, 18 Times Golden Ticket Award Winner
In 2015, Schlitterbahn was honoured at The Golden Ticket Awards for the 18th year in a row.
"Obviously we're very honoured to be recognised as the best water park in the world – it's voted on by peers, people that follow the industry, particular customer groups that attend waterparks like theme park coaster enthusiasts. They travel around and know the industry, they know the parks, and I think that what they've recognised is the entertainment value that exists within Schlitterbahn parks, and they also, I think, appreciate the new technology that  we've brought to the industry, beyond fibre glass slides.
The First Flow Rider
"In 1991 we built the first Flow Rider, the first artificial surfing wave.  Four years later, we built both the first Master Blaster and the first hideaway river. This is the system that throws large waves into a lazy river. Then in 2000 we built the first transportainment river system. This is a mixture of a downhill tube ride with the lazy river and the lifting mechanism. It brings the end of the ride back to the beginning. So people can ride these rides over and over again without ever having to get out of their tube."
The variety of paths within the system ensures that riders get a different experience every time so they can ride it again and again.
"We've continued to bring innovative technologies and ride experiences and entertainment experiences to the industry. People, I think, appreciate that."
Much of Schlitterbahn's ride work is done by Jeff, Gary's brother. He has an unerring ability to select the right innovation at the right time.
"In 1985, the main Schlitterbahn park in New Braunfels was maturing, and Jeff was looking for a new challenge. So he started a manufacturing company which sold products and technology to the water park industry worldwide. He started manufacturing children's play elements. These included fantasy pirate ships, silly submarines and a whole line of products. Also fibre glass water slides. He sold the attractions to parks around the world as well as doing park designs."
Designing Shenzhen – China's First Waterpark
"He designed and oversaw the construction of the first waterpark in China, Shenzhen. In addition, he also oversaw the design and construction of the first waterpark in Dubai. He studied the industry, and developed products. Furthermore, he worked with other ride designers, including Tom Lochtefelds, who had the ideas for the Flow Rider.
"Tom had the idea and the designs, and we built the first one and made it functional. Tom also had the patent for the Master Blaster, but had never built one, so he took that and built the first one, and we made it work."
Under the umbrella of the Henry & Sons Construction Company, Jeff continues to bring innovation to waterparks, developing and designing resorts integrating the Schlitterbahn patented attractions, protocols and designs. He has garnered universal acclaim for projects such as Kerzner International's Atlantis Paradise Island in the Bahamas and The Palm in Dubai.
The Challenges of a Seasonal Business
It's not all plain-sailing – there are, of course, challenges inherent in a seasonal business.
"We have to be very disciplined because we have cash flow for four months out of the year. The other eight months we typically do not, " says Henry.
Recruiting and training seasonal staff is another challenge.
"Right now we have, at the corporate level, two hundred and fifty people full-time, but at the New Braunfels park we'll balloon it to two thousand employees over the course of the summer. They're typically young people, high school or college kids. To bring them in, get them trained, instil in them the attitude of customer service first and safety first, is always a challenge."
Opening each new facility involves going into other markets: South Padre in South Texas is very different from New Braunfels; Galveston and Kansas City are different again.
"And then we went back and built a hotel with an indoor waterpark in South Padre. That's very different from opening and operating an outdoor park.
"Now we're getting ready to open for the season in Corpus Christi. There is there a hotel with banquet facilities attached to the waterpark.
There is a challenge in building the property. But there is also a challenge at a corporate level, in supporting the management teams that are in place in their particular locations."
MASSIV by Whitewater
The new water coaster is scheduled to open at the Galveston property in May.
Above: Computer-generated image of the new MASSIV coaster
Henry is enthusiastic:
"It's going to be the tallest, longest Master Blaster in North America. We're very excited about it – it's going to be an amazing ride."
Designed and created by Whitewater, it is built on a compact footprint, so the ride doubles back over itself multiple times.
"It's eighty-two feet tall, over a thousand feet long, and features four drops and lifts, " says Henry.
test
One innovation is the incorporation of transparent sections. This means that riders will, at 40, 50 or 60 feet, suddenly be able to see the downhill river system of a different ride below them.
"You'll be riding the ride and you'll be inside of coloured fibre glass where you can't see out. Then, all of a sudden, you'll hit this turn section and you'll be floating through glass that you can see through. So you'll be able to look up and see the sky. You'll be able to look off to the side and see the landscape of the island. You will also be able to look down and see people floating in the river below you.
There hasn't been one like this in the world. It's going to catch some people by surprise when they ride it.
"I think it'll motivate them to go back so they can be prepared when they know that it's coming.
"I know some people are going to be terrified when they pop out of the painted slide section into this tube that they can see through."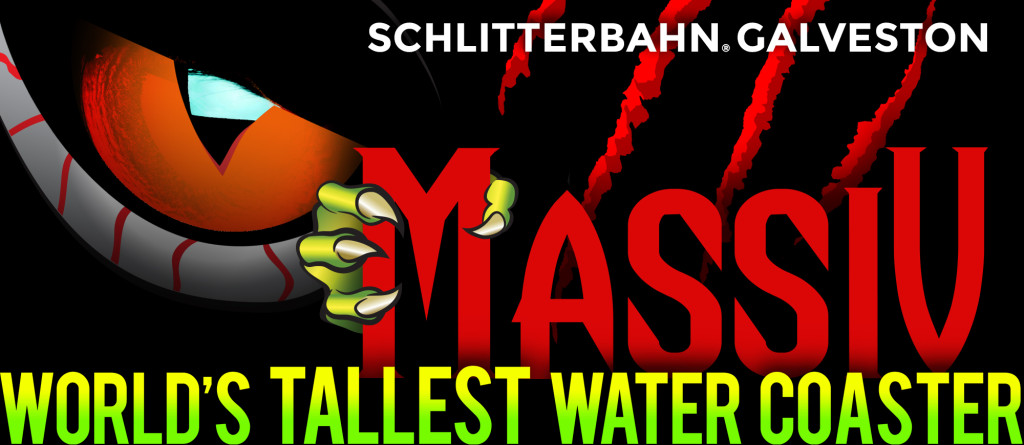 Plans in the Pipeline
While the Schlitterbahn team have plans in the pipeline, the focus is on completing the Corpus Christi project.
"That's been a significant project and a significant build."
Continuing to explore the residential possibilities in unique and immersive ways will remain a focus.
"Introducing a lodging element to the waterpark is something we have done, particularly in New Braunfels. It's done with two different methods. One is cabins that are on the ground next to the rides. This means people can sit on the patio looking into the rides as people float by.
"The second and newest component is a tree-house component. This is an elevated lodging unit where the elevation component – the 'legs' – are themed to look like tree trunks. The ground section becomes a private cabana. The cover of which is the tube chute so waterpark customers have shade. They're also underneath a structure that is interesting to look at. In addition, they have balconies outside, elevated 15, 20 feet above the park. When they get tired of playing in the park they can go right to their room, sit out on the patio, have a soft drink, and watch."
Summarising the industry he has explored for over three decades, Henry says:
"People want to be entertained, and they want value for their entertainment. When they go to a park, they don't want to spend time standing in lines. They want to be able to be in the water; they want to be able to be playing.
"In New Braunfels, we're getting ready to enter our 37th season. So we've seen the second and third generations of our guests coming back to the park. Those that came as kids with their parents 30 years ago are now coming back with their children. They're doing the same things."
Maturing into a Family Friendly Model
"I think it really comes back to the idea that parks have matured into this family friendly model. It's not so much about the death-defying rides, the huge drops, the wave pools with the 8-foot waves. The parks have matured into the idea that you've got to have something where parents are comfortable taking their 6, 7, 12, 14-year-olds. It's quality family time at a price that makes sense to the family.
"I'm bullish in the industry. I'm very proud of the group of companies that we've built here. And just constantly in awe of people that I get to work with. It's such a pleasure coming to work and seeing the professionalism.
"At the end of the day, you can't build a company like Schlitterbahn without hundreds of super-dedicated, high quality individuals."
Images kind courtesy Schlitterbahn Waterparks and Resorts