Construction has begun on Phase 1 of the aquatics renovation at Glenwood Hot Springs, a geothermal resort in Colorado.
Water systems specialist Cloward H2O and partner landscape architect DHM Design, have designed the new "adventure zone" aquatic recreation area.
Specifically aimed at families, there are three features to the new area – the Colorado-style whitewater adventure river, a children's activity pool and an interactive splashpad.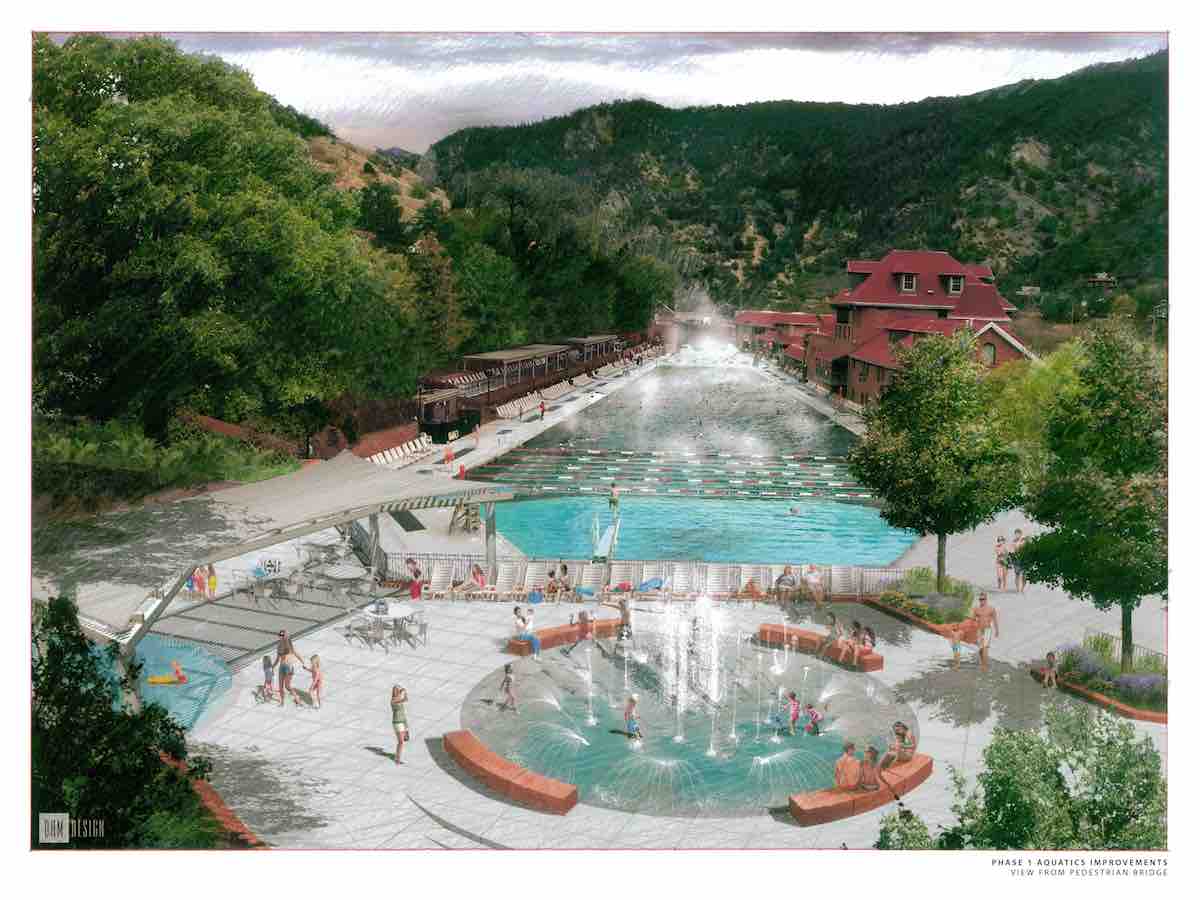 Cloward H20 designed a downhill rapids river for the project to utilise nature's gravitational force. "The rapids river takes advantage of the slope in the North West corner of the property, replacing the mini-golf and 20-year-old fibreglass slides," Cloward H2O Principal Allen Clawson said. 
"This is going to be a thrilling and exhilarating experience for a broad range of guests who will be able to ride on either single or double tubes along a waterway with as much as 32,000 gallons per minute of flow—that's enough to fill an Olympic-sized pool in 15 minutes!"
The splash play area contains a multipurpose fountain, fitted with programmed nozzles for a water and light show. During the day, kids will play in the fountain but by night or in "show mode" the fountain spray can reach 20 feet (6 meters) high, with colour-changing effects.
The kids pool contains a shallow wading section with zero-depth entry and more spray nozzles, three slides and a deeper waterfall pool with interactive elements.
Glenwood Hot Springs hopes the new zone will attract a new generation of visitors and is slated to open summer 2019.
"Our new adventure zone is going to transform the Glenwood Hot Springs guest experience. When completed, I predict it is going to be one of the top aquatic recreation destinations in Colorado," Glenwood Hot Springs Operation Manager Kevin Flohr said.
Cloward H2O are leaders in design and aquatic engineering with projects ranging across waterparks, resorts and aquatic habitats. Their capabilities include planning, water circulation and treatment, hydraulic design and modelling, aquatic life support design, structural engineering and power and controls engineering.
All images kind courtesy of DHM Design.