Cloward H2O, an expert in aquatic design, is celebrating the longevity and legacy of one of its earlier projects, The Fountain of Rings, which is the centrepiece of Centennial Olympic Park in Atlanta, Georgia. Completed in 1996, it is now visited by millions of guests each year, both local and international.
The Fountain of Rings is the world's largest interactive fountain, featuring the Olympic Rings symbol, and was created especially for the 1996 Summer Olympics. It is set in a 21-acre park that serves as Georgia's lasting legacy of the Centennial Olympic Games, as well as anchoring efforts to revitalize residential and commercial development in Atlanta.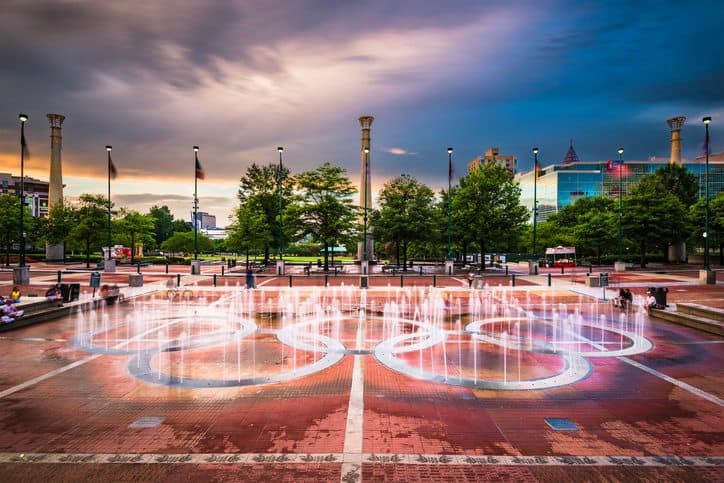 Cloward H2O provided consulting engineering services for the original design of the fountain prior to the opening of the 1996 Summer Olympic Games.
A project built to last
Visitors can enjoy a unique fountain show and splash pad, with computer-controlled lights and jets that are synchronised with music. The fountain's jets can shoot 12 to 35 feet in the air. It was designed by Cloward H2O for both show and play, and park-goers often use it to cool off on hot days.
This computer-controlled fountain concept has since been replicated in other urban designs such as Dundas Square in Toronto and in commercial uses such as the Bellagio Fountains at the Bellagio Hotel & Casino in Las Vegas, Nevada.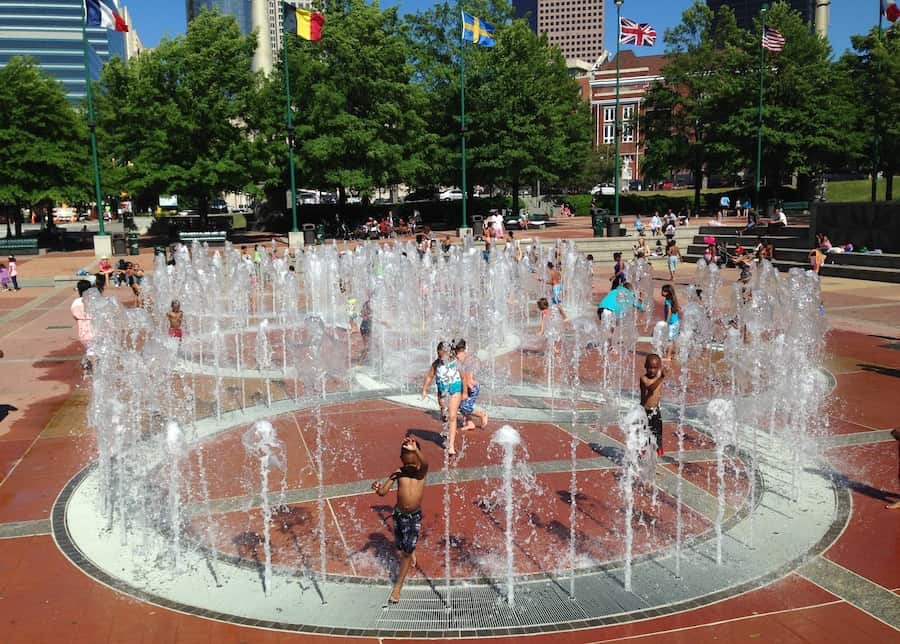 There are flags for each of the countries to host a Summer Olympics previous to the event in 1996, surrounding the foundation area, as well as eight 65-foot-tall light towers that echo the design of classic Greek columns. The park also features several sculptures, such as a statue of the father of the modern Olympic Games, Pierre de Coubertin, as well as a small amphitheatre.
Centennial Olympic Park is the biggest downtown park built in the country in the last 25 years. AS well as the fountain, it is also home to playgrounds, green spaces, and a small stage. Visitors can also visit nearby attractions such as The Coca-Cola Museum, the Aquarium, Children's Imagine IT Museum, the CNN Center and Georgia Dome.
"Cloward H2O is proud to have been a part of this unique and special attraction space in Georgia as the fountain has remained in operation for more than 25 years," says the company.
The fountain itself is operational every day of the year, often doing four shows per day.
Cloward H2O was recently asked by Environmental Planning Group (EPG Design) to work on a splash pad for the Bountiful City Park in Bountiful, Utah.