Leading provider of aquatic design and engineering services, Cloward H2O (CH2O), and architects, DHM Design, have more than doubled capacity at the historic hot springs pool in Ouray, Colorado.
Dubbed the 'Switzerland of America', Ouray's increasing popularity with visitors, and growing demand from locals, was making the pool no longer fit for purpose.
"Our old pool was over capacity with 1,000 guests, it was uncomfortably crowded," confirmed Mayor Pam Larsen.
Therefore, along with modern updates to efficiencies and sanitation, the primary goal was to significantly increase guest capacity. Equally important was the need to retain the pool's distinct character. The master planning process included several rounds of public comment which culminated in the unveiling of a layout of 5 independently operated pools. Each pool has a separate purpose but is cleverly integrated within the original pool boundaries respecting its classic, massive 285' (87m) oval shape.
Working closely with city operations staff, CH2O completely re-engineered the hot springs pool. This ensured best use of the available geothermal water. It also allowed each pool to be independently operated from a single integrated control system.
"This project was full of interesting challenges," comments Allen Clawson, Principal of CH2O. "The unique mineral content of the geothermal water, multiple layers of existing unknown pool structure, and a shifting sub base that amounted to building on top of an underground river."
Ouray now looking to enhance pools further
Needless to say, the team overcame them all. The new treatment systems vastly improve water quality and sanitation within the pools while squeezing every available drop of heat energy from the geothermal water. What's more, attendance has rocketed:
"Our new pools have easily accommodated over 2,000 on holiday weekends and it felt less crowded than the old pool at half that," says Larsen.
With Phase 1 work nearly complete, the city is already looking to enhance the pools further by developing additional available geothermal sources that would potentially allow all of the pools to remain open year round.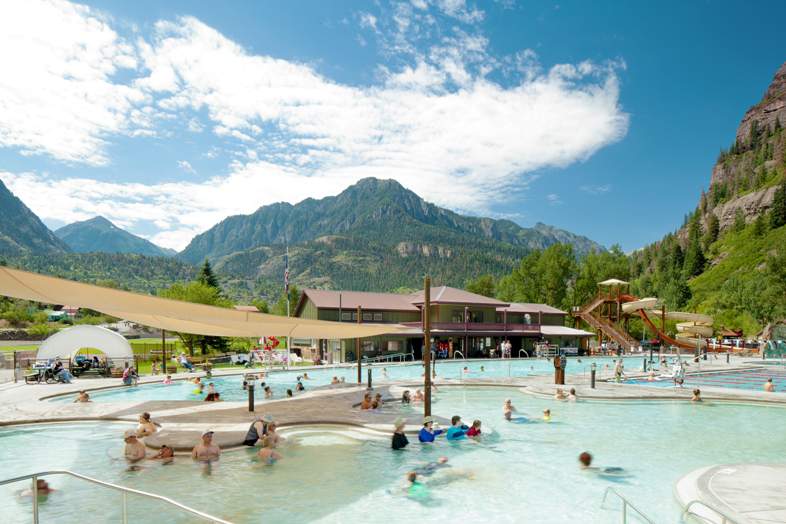 "This was an amazing project and we are so pleased with the outcome," adds Clawson. "It is heart-warming to see families playing together in the shallow pool and kids challenging the rock climbing wall or enjoying the slides.
"Adults and couples soak in the hot geothermal pools and let the cascading waterfalls melt away the last bit of tension while they look up at the majestic mountains at sunset."
Images courtesy DHM Design/CH2O