Martin Aquatic Design & Engineering, a world-class aquatic firm, is showcasing its new attraction at the recently reopened Adventure Island in Tampa, Florida.
Martin Aquatic Design & Engineering (Martin Aquatic) is proud to unveil the Solar Vortex at Adventure Island in Florida. This first-of-its-kind attraction was designed by the company and originally opened to the public in March. However, the park closed its doors just a few days later due to the coronavirus pandemic. Now, visitors can enjoy the unique multi-person raft ride once again
"The anticipation has been building to see the guest response for this one-of-a-kind attraction," said Josh Martin, Martin Aquatic's president and creative director. "We're hopeful for the rebound of our industry and proud to have helped engineer a new ride that excites guests to make a return to water parks this summer."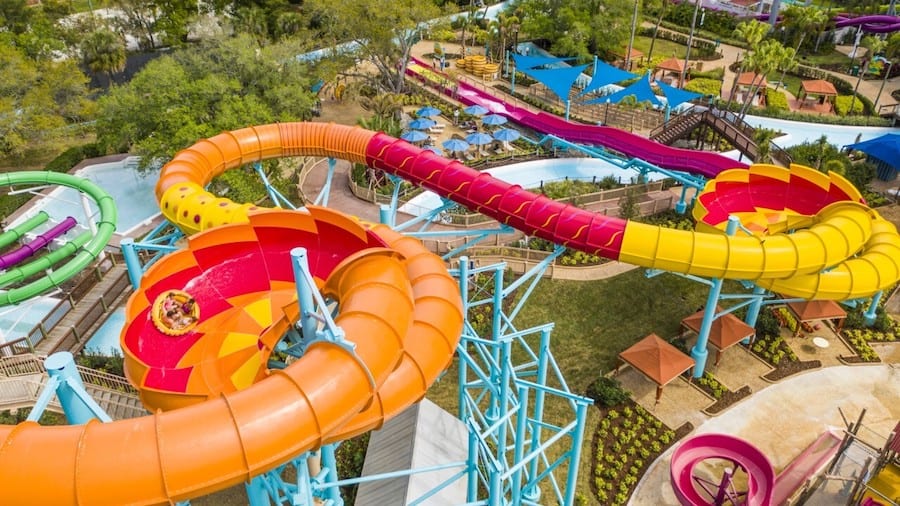 An exciting new ride
The project was led by landscape architect and civil engineer, LandDesign and the Martin Aquatic team also worked alongside WhiteWater, a leading waterslide manufacturer, on the design and engineering of the ride.
The Solar Vortex is the country's first dual-tailspin waterslide. It features WhiteWater's tailspin, which whirls guests around before the ride takes them into a dark tube illuminated by Aqualucent elements,  enhanced by the bright Florida sunshine.
"SeaWorld, as always, was great to work with on this fun 'out with the old, in with the new' project," says Emily Colombo, Vice President of Strategic Partnerships for WhiteWater.
"In addition to the fast banking turns on their new double Tailspin, we can't wait for guests to see the three different varieties of AquaLucent effects that SeaWorld chose. Each one creates a unique visual experience using pops of color and movement that heighten the overall slide experience."
The new ride replaces an older slide and plunge pool, swapping the pool for a slide runout to reduce water as well as adding more excitement in the form of twists and turns. This swap also means that the ride caters to more guests, as without a plunge pool the minimum height has been reduced to 42 inches.
Due to the post-COVID-19 restrictions, guests at Adventure Island are currently being asked to make reservations ahead of time.
Last year, Martin Aquatic announced its new name, changing from the original name of Aquatic Design & Engineering. After 32 years in the business, the family-owned firm made the change to solidify the legacy of founding principal, Ken Martin.