ProSlide Technology Inc., an industry leader in water ride manufacturing and design, is celebrating the success of its latest custom RideHOUSE project, Svalgurok, which is now open at Rulantica water park at Europa-Park. This is part of the company's WaterKINGDOM suite of aquatic play rides and attractions.
"Guests can't stop talking about Svalgurok", says Europa-Park owner Roland Mack. "From the rides to the design, to the theming and everything else, the RideHOUSE blows their expectations out of the water in every single way."
Fully themed attraction
Svalgurok is a bespoke design that helps the client to achieve its goals, says ProSlide's senior Vice-president of global strategic partnerships, Jeff Janovich:
"Rulantica fulfilled its incredible vision to create a world-leading WaterKINGDOM RideHOUSE that extends and enhances their second-to-none theming. Svalgurok is a next-generation RideHOUSE that showcases how the world's first interactive, robotic theming along with 10 tracks of cutting-edge ProSlide Water Rides work together to create an attraction unlike anything seen before."
The custom RideHOUSE includes a huge interactive robotic theming element. The play structure is home to Svalgur, a giant sea serpent, whose head can move and spray up to 200 gallons of water per minute, from four nozzles inside its mouth. Svalgur is also locked in an epic battle with a massive octopus, a scene that forms a themed ProSlide Continous BodyBOWL and also features huge tentacles that surround the attraction.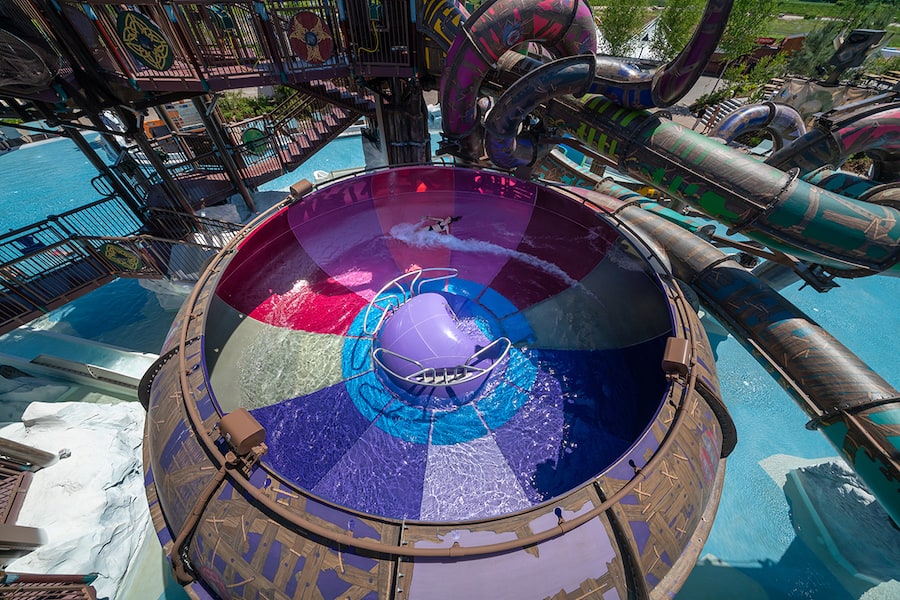 Attention to detail and a leading ride mix
The intricate attention to detail helps to create a truly immersive experience, including hand-painted theming on the water slides and a large tipping bucket that looks like it is made of fish bones. Plus, there is a tunnel that appears to be made of whale bones, as well as close up details like hand-carved Viking shields and wood planks.
Guests can also enjoy a world-class and diverse ride mix, including a competitive two-lane ProRACER, three TWISTERS and four KIDZ TWISTERS:
"There's really something for everyone on this particular RideHOUSE", says Kiel Graham, WaterKINGDOM Product Line Manager at ProSlide. "Together with the team at Rulantica, we made sure the water ride offering was second-to-none and, along with the theming, really elevated this RideHOUSE to be something unlike anything else in the world."
ProSlide has also recently brought its newest innovation, the MammothBLAST Water Coaster, to Atlantis Aquaventure in Dubai, as part of the resort's expansion.