Jeju Shinhwa World on Jeju Island in South Korea has announced the official opening of Shinhwa Water Park.
The Shinhwa Water Park officially opened on August 3rd. It is the largest waterpark in Jeju, featuring approximately 18,000 sqm of space and 19 attractions.
The water park features a kids pool, spa, a private cabana area, an outdoor wave pool and water slides.
There are also state-of-the-art first-in-Asia rides such as the RocketBLAST® water coaster, FlyingSAUCER™ and TornadoWAVE®.
The water park is able to accommodate up to 3,400 people.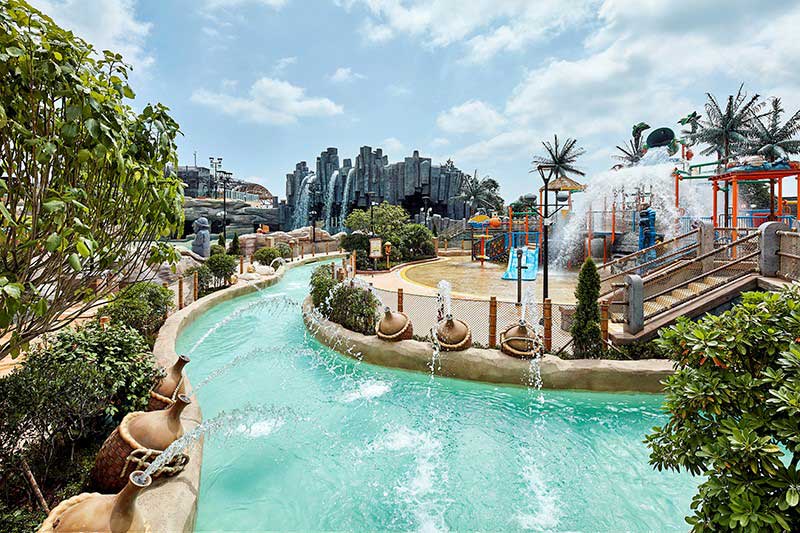 Also on August 3rd, the resort launched an exhibit of characters from "Transformers". The showcase, dubbed "Transformers Autobots Alliance", features eight exhibition halls and interactive elements. Guests have an area of 2,200 m2 to explore.
Dr. Yang Zhihui, Chairman and Executive Director of Landing International, commented, "Being an iconic and premium family-oriented integrated resort in Northeast Asia, Jeju Shinhwa World offers various leisure and entertainment facilities to visitors from Korea and the region. The opening of Shinhwa Waterpark and the Transformers Autobots Alliance Exhibition will complement the existing leisure and entertainment offerings in our resort, adding more colour and excitement to Jeju Shinhwa World, and attracting more local and foreign visitors of different interest groups and ages to the integrated resort."
Jeju Shinhwa World is the first premium integrated leisure and entertainment destination resort in Jeju.  The 2.5 million square metres resort was developed by Landing Jeju Development Co., Ltd, a wholly-owned subsidiary of Landing International Development Limited.  It opened in December 2017 and represents a $1.8 billion development.
Last year, Lionsgate and Landing International announced plans for Lionsgate's first branded outdoor theme park, Lionsgate Movie World. It is scheduled to open in 2019.
Since the progressive opening of Jeju Shinhwa World in 2017, the resort has received many domestic visitors and foreign guests. Landing International has seen a surge in revenue and net profits. The increase in revenue is mainly due to the significant increased revenue contribution from its gaming business in Jeju, South Korea, after its Landing Casino was relocated to Jeju Shinhwa World on 25 February 2018.
Landing International has also announced that its wholly owned subsidiary, Landing Resorts Philippines Development Corporation has been granted a provisional gaming license from Philippine Amusement and Gaming Corporation (PAGCOR). This will allow them to operate a casino at an integrated leisure and entertainment resort within the Entertainment City in Barangay Tambo, City of Parañaque, the Philippines.
The resort will be built at a cost of US$1.5 billion. It will be a family-oriented integrated leisure and entertainment resort. Current plans say it will feature a casino and an indoor cultural theme park and waterpark – which will feature the Philippines' rich history, culture and heritage. The resort will also contain Asia's first and largest indoor movie-based theme park, a world-class state-of-the-art convention centre, luxury hotels and international retail and dining.