WhiteWater's Ray Rush waterslide at SeaWorld Orlando's Aquatica water park has scooped a Golden Ticket Award.
Inspired by the manta ray, the Ray Rush triple fusion slide won Best New Water Park Ride 2018.
Amusement Today's Golden Ticket awards are presented annually to showcase the best in the water park and attractions industries and are voted on by a panel of industry peers.
The WhiteWater slide combines both physical and visual sensations, allowing riders to glide and spin like rays through the water.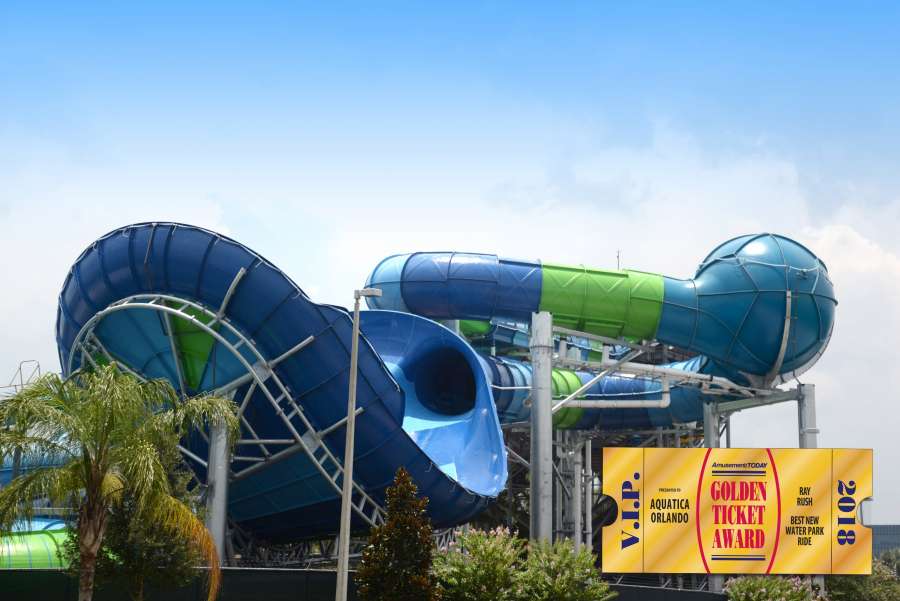 "A first-of-its-kind fusion water slide, Ray Rush has truly raised the bar for the variety of experiences a ride can offer," comments Paul Chutter, WhiteWater's Chief Business Development Officer.
"An exhilarating combination of three unique slide elements is seamlessly blended into a single attraction."
Ray Rush celebrates the majesty of the manta ray
Riders begin their journey with a horizontal burst on a Family Blaster before accelerating around a sharp corner and into a translucent AquaSphere. Measuring 22 feet in diameter, the glowing, fog-filled orb sends guests back and forth up its inner walls. They then exit into an enclosed flume, illuminated by the AquaLucent manta rays (main image) above them.
The ride ends with a 20-feet near vertical drop into the Manta, a feature inspired by the wings of a manta ray. Riders land in the Manta's valley before rocketing up the other side to reach a feeling of weightlessness at the top, only to drop down again, then up the other side. They exit the Manta's tail through a tube of AquaLucent hoops (below).
The 60-feet high attraction has fast become one of Aquatica's iconic attractions.
"When we conceptualised this waterslide, we wanted to celebrate the majesty of one of our favourite animals—the manta ray," explains Aquatica Senior Leader, David Heaton.
"We were thrilled that WhiteWater was able to capture not just the sweeping movements of a manta ray, but also visually represent the sensation of swimming in a fever of rays. Ray Rush has quickly become a favourite amongst our guests, making it one of our most popular rides."