WhiteWater, a leading waterpark manufacturer, has announced the creation of a new racing water slide, Parallel Pursuit, which allows side-by-side riders to see and hear each other for a fun shared racing experience.
This unique ride allows operators to add a marquee water attraction with a small footprint, on a small budget.
A new type of racing water slide
"Racing water slides are a great way to encourage repeat ridership, combining skill and thrill as guests challenge others as well as themselves. Whether that's to beat a friend or their own personal best, Parallel Pursuit has the added benefit of increasing a park's dwell time," says Paul Chutter WhiteWater's President and CCO.
Previously, racing slides were either the traditional open and rolling slide path, heading straight down to the finish, or rides with separated enclosed flumes with twists and turns.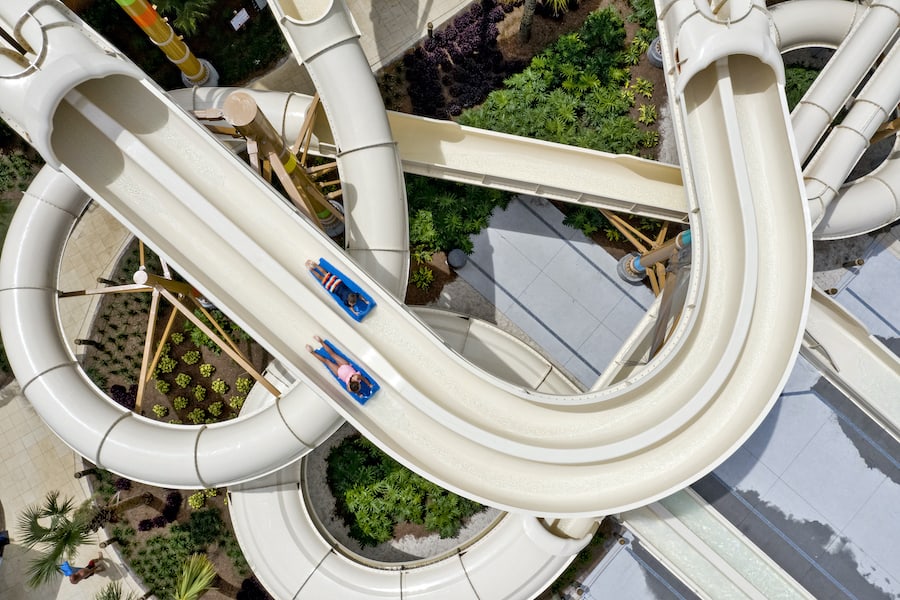 "Parallel Pursuit's innovation lies in its lower separating walls that allow riders to see each other, not just on straightaways but also on turns, in both open and enclosed sections," explains Chutter.
The new ride's open and enclosed racing sections can also be linked by twisting enclosed AquaTubes, meaning that excitement is added for the riders through surprise lane switching. In addition, the enclosed racing sections have a translucent stripe, enhancing the atmosphere with the addition of light.
"From start tub to run-out lane, Parallel Pursuit has been designed for pure racing fun. Being able to see your friend as you race around a bend and hear their laughter echo in the slide is a unique experience for any ride," says Chutter.
Parallel Pursuit in action
Guests at Nocatee Spray Park in Nocatee, Florida, have been able to try the innovation out for themselves, thanks to the first installation of a Parallel Pursuit mat slide, called Twin Falls.
"It's an intense face-first ride that our residents love," says Lee Hovis, Operations Manager of the Tolomato Community Development District in Nocatee.
Here, riders have the experience of switching between sections where they are competing interactively, and sections where they are speeding down separate tubes in suspense. In the enclosed sections with low separating walls, they can both see and hear each other. The ride opened in 2021 and has "changed the whole dimension of the park," says Hovis.
"The number of people using the facilities has increased," he adds. "It's put us on a whole new level. This is our second slide tower that we've done with WhiteWater; working with them was pretty amazing.
"The good thing about WhiteWater is the professionalism that they have—the experience, the knowledge. Their team was here working with us, helping train our staff, making sure everything was just right, testing everything constantly, making sure it was safe, and giving us a great product."
Racing water slides are an ideal choice for operators wanting to encourage repeat ridership and to increase time spent at their attraction. This is because visitors want to beat their friends or defend their winning streak.
Parallel Pursuit is available in both mat and body versions. It is an affordable and scalable addition to any ride mix. To find out more about racing water slides, download WhiteWater's free Racing Guide.
Last month, WhiteWater announced that it has provided its Vantage platform to Atlantis Dubai, in order to enhance the guest experience at Aquaventure water park. This partnership will enable the operator to deliver a personalised and frictionless experience to visitors.