Brevard Zoo in Florida has launched a $100 million campaign to fund a second campus, which will feature a new aquarium and conservation centre. The aim is to break ground on the project by 2024, with a view to opening in 2026/2027.
Keith Winsten, the zoo's executive director, was director of education at Chicago Zoological Society before coming to Brevard Zoo in 2004. Previously, he was education director at Roger Williams Park Zoo for nine years, having graduated from Yale University with a BSc in Biology in 1985.
He spoke to blooloop about his background, the zoo, and the plans for the new aquarium.
A love of nature
Winsten's interest in animals stems back to when he was a child, as he explains:
"My sisters are 10 years older than me. When I was six years old, one of their best friends gave me a pair of garter snakes, which started my interest in snakes. Then there was a nature centre that sprang up next to my middle and high school, and we just naturally gravitated towards it. I ended up doing environmental education, doing more stuff with reptiles there."
"When I was in college, I got a summer travelling grant to go to Europe to study reptile husbandry at European zoos. I initially came in through reptiles, then became fascinated by human communications.
"Now I'm an avid birder, and the problem is that you can't look up and look down at the same time."
Brevard Zoo
Brevard Zoo is 28 years old and was built by the community.
"We are one of a handful of AZA-accredited independent zoos. In the US, the great majority of zoos are part of some governmental body, city, state, or county. Then there are the private not for profits, which are usually chains. Finally, there is a small group of zoos that are independent not for profit."
This is the group to which Brevard Zoo belongs:
"We don't get any recurring public operating support, but we are very much a community zoo. We reflect the needs of our community. In terms of our conservation programs, a lot of our focus is on waterway restoration work, because of the nature of where we live.
"The species we work with are mostly endangered Florida species. Agencies come to us, and we answer the call in many, many ways. We have been doing lots of vaccine drives because that is what the community needs. We fit that mould of a community zoo owned by the community, run by the community, and not part of any governmental body."
Personal experiences
In terms of the experience offered by Brevard Zoo, he says:
"We provide personal nature experiences in an authentic Florida setting. When you come here, you will feel really immersed in nature, and will see animals in larger enclosures doing a lot of natural things."
Touching on the institution's revenue streams as an independent entity, he says:
"About 89 to 90% is earned income – food, retail, the gate, and the other 10 to 11% is philanthropy. We have a small endowment that we're letting grow. We don't get any public recurring operating support, so none of our operational costs are picked up that way. But we do get a little bit of what we call the 'bed tax' for capital. When someone stays in a hotel or does an Airbnb in Brevard County, we get a little piece of that."
The impact of COVID
While the COVID pandemic and consequent lockdowns could have had a disastrous effect on the zoo's income, he explains:
"In Florida, we had a lot of options in terms of when we could open again. We were shut for two months, but the community totally stepped up in terms of philanthropy."
Additionally:
"The US had a really good bailout system, so we got public operating support, all of it federal, but some of it coming through our county. Like most American zoos, we came out of this a lot healthier than we thought we would."
Animal welfare is priority at Brevard Zoo
Concerning reaching outside the traditional zoo visitorship, people who are invested in conservation and will engage with positive behaviour change, Winsten takes an interesting approach:
"We think you start from a very different place: with the quality of care you provide for the animals. We start with animal wellness first and foremost, always. Our feeling is that if people don't believe we treat animals well, they won't listen to us about anything else.
"So, we start with consistent messages about how we care, and that care goes out into the whole community. Conservation is an extension of that caring. Our conservation projects, although we do some work all over the world, are really about what the community cares about."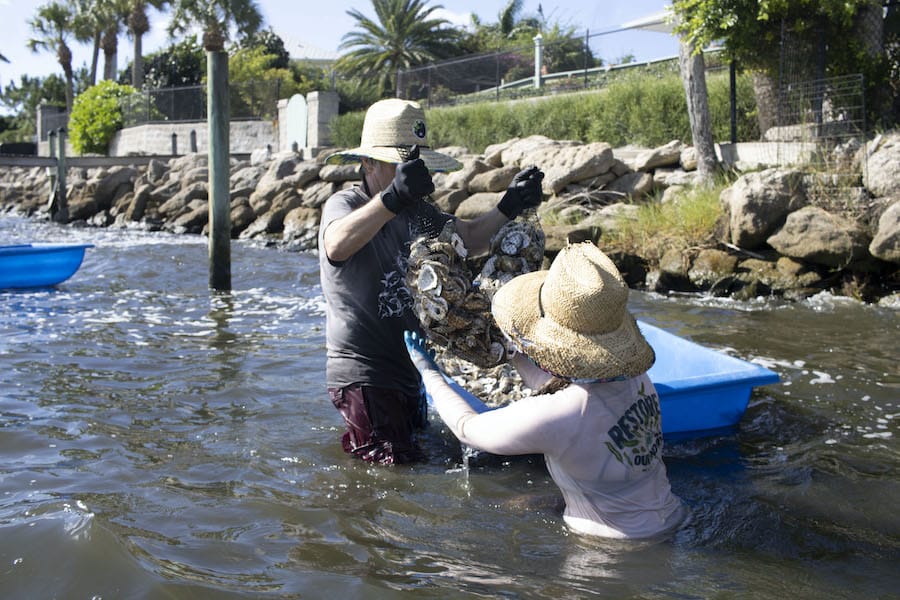 "Projects that come to us are usually the result of some agency stepping out and saying, 'Can you please help us with this?' People get engaged because it's something that they care about."
He offers examples:
"We have done a lot of restoration work in the in-river lagoon, working with oysters and mangroves and shoreline grasses. As the community has become interested in clams we've gotten involved in that. Over the last two years, manatees and seagrass have risen to the top of the agenda. We are constantly answering the call, and that has driven us to places that are relevant to people.
"It starts with this inordinate trust level – that we're always going to be truthful with people, and we're going to do the right thing by our animals."
Interactive fun
The zoo has a number of interactive elements that differ from anything most zoos can offer:
"You can kayak through the zoo in two different places. You can also Zipline through the zoo. Those are the defining experiences that differentiate what we offer. Then so many of our animal exhibits are immersive, in terms of the habitats. We also do a lot of the traditional things that people love, giraffe feeding and lorikeet and cockatiel feeding, and walking around kangaroos."
One aspect of the zoo's model that is key grew from the fact that it is located, effectively, in the shadow of the great theme parks. Winsten comments:
"The most developed theme park community in the world is an hour away, in Orlando. Those theme parks require significant dollars to get in, and a full day of your time. What we provide, therefore, is a fabulous half-day experience.
"The average visitor here spends about four hours. They can see and do everything they want to, then they can go home, take a nap, go out to a restaurant for lunch, if they haven't eaten here, go to the beach. The time demand is much smaller, and you can see it in a relaxed manner. We are in juxtaposition to that full-day theme park experience."
AR tech at Brevard Zoo
In 2020, the zoo incorporated an AR 'edutainment' experience as part of its Rainforest Revealed exhibit, exploring the interplay between seed dispersal, the seasonal flooding of the rainforest, and the role of the pacu fish in the ecosystem.
"We really haven't been able to do much with it, because COVID hit," he says, adding: "We are a big believer that if we're going to include these technologies at the zoo, they need to be AR and not VR. You can do VR at home."
Winsten is wary of technology for its own sake:
"We're not Luddites," he says. "Of course, we have technology at the zoo. We have cameras. We're about to roll out a new application with Quarters for Conservation [a programme that raises money to support wildlife conservation all over the world]. But we are cynics when it comes to diverting people away from the real things that are here.
"For example, we don't have a zoo app, and I haven't seen one yet that I thought made sense during someone's visit. We're very easy to navigate. It's a classic Disney design, a circle with loops, so you really can't get lost. I don't want people looking at their phones. I want them taking photos. AR, though, looks to us like it has real potential."
New aquarium and conservation centre
Brevard Zoo has launched a $100m campaign to fund a second campus, featuring a new aquarium and conservation centre at Port Canaveral.
The aquarium, inspired by the Indian River Lagoon, will showcase interactive experiences, indoor and outdoor exhibits.
"For the last 10, 15 plus years, a lot of our efforts have been in marine conservation and waterway conservation: primarily restoration work in the Indian River Lagoon. People trust us on that issue, and we've done so much on it.
"The capital campaign started with a business question, which is recognizing that there is no major aquarium on the I-95 corridor south of Charleston. So there was this vacuum."
Melbourne, Fl, where Brevard Zoo is located, is on I-95. He explains:
"Just a few from here is this big road that comes from Orlando, bringing people to our beaches. It goes by port Canaveral, the second busiest cruise port in the world, and is this fantastic tourism crossing. We started questioning whether that would be an ideal place to build an aquarium, both to focus on our marine programmes and to bring attention to the work done across the whole region."
A focus on diversity
The first five years were spent playing with the numbers to see if it would be feasible.
He says:
"We are independent, so there's no recurring operating support. It needs to run in the black. Once we were confident of that, the last five years was about getting us to this point. We have developed a concept that we feel really good about. It is for an aquarium that is very similar to Monterey Bay, in the sense that it focuses on the incredible diversity we have here."
The new aquarium will comprise 14 acres:
"Because we're Florida, it's a combination of indoors and outdoors. There is a covered walkway that brings you to different pavilions. Some are climate controlled and indoors, most are not; for a lot of it, you get wet. For most of the year, you can do that here. We are also on the Banana River, so there is this beautiful, natural landscape to take advantage of."
A unique new attraction
COVID lost the project some time:
"But at the end of September of last year, we locked up the land, completed agreements with Port Canaveral, and in early December we launched our $100m campaign."
The zoo already had significant funds in hand – around $34 – from a number of donors, as well as some public dollars.
"We have a little less than three years to raise the rest, complete the design and build it," he says. "We're excited because we know that if we build it, they will come. There's no question in our mind; the location, the market, and everything else is right. We also know it very much reflects us and is unique to us. It doesn't look like anything else that's out there."
Optimism for the future
Of the challenges facing the marine environment and natural world, Winsten says:
"I remember the very first bald eagle I ever saw when I was in my twenties, and the first osprey I ever saw. I see both of those birds every day in my life now. We know we can bring these species back. Nature is amazingly resilient, and the people in this community care deeply.
"I've watched people in Florida really adapt well to black bears coming back. I think the attitude is there."
"The issues are complex; waterways are connected. In terms of the actual aquarium, the big conservation themes include ocean plastics, which we know is a huge issue around the world, and sustainable fisheries. The bottom line is we're going to be eating farm-grown aquaculture in the future. Then there are the local issues about how we maintain our waterways.
"I am an eternal optimist. I think we can solve a lot of these problems, but I also see it as being like the arcade game whack-a-mole: we can solve some local problems, but other problems will emerge."
Local conservation at Brevard Zoo
However, he adds:
"I will tell you a story that inspires; it happened very recently. We helped restore a little species of beach mouse that lives in the dunes, the Perdido Key beach mouse. It's found only on a small island in the very Western part of Florida. We were asked to care for them, and, serendipitously, ended up cracking the code with a few others on how to breed them.
"We restored them, got the population back healthy in the wild, and worked on that island in terms of monitoring it."
The endangered Perdido Key beach mouse is essential to the integrity of its coastal ecosystem. When left uneaten, seeds stored by them grow into adult plants that help stabilise the dunes in which they are buried, providing greater protection to local infrastructure during hurricanes.
The mice are threatened by habitat loss, introduced predators and a population decline resulting from 2004's Hurricane Ivan.
In collaboration with state and federal agencies and other zoos, Brevard Zoo developed a breeding program to maintain a healthy, genetically diverse captive population. Many of the offspring have been released in Perdido Key to help the wild stock rebound from hurricanes.
Making a difference
He adds:
"My wife and I ran into someone who grew up there. When I mentioned that we had restored this population, he said, 'You saved my island.'
"That mouse in the dunes meant that the whole dunes system was protected. Sometimes, saving a little mouse can have this wonderful snowball effect, and it pulls on what matters to people in terms of sense of place. I am optimistic. We can make a difference, and I think places matter."
"I know we can make a difference here, and that's why we focus most of our efforts locally. After that, we focus on central and south America, because it's relatively close, rather than the other side of the world where we don't have as much standing or inside knowledge."
The Aquarium Project will increase Brevard Zoo's capacity to make a difference.
In addition to offering an immersive experience on the shores of the Banana River featuring educational, family fun with a focus on native marine species, the world-class aquarium will be home to initiatives that address critical environmental concerns, encompassing education programmes, scientific research and collaboration to restore the Indian River Lagoon, animal rehabilitation, and more.