She strongly believes in the role modern zoos must play in conservation. She also believes that science-led solutions to saving wildlife, together with engaging the public, are essential to the success of a 'One World' future.
In 2015 Sharon Redrobe told Blooloop:
"My challenge is to have Twycross Zoo as a shining example of the fact it is possible to run a conservation-driven charity zoo, stay solvent, turn people onto conservation, and make a difference without selling one's soul."
Blooloop caught up with her to hear about the zoo's progress towards those goals.
Reminded of her statement, she said:
"I think we are doing that. We have continued to grow and expand. We have got our turnover up 30%, in the last few years, and our visitor numbers up about 20%. So we are now at around 600,000 visitors a year.
"We have carried on with our development programme, completing Giraffe Savannah, Gibbon Forest and then Chimp Eden, which were the big three things we wanted to do in the first five-year plan as well as all the smaller builds."
An Eden for chimpanzees
Twycross Zoo is the UK's biggest Ape Conservation Centre. And Chimp Eden is, for the moment at least, the jewel in its crown.
Redrobe says: "Chimp Eden has allowed us to decant three chimpanzee groups into the one.
"It is two-and-a-half storeys high, with a large outside area. There are also overhead tunnels for the chimps to run above people's heads to the outside. The Eden has been designed with the University of Birmingham, so is very much in line with what chimps need, rather than just what looks good from a human perspective.
"It is great for their muscle tone, for encouraging them to use their brains and to move around the enclosure. It dwarfs anything else we have had before. It's the biggest in the UK. I would argue that it is also the best.
"We are very proud of it," she says. "We currently have 17 chimps in there, but we have built for 30, so we expect some breeding. We are also going to start bringing in some other chimps from Europe to refresh our elderly group."
Theming in the habitat
The chimps' behaviour has, she says, changed completely since moving from single-storey, small-group areas into their new, much larger habitat:
"They are much more relaxed, there are much more chimp-like interactions going on.
"There are almost floor-to-ceiling windows, where the humans and the chimps watch each other, which is quite spectacular.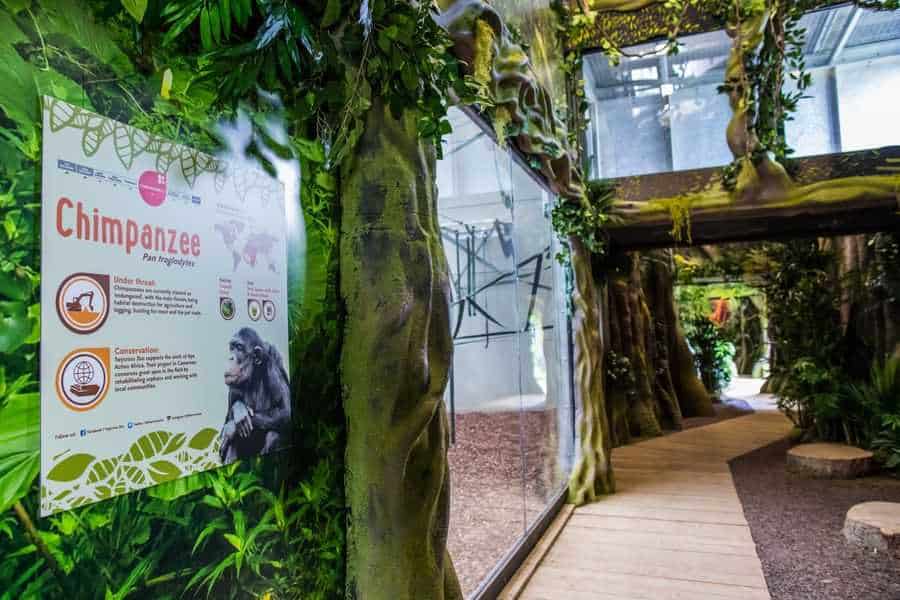 "We have gone with theming. We did a bit more theming in the corridors for the humans with Gibbon Forest, and Themesparx has taken that to an extra level with Chimp Eden.
"It looks lovely. We have got noises and imagery from our partner project in Cameroon."
Strategic growth for Twycross Zoo
Sharon Redrobe's career was initially inspired by a childhood admiration of Jane Goodall. She says:
"The five-year programme was about getting Twycross zoo on a firmer footing, to start that growth, and then culminate in a chimpanzee habitat. Which is what we have done."
She says: "We spent almost £10 million on the site, a chunk of that from our own cash flow, because of the turnaround getting the visitor numbers up, so we are really pleased with that. We got some help from our local enterprise partnership. And I am delighted that we are on the strategic growth plan for the region.
"As a major business, we should be seen as a big employer, and an attraction for the region, if not nationally because it puts us in the big six charitable zoos."
Public interest in conservation
There has, Redrobe contends, always been a public interest in conservation. She says:
"I am delighted that in the latest Attenborough programs, David Attenborough has moved away from the 'fluff and rainbows' type of nature programme. They are lovely, but not real, to programmes that are a bit more 'red in tooth and claw'.
"The Dynasties programme just broadcast, where we saw chimps fighting and some injuries, that's real. And I think we need to be part of those discussions, debates and in educating the public. We want animals to be real, like the wild ones. That involves putting them in large groups where there might be appropriate levels of aggression in those types of species. It will be carefully monitored, but we are not going to treat them like little pets any more, expecting them to be in twos and threes, and nice and quiet.
"So I love seeing this much more natural, robust behaviour being depicted."
Finding new opportunities in social media
The growth of social media is affording new opportunities. She says:
"Everything is so much faster. People see videos all around the world almost instantaneously; a lot of people are critical, but they voice those criticisms very quickly, and that gives us a platform to address it very quickly."
This was the case when, despite all precautions having been taken, a tiger at London Zoo was killed by her prospective mate.
London Zoo's COO wrote a considered and informed account of the tragic, but ultimately unavoidable events, initially as a letter to staff. Later, on request, sharing it widely to help people understand that however devastating the consequences might sometimes be, a tiger is a tiger, and not a fluffy toy.
Redrobe says: "And that's what we do with any of those challenges we have with our apes or any of our species. It is about being brutally honest with the public, but also about demonstrating our expertise. We must not shy away from those difficult conversations."
Brexit and the movement of animals
To what extent is the current Brexit situation impacting on Redrobe's plans for Twycross Zoo?
She says: "In terms of animal moves, no one knows what is going to happen after Brexit.
"We don't know under what import licences and with what paperwork we will be able to move animals around. We've had a very special position that we petitioned the EU to put in place. That meant we could move wild animals around Europe for conservation purposes without having to treat them like pigs and sheep, but that is European legislation. And of course, the minute the UK jumps out of Europe, it might no longer apply.
"Are they then going to treat us like a part of Africa that might have lots of diseases, and need to put a big bubble around us? That is the concern."
Practical problems to consider
"We are bringing rhinos here in four weeks' time, which is fine. However, we're also supposed to be bringing in tigers from France in May. We have filled out one set of paperwork, but that might no longer be valid.
"We are building a multi-million-pound enclosure for the tiger. Ideally, we would work with the genetically suitable Sumatran tigers that have been selected for us as part of the international breeding programme."
"So we have to look at plan B and C: of where to obtain tigers that are still within the programme, but not quite what we had planned. Perhaps bringing a UK Tiger in, even for two or three years, and then having the challenging logistics of having to swap animals around later.
"So those are the practical problems that we are facing right now."
Conservation strategies and initiatives
Concerning conservation initiatives, Sharon Redrobe says she is working with fewer partners to a deeper level.
She says: "This has been our strategy for the last couple of years, going forward into our next five-year plan.
"We are targeting that around habitat and apes, majoring on skill sharing and capacity building, rather than just looking at money, though that is important, too."
Twycross Zoo Conservation Initiative has been contributing to conservation in the wild since 2006. They do so by supporting conservation and welfare projects in many countries.
Redrobe says: "For instance, our vets have just been out to Belize to perform health checks on monkeys before their release, and will shortly go out to our Cameroon project on rescued gorillas and chimps, where we have helped fund a new area for some of the adult gorillas.
"They have to be anaesthetised to be moved. So our vets are going out to move a bunch of silverbacks in March.
"That is the kind of real support we can give these projects over and above just money. And that is what we want to do, the way in which we can make a difference."
Rhinos, tigers and landscaping at Twycross Zoo
Back at the zoo, immediate plans include rhinos, tigers – and landscaping.
Dominic Cole, landscape architect on The Eden Project and the Lost Gardens of Heligan has put a 20-year landscaping plan for Twycross Zoo in place.
Redrobe says: "We have, obviously, grown-up from a private house collection that turned into a zoo in 1963.
"But really, if you stepped back and said, what would it look like if we designed a zoo from scratch? What would the visitor journey look like? It would be very different.
"I'm very keen for it to be a green, leafy tunnel journey, with a lushly planted, wild feel. I'd like to get away from the managed estate feel that it currently has.
"We have started to roll that out this year; some of it is around changing our visitor route, so it's a bit more managed; it feels bigger, and there is a sense of discovery."
Major revamps and showcasing Twycross Zoo
In parallel with this, she is looking at developing a large children's area over the next few years. This will be rooted in the natural world.
She says: "A big chunk of our market is the under ten age group, and we're going to focus on that in a major revamp of our children's area to open in 2021. We are projecting that that will really bump our visitor numbers forward.
Additionally, in the local area we have Birmingham Commonwealth Games in 2020, and then Coventry City of culture 2021.
We are positioning Twycross Zoo to be part of the partner program for both. There will be international eyes on this region, and we are the major conservation zoo here.
We can give the athletes and their families a really good day out, and be aligned with showcasing the efforts in the region."
National Conservation Science Campus
Beyond that, regarding science and conservation, Redrobe is planning a national conservation science campus on site:
"We are looking at developing a major field campus here with some of the local universities, to educate the next generation. The usual suite of classrooms, seminar rooms, a library, and a 200-300 seat lecture area as well, with conferencing and accommodation on site, for visiting researchers."
This last is something Twycross Zoo has been trialling over the last two years.
Redrobe says: "Twycross Zoo is an internationally important site. Our primate collection is the only one in the UK with all four great apes, plus gibbons, and extensive collections. So we are starting to see more interest, and we need to start building facilities that recognise that international significance."
One World – looking at the whole picture and acting now
Redrobe is ideally qualified to comment on the ecological crisis and the measures that need to be taken. Is the conservation method getting across? Are we in time to turn things around?
She says: "I am always hopeful. But I do agree with the 16-year-old Swedish activist Greta Thunberg that it is a climate crisis now.
"We do know what the solutions are. There is a whole gamut that we need to do; it is not just about single-use plastics, or just about palm oil use. It has to be the whole picture, and it has to be done quite quickly. And that is only going to come from legislative change and government initiatives. We can only do so much to educate; we can build up that pressure, but we do need some big thinking from global leaders, governments and big multinationals.
"It is starting to be discussed at DAVOS and the UN, which is great. However now we need to see action."
Protecting habitats
She says: "As I have always said, it is part of the 'One World' picture; you need NGOs that work in fields to act against poachers; that work with the local government to enact their legislation and stop it. We need to protect habitats because that is where the animals live. So we need not to be mining, or we need at least to be ring-fencing areas now very quickly that will be safe from mining, from palm oil plantations, because once habitat is gone, it is gone. And a habitat to support great apes takes a couple of hundred years to mature, so it cannot just be replanted.
"Government bodies are accepting that we are in the middle of the sixth great extinction crisis, and that is probably man-made. That being the case, what are we doing about it?
"I have said this before, but it has not changed, in fact, it has escalated. I think the role of the modern large charity zoos is to be of sufficient size and ethos so that we are part of the solution.
"And we are: we work collaboratively with breeding programs; our bonobos are part of the global bonobo breeding program between Europe and America to keep this species extant on the planet, for example."
Funding an important cultural asset
"We need to educate the public that that is the role of the modern zoo: we are conservation organisations.
"It's not the only solution, because we also need to work on all the other elements. However, everybody has a role to play and the public needs to come with us. Because we don't get public funding."
That, Redrobe maintains, is the next argument; that those who do this vital work should be funded.
In order not to be forced into going down the commercial route and becoming theme parks, which would be bad for animal welfare and breeding programmes, zoos need to be seen differently. She says:
"It is going to get more and more expensive to run really good zoos for animals. That is because enclosures are going to get increasingly bigger and more expensive. And we need to start looking at that business model.
"We are a repository of nature for the nation, as well as the planet. We should be regarded not as a fun day out for all the family, but as a cultural asset."
Images kind courtesy of Twycross Zoo and Sharon Redrobe.