Zeina Dagher started at Emaar Entertainment as an intern, while she was still at the American University of Sharjah, majoring in Finance. At that point, Dubai Mall and the Burj Khalifa were still under construction.
"In 2008, I did my three months internship with Emaar," she says. "The whole downtown area was still very much a buzzing construction site. I loved it."
After graduating, Dagher sent her CV to the team at Emaar Entertainment.
"They said, 'yes, we do have a junior executive position at Burj Khalifa. We are looking for somebody to help with developing the customer journey of the Observation Deck, and with the merchandise.'
Zeiner Dagher joins Emaar Entertainment
"To be honest," Dagher says, "I had no idea what it involved. But, of course, I took it, and started in 2009."
It was the antithesis of what she had imagined she would be doing:
"I never thought I would be working on a construction site. It was so busy. And then I started to see the picture. I realised: this is the tallest tower in the world and I am part of that team. I am working on the highest observation deck in the world. It started to hit me. Not a lot of people get this opportunity, so I had better get my act together, appreciate the blessing that I have, and just start working."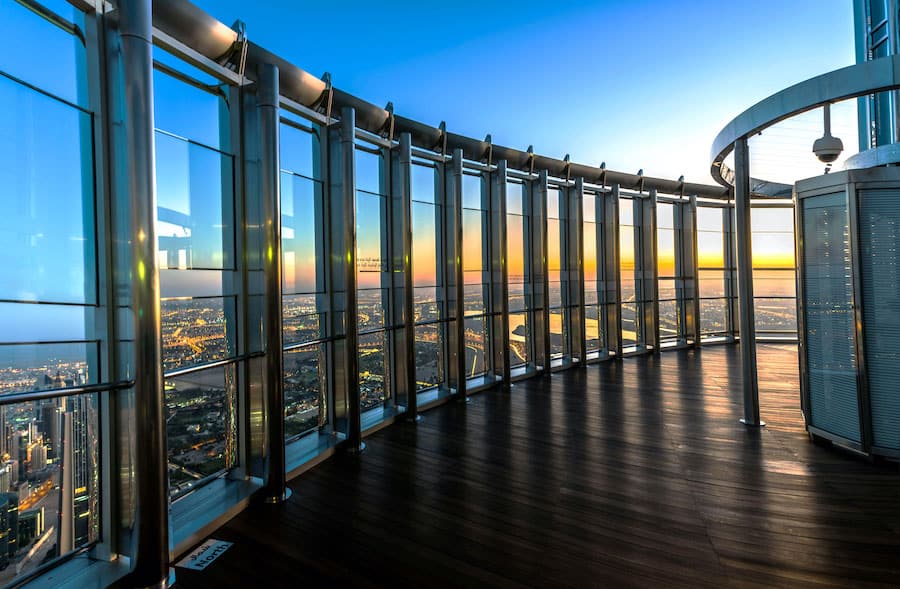 "It started progressing, very slowly, from there. I started to love what I was doing."
A valued team member
Zeina Dagher identifies the fact that she was a valued part of the team from the beginning as one reason she loved it:
"I was building something from scratch, and I'm so grateful for the senior management at the time for their patience with me. They mentored me; they allowed me to join every single senior management meeting.
"I listened and tried to grasp as much information as possible. A couple of years passed, and in January 2010 the Burj Khalifa was inaugurated, and we opened the observation deck. We started seeing visitors coming in from all over the world."
Dagher was initially part of the marketing team, developing the collaterals, the promotions, and working with different tour operators:
"We were contracting with operators from all over the world – in China, India, Japan. Slowly, my involvement with Burj Khalifa grew drastically. I was in marketing, then I moved to operations.
"What principally allowed me to grow there was a lot of change in senior management for the observation deck. Every time there was a change, I would push myself, and say to the CEO or to the boss in between, 'Let me take charge until you find somebody.'
"So they used to see this enthusiasm and this excitement, at a very young age, at the time."
Emaar Entertainment's youngest CEO
Zeina Dagher is still Emaar's youngest CEO
"I used to push myself, and I used to push them to give me a chance. And that is what happened."
It was, she says, occasionally intimidating:
"It was scary, being around the table, where all of them were men. It's a very male-dominated region, and it's a very male-dominated industry. Whether it's construction, whether it's real estate, or development, even entertainment; it's male-dominated."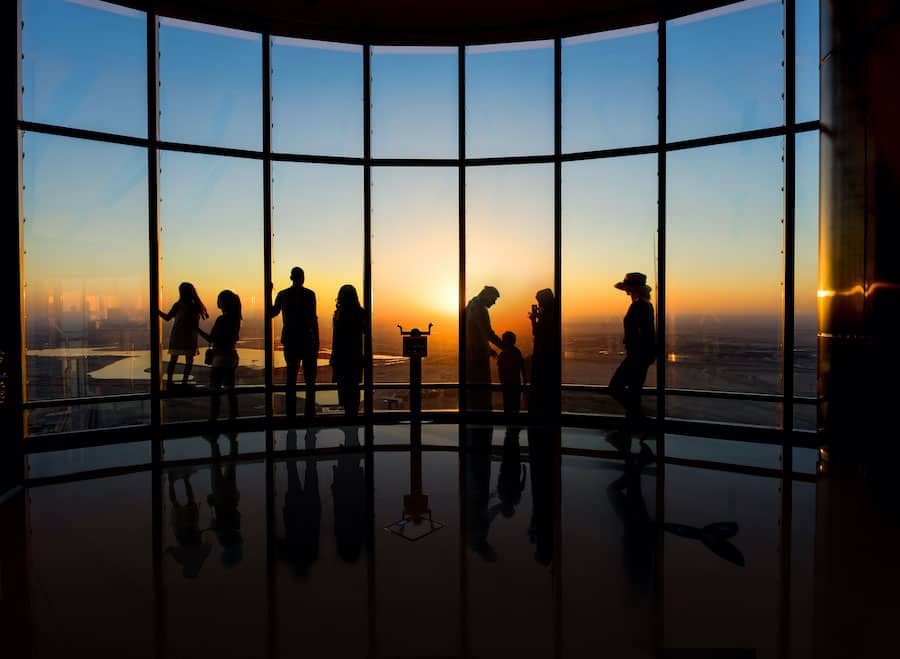 "I had to teach myself not to shy away from asking questions. I used to have a very thin skin. That has changed because I taught myself not to be shy. I taught myself to speak out. I taught myself to understand how men have an ego, and we don't. In addition, I read a lot of books; I educated myself on how to deal with the other gender. It was difficult."
But she persisted:
"It was not easy, and it took time, but I spoke my mind, and insisted that things were done in a certain way until I proved myself, and they – on the other side of the table – knew who they were dealing with.
"I started as a marketing executive. I grew to be assistant manager, then manager, and then director, all within Burj Khalifa. When I became the director of the Burj Khalifa, I was exposed to the Chairman a lot; our group CEO within Emaar."
An unusual approach
The Chairman, H.E. Mohamed Ali Alabbar, has an unusual approach, Dagher explains:
"The way we deal in Emaar is centred on the fact our Chairman doesn't believe in hierarchy. Recently, Emaar removed their designations, so we don't have titles anymore. A couple of months ago, I was Zeina, the CEO of Emaar Entertainment.
"Now, I am Zeina, from Emaar Entertainment. To be honest, I understand where the Chairman is coming from. He wants people to shine. He doesn't want people's powers to shine."
There are two sides to that, of course. It could be construed as negating achievement.
Dagher concedes that this is true.
"I've personally worked so hard to reach where I am right now. But I think maybe we're now in a time where we shouldn't have those titles. Our titles are not us. Our achievements are us, and that is the end goal of the Chairman. This is what he wants."
"He doesn't just want to deal with Zeina, for example, but with the people Zeina has on her team, to give them a chance to grow, as well. This is why he has eliminated titles. Of course, many people took it negatively, because they associate their title power with themselves to the extent that they couldn't take it.
"But I think we have to be open-minded to change."
Recognising talent
"Post-COVID, things have changed drastically; the whole way of life and way of working is very different," says Dagher.
"We have to be accepting of change and to take things positively. We may not always understand the Chairman's intentions, but there must be something that he sees that we probably don't. This is why he's the Chairman, and we're not.
"The Chairman's way of dealing with his employees at Emaar is interesting. If he has a question he will deal directly with the person that knows the answer, rather than automatically going to his number who would then reach three, four steps down the line until he procured an answer."
"He would think, for example, 'my junior finance guy has the answer; I'll call him directly.'"
An example of this occurred when Dagher was a director:
"It was in 2013, 2014. There were a lot of management changes in Emaar's corporate office. They needed a Chief Marketing Officer (CMO). So he called me, saying, 'I need your help. I need you to step in as Acting Chief Marketing Officer for a couple of months until we find somebody.'
"I was shocked but so happy and proud for him to call me directly."
Tall towers
Zeina Dagher worked as Acting CMO for a year.
"It taught me so much and it gave me so much exposure to other entities within Emaar; it allowed me to meet the other CEOs; the CEO of real estate development, of Emaar International. The exposure in a corporate office is much greater than when you are in one division.
"I was still working on the observation deck, doing that in parallel."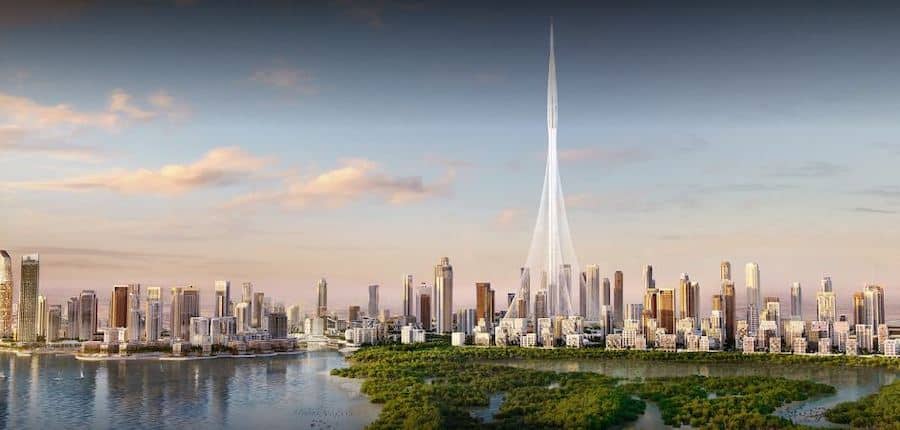 After a couple of years, Dagher also became part of the team working on the observation deck and tall tower in Turkey:
"I used to travel a lot between Dubai and Turkey, as part of the team managing and operating the observation deck and the Mall. I am also part of the committee working on the next tallest tower in the world, which will have an observation deck as well. Although that is on hold for now. The architectural part is in place, but construction hasn't yet started.
"So I'm very grateful for the exposure that I had in Emaar."
Zeina Dagher proves her worth
When she was made CEO of Emaar Entertainment last year, Zeina Dagher had asked the Chairman for the role twice.
"The first time I asked him was maybe four years ago. He said, 'No, not now. You're not ready for it.' He said, 'Prove it. Prove it to me that you can take this position.'
"The second time was almost a year and a half ago. Again, I asked him. I said, 'Look, this is what I want. You know I can't remain in one position for so long, running the observation deck. I can give so much.' And suddenly, I went from running one asset, to running seven assets."
Emaar Entertainment's portfolio is huge, comprising the Dubai Aquarium, Reel Cinemas, the ice rink, the VR Park, Kidzania, and two attractions in Bahrain and Saudi Arabia. She says:
"I remember on the first day, thinking, 'What did I ask for? Am I sure that this is what I want? What was wrong with the observation deck?'
"But I am so grateful for the opportunity that he gave me. It stretched me. The first couple of months of being a CEO at Emaar Entertainment, the number of people that I met; the number of projects that were going on, the amount of knowledge that I had to take in over such a short period of time, stretched my limits, but also showed me how much I can take."
Emaar Entertainment and COVID-19
One of her first ventures was to turn a loss-making business into a profitable one in a very short period, until March of this year when COVID hit:
"In terms of numbers, our EBITDA achievement in 2018 was at approximately 65%. In 2019 we hit 87%. That was a huge jump."
Outlining exactly how the failing business was turned into a profitable one, Dagher says:
"I looked at the successes that we had in Burj Khalifa, and I tried to transfer that success across, whether it was operational success, marketing success or customer feedback."
Listening to the customer is always key. Everyone knows the phrase 'the customer comes first'. That is our Bible
"Listening to the customer is always key. Everyone knows the phrase 'the customer comes first'. That is our Bible. I started looking at customer feedback from all our attractions. I started looking at social media feedback. And I started looking at customer complaints, and at data.
"I pulled out as much old data as possible, looking at repeat visitation; looking at customer feedback in terms of pricing.
"For example, I realized that repeat visitation at one of our cinemas was less than 2%. So, why was that Visitation for the cinema should be at 80 or 90% of our business. It's a very resident-based attraction. I drilled down on data; I listened to customer feedback and found things such as, 'It took 15 minutes to stand in line to get our popcorn. The seating was very uncomfortable. The staff were rude.'
"Those are all things that would prevent a customer from coming back."
Making guests happy
Nothing is impossible, says Zeina Dagher:
"None of this is rocket science. It's just a matter of drilling down and looking at each line item one by one and then trying to fix each issue.
"OK, it took the customer a very long time to stand in line. Let's fix that. Let's fix the ticketing counters and the POS systems and let's train the staff to take the orders faster. The food doesn't taste so good. The popcorn is not fresh. So let's look at our kitchen operations. What do we need to do in the back to make sure that the front customer is getting his or her items as soon as possible?"
"If the staff are rude, then something in terms of operations is not going right. Let's put in some training programs for the staff. Let's add incentive programs for the staff.
"For example, at the Dubai Aquarium, at one point, our ticket sales were very low, although the ticket price was low. So we put we started putting our ticketing counter staff on a commission basis, so the more they sell, the more they take a cut from the ticket price. Suddenly, ticket sales went right up.
"Everyone needs to be incentivized, particularly the floor staff, who make much less money than management does. A small portion of commission goes a long way."
Listening to team members
Zeina Dagher says she also made a point of listening to the staff themselves:
"They are the eyes and ears of those attractions. They know, far better than anyone, what the customer wants, what the customer likes, what the customer is complaining about.
"So we started putting together weekly sessions where we would get our staff's feedback on the operation of the attraction, and listen to their suggestions on ways in which we could change their operations a little bit, but that would go a long way. And it did go a long way."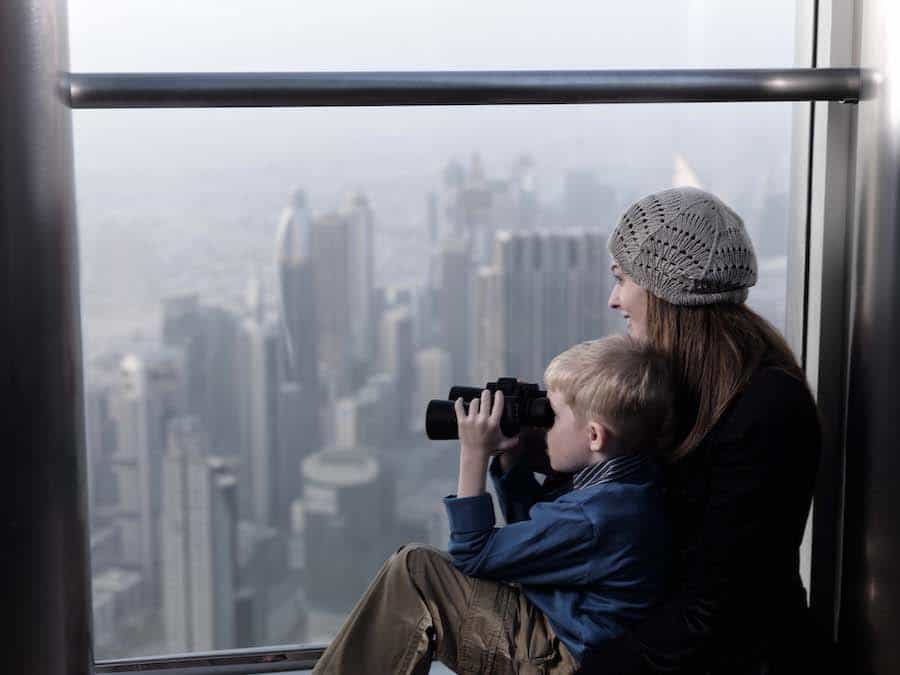 In terms of marketing and social media, she looked at marketing and digital spend, and at the return on that:
"If I'm spending a certain amount on an Instagram ad, how many tickets are being sold on the strength of that? We started putting operating strategies in place to measure every single initiative. Those are the quick wins that allowed us to turn things around."
Zeina Dagher on the importance of empowered staff
Empowering the staff and empowering the team to make their own decisions was key, says Dagher:
"When I first joined Emaar Entertainment, I felt that they were scared to make their own decisions. Possibly the previous management had not allowed that. I said: 'You guys run this operation, not me, so you should be able to make a sound decision'. Empowering the team members contributed to the many things we put in place."
2020 was on track to be a phenomenally successful year for Emaar Entertainment:
"Up until February, we were doing so well. We thought this would be the year of the highest footfall, the highest revenue. We were expecting visitors to come to Dubai in literally the millions. And then COVID flipped us upside down."
We were expecting visitors to come to Dubai in literally the millions. And then COVID flipped us upside down
"We had so many expansion plans; so much renovation going on. But in March it hit us hard, and we said, 'OK, let's take one step back, and breathe, and just see what's happening in the world.'
"Towards the end of March, we closed our attractions for almost 3 months. It reduced me to tears.
"Our attractions were closed. The Dubai Mall was closed. Dubai Mall's footfall was in the hundreds of millions every single year. The lights and the music were off; the doors were locked. There was nobody there. It was heartbreaking. But it allowed us to reflect, and to think about what is important, from a business perspective, and on a personal level."
Emaar Entertainment adapts
"From a business perspective, of course, we had to control our costs," says Dagher. "Our number one focus, which still remains, is cost; cost control, and cost reduction.
"Our KPIs in 2020 for all of the business changed from a target of X amount of revenue to X amount of savings. Our target had been revenue generation. Now it became cost-saving. Unfortunately, our biggest cost-saving had to come from manpower."
The company had to let go of approximately 40% of staff just to maintain the business:
"It was very difficult to let them go," says Dagher.
The next step was to keep customers engaged.
"Customer engagement during COVID is something that Emaar Malls, Emaar Entertainment and Emaar as a whole have done very well. I was part of the team working on it.
"We wanted to say to our customers, 'We are still here with you. Whether it is the Emaar brand, the Dubai Mall brand, the entertainment brand, we are still here. We remember you. We miss you, we want you to come back, but we want you to come back when you are ready.'"
Customer engagement
The engagement initiative included the creation of customer engagement platforms on social media:
"We created games, we created quizzes we created an amazing initiative on the Burj Khalifa LED screen, where we had a competition allowing people from all over the world to send messages to their loved ones; a message and it would be selected, and that message would be displayed on the Burj Khalifa. That created a lot of customer engagement.
"We created some fun, gimmicky videos on Burj Khalifa, just to keep that customer engagement and awareness. We didn't want people to forget about the attractions, the Mall, the Emaar brand. Everybody was sitting at home, so we went to the customer."
We didn't want people to forget about the attractions…Everybody was sitting at home, so we went to the customer
"One very interesting thing that my team and I have done for Dubai Opera, because it was also closed for three months, we created live concerts online. We created YouTube concerts, Instagram live concerts, Facebook Live concerts which people could attend for free.
"We had a weekly programme of arts, music, comedy, and different competitions where people could engage with the Dubai Opera brand for free.
"Those were all different ways that we would just give back to people so that our brand would stay at the front of their minds. It might not be the top priority, but it's still there."
The approach was to leverage Emaar's properties as canvases for creativity. Further initiatives included live streams from the Dubai Aquarium, and animated videos of the animals exploring the empty Dubai Mall.
The future of Emaar Entertainment
The future is, inevitably, an unknown quantity.
"One thing about COVID-19 is that It taught us that we can do a lot with very little," says Zeina Dagher. "We can do so much. We can do wonders with a smaller team, a more efficient team, a more dedicated team, and a more dedicated, more efficient budget, as well."
"Our business is still operating. Our business is still running, though we are running at 50% capacity right now because of health regulations. For the near future, we do not see our footfall going back to where it was any time soon."
She remains optimistic, however, that people will return:
" People are hungry for opera. They are hungry for theatre. They are hungry to take their kids out and are very grateful that we are in Dubai, where the way the authorities have dealt with COVID is just amazing. It is almost business as usual in the UAE. Yes, we have capacity restrictions, but we are doing so well that we will not see a second wave or lockdown."
A change of approach
"The funny thing with COVID is the way our marketing tactics have changed so much. Before the pandemic, it was all about how smooth the operation is, how high the quality is, and the top-staff we have. Now, it's all about showing how clean we are, how often the attractions are disinfected. The marketing is all about how often the seats are cleaned, and the types of disinfectant used.
"It has changed so much. It's all about showing the customer that our cleaners are always here; our janitors are always outside, where before COVID they were always hidden behind the scenes."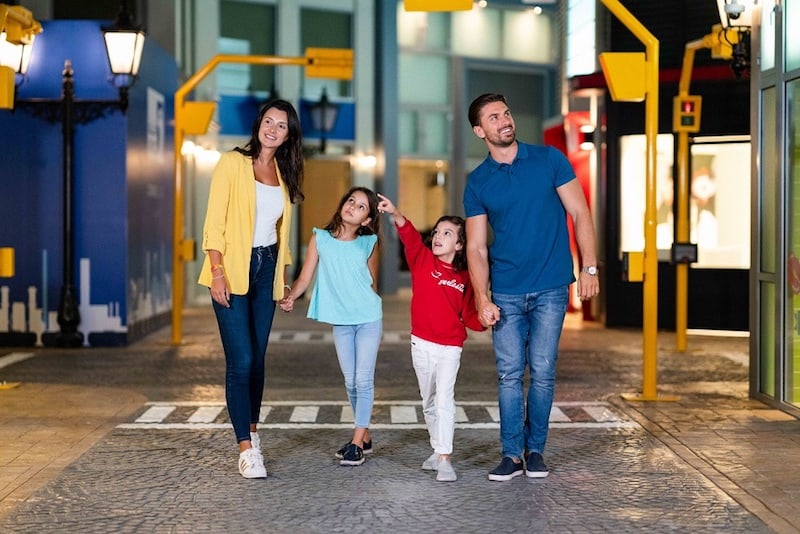 Whether Emaar Entertainment's visitorship will return to the previous capacity remains to be seen.
Zeina Dagher outlines the strategy:
"Our business is split into two types; tourism-related businesses, and resident related businesses. Attractions like the Burj Khalifa attracted a visitorship that was 90% tourists; Dubai Aquarium's visitors were 90% tourists. Attractions like Kidzania and the ice rink relied on schools visiting.
"We don't have school visits any more, so we have to change the way we do this. We have to be much more innovative. This means we have to go to the customer rather than the customer going to us. We have to think of innovative, safe ways reach them, making them feel as safe as possible to come back to us and to continue to come back to us."
Looking ahead to recovery
"I think the future is all about innovation, efficiency, and realistic financial goals," says Zeina Dagher.
She predicts recovery will take at least two years, and that the tourist market will remain affected for some time:
"We won't see the crazy numbers of tourists that we used to see coming in and out of the country any time soon."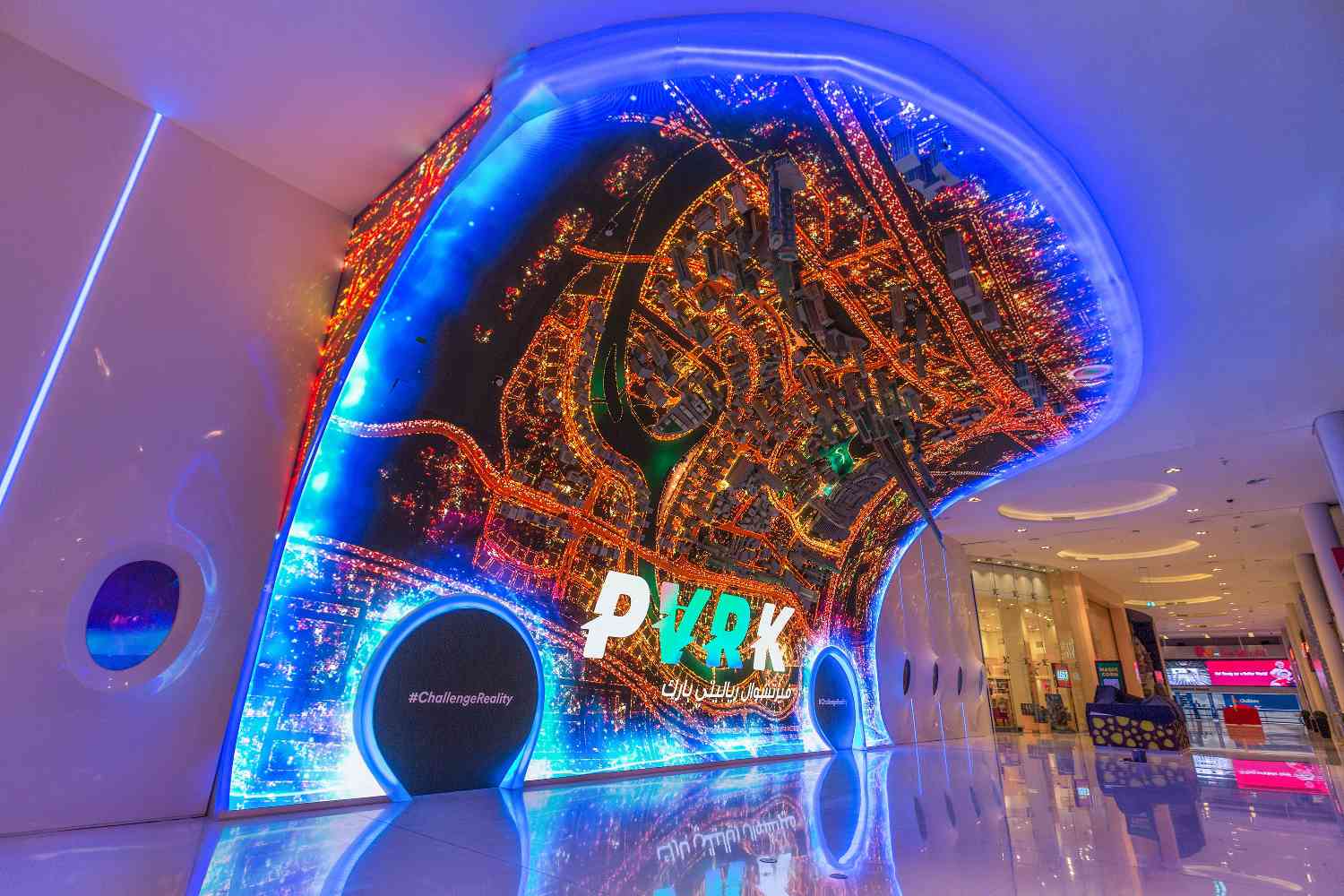 "If we don't have tourists, how do we get the residents to come to us? How do we make the best of it? How do we make the most of it? New initiatives are going to have to focus on changing the model rather than expanding into other countries.
"We need to focus on the residential market, on pricing strategies. The customer has become so price sensitive. Many people have lost their jobs, or have experienced a shrink in their income. Unfortunately, entertainment is the last of their priorities. They have families, they have schools, they have utilities, they have bills. Entertainment comes low on their agenda.
"How do we engage with such customers without diluting our brand too much? It is a fine line. I think those are the new strategies the future will hold."