Chris Grap spoke to Blooloop about his career, which began in special effects and film production and led to Mall of America, where his transformative creativity is brought to bear on the world of retailtainment.
Grap began, he says as a VHS kid:
"I was largely unsupervised on my trips to the video store in the 80s. So, I watched a lot of SciFi and horror, which led to a curiosity. Back then, only things we could get about filmmaking were Fangoria magazine.
"I became obsessed with monsters, blood, guts and gore because it was interesting to see how those things were made. And I wanted to work in film production."
Beginning with B movies
He moved from Wisconsin to Burbank, California to pursue his aspiration. He says:
"My first paying job was on the television show Unsolved Mysteries, which was fantastic. It was a great crash course.  I got to work across every department. Each Mystery had its own producer, so I worked with a bunch of different producers across the show. That led me to getting some feature work on low-budget features. I thought I had made it."
"I had grown up watching all these puppet masters and demonic toy, and to grow up and work on a Full Moon production made me think: 'All right, we did it. We're in'."
He went on to work his way up through the film industry. He says:
"For a long time, I worked for a company called Neo Art & Logic; they had a distribution deal with Miramax Dimension at the time. So there was a period there where I worked on a whole host of direct-to-video sequels.
"I worked on Hellraiser five, six, seven and eight; Dracula 2000 and its two sequels. I had an absolute blast, I learned a lot, and I worked with fantastic people that I still keep in touch with to this day"
Being creative with storytelling
His filmography is impressively blood-splattered. At one point he doubled for Craig Sheffer as Detective Joseph Thorne at the end of Hellraiser Five.
He says: "It was so much fun because they were relatively low-budget. So, we had to be creative with finding solutions to the challenges. I really believe like when you have those limitations you're forced to be creative. I joke about it, but truly like B movies have gotten me where I am today for sure."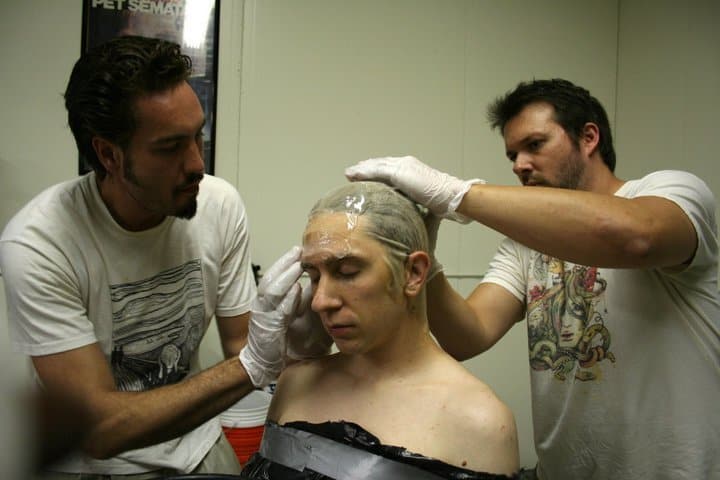 He also worked with [British special make-up effects designer, writer, and director] Gary Tunnicliffe. Tunnicliffe, in turn, had worked with film director Bob Keen, owner of special effects company, Image Animation, when in the UK.
"Gary had relocated to LA. He and I became fast friends and shared a similar sense of humour. We both loved BBC shows; the League of Gentlemen was huge for us. We'd quote it back and forth. I learned a lot from him. At the end of the day, it all comes back to storytelling."
Connecting with Mall of America
Grap lived and worked in LA for eight years, then moved to Minnesota, where he worked both for the State Film Commission and on independent film:
"As part of my role in the State Film Commission, Dan Jasper and Jill Renslow from Mall of America would call our office, because so many people wanted to film various things at Mall of America. They wanted us to vet those productions, and try and help them weed out people that weren't on the level, or serious."
"So I developed a friendship with Dan Jasper and Jill Renslow. Then an opportunity opened at Mall of America where they were hiring for a theatre marketing position."
At this time, Mall of America operated its own theatres:
"I applied for that position because it sounded super fun. I didn't get it, but Jill created a position for me that was 'Business Development Specialist'. And I like to joke that I still don't know what that is or was meant to be. What it really was, of course, is an opportunity."
Together with Jasper and Renslow, Grap shaped the role over the years into what is now the role of Lead Storyteller and Experience Designer.
What makes Mall of America special?
"When I started, I took stock of what we had: 'What do we have in the toolbox? What are we doing?' Mall of America to me is a little bit like the mystique of Vegas. You wouldn't necessarily expect the number one tourist destination in the world to be in Bloomington, Minnesota. Yet here we are.
"So what is the secret sauce? What do we do with that makes this thing so unique and special?"
It came down, he decided, to a combination of elements:
"Owning and operating the theatres, as well as having a seven and a half-acre indoor theme park with all the common area spaces and opportunities.
"Firstly, I began by working, with the theatres especially, to build communities who were then going to be our advocates and our regulars. I took over the booking and content programming at the theatres and developed a whole host of super fun programming.
"I had a friend, and he and I collect 35-millimetre trailers. So we would put together nights where we would only show trailers; we called it Trailer Trash. It was an absolute blast for so many people."
Themed movie screenings
For many, the trailers were the best thing about going to the movies. So Grap's strategy of selecting the weirdest content and creating an artistically cinematic mixed tape was a stroke of genius.
"For some, it was a trip down memory lane. Others enjoyed how outlandish some of the advertising was in the 70s. That was fun."
View this post on Instagram
This led to the creation of Horror For the Holidays. Here, Grap would screen suitably appropriate movies on or around a holiday:
"We showed The Shining on Father's Day, for example. My favourite was showing The Happening [in which an apocalyptic threat to mankind turns out to be nature itself turning on humanity] – on Earth Day. It was really fun. And we created our own marketing materials that again, I'm super proud of."
Nickelodeon Universe
At the same time, he was working with Jill Renslow and Brian Spielmann, now VP of Attractions, to create more cohesion in Nickelodeon Universe:
"The park originally started out as a Camp Snoopy, a Knotts/Cedar Fair park. Then, for a while, it was unbranded, before transitioning to Nickelodeon Universe 12 years ago. We found some fun opportunities there."
"Our park is a non-gated entry, so any guest visiting Mall of America can enter the park. We wanted to create a moment of transition where you knew you had left Mall of America and were now in a different space with a little more irreverence to it. At the time, we didn't have any slime in Nickelodeon Universe. Slime is such a huge component of the brand."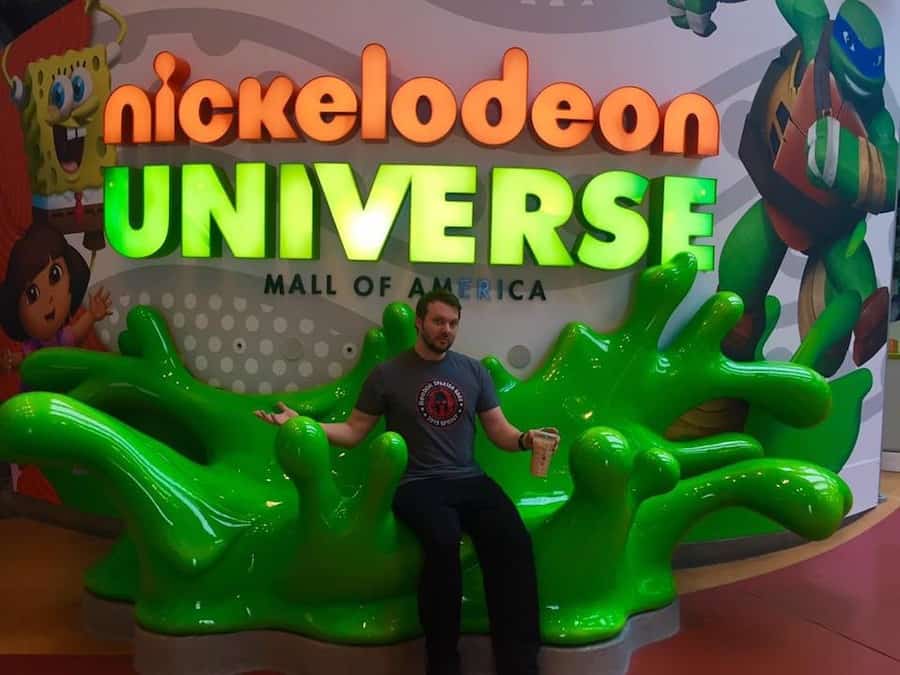 "So we worked with our partners at Nickelodeon. As well as with a company called TivoliToo, who do our large scale sculpts, and who are literally five miles away from us. They are a great asset.
"We created a slime bench. It looks like a big drop of slime that has hit the floor and cascaded out: a feature piece at the photo op. We also put proximity sensors into the sculpture. So when people sit down, there's a two-second delay and then it'll either fart or burp.
"It's amazing to go up there and watch people's reaction to what this thing does."
Adventure Bay at Mall of America
Adventure Bay is another area where Grap has introduced interactive fun:
"We wanted to make sure there was a little bit of a story there. Working with Nickelodeon, we reached out to the voice actress that plays Mayor Goodway on Paw Patrol, and we had her record our safety spiel. This, for me, was inspired by the tram at the airport in Orlando, where you get the voice of Mayor Buddy Dyer welcoming you to Orlando."
View this post on Instagram
Mayor Goodway, therefore, welcomes guests to MOA's Adventure Bay. She adds a plea, familiar to those who watch the programme, that guests will help her find her wayward pet hen, Chickaletta.
"We created a small scale Chickaletta sculpt, says Grap. "Our maintenance team moves it every couple of days to a new location within Adventure Bay.
"Our park maintenance team are truly a mix of wizards and Ninjas. They have such a blast moving Chickaletta around and hiding her. It's such a simple cross-functional opportunity, but it wouldn't work if we couldn't get the entire staff to play along. They embrace it and they know what it means to the guests.
"Every time I walk by Adventure Bay, I have to stop and look for Chickaletta."
A twist on a traditional ride
There are also attractions that are not Nickelodeon IP.
"One of them is our Log Chute, which is a traditional flume ride with a traditional Minnesota feel. Again, you wouldn't expect that to be inside a retail destination, yet there it is," says Grap.
Inside the attraction, there is a 27-foot-tall animatronic Paul Bunyan figure, along with his companion, Babe the Blue Ox.
"Paul had never had a wardrobe change. We found the original patterns.  I began to work with Christopher Straub, a local designer who was on Project Runway Season Six, and who is always game for whatever. We started doing wardrobe changes for Paul Bunyan throughout the seasons."
Paul Bunyan gets a new ugly sweater for every holiday. Now, people enjoy speculating on what he will be wearing for each occasion.
"At the beginning, people were unsure how the Log Chute changeover would be received. But I work with a great passionate team that loves to collaborate on what we're going to do next.
"For example, we just debuted the Love Chute Valentine's Day overlay. We've started doing Halloween overlays where we turn it into the Fog Chute. And for the December holidays, we call it the Yule Log Chute. We've also been able to do special one-off overlays depending on the events that are happening at Mall of America.
Mall of America and Stranger Things
"Last year we had an opportunity when they were doing press for Stranger Things," says Grap. "They came to us, and said, 'If we were to come to Mall of America, is there anything unique that you could do for us?'
I said we would theme the Log Chute around the town of Hawkins and would make Paul Bunyan into Chief Hopper for that overlay. They went for it and brought David Harbour [Jim Hopper in Stranger Things] in.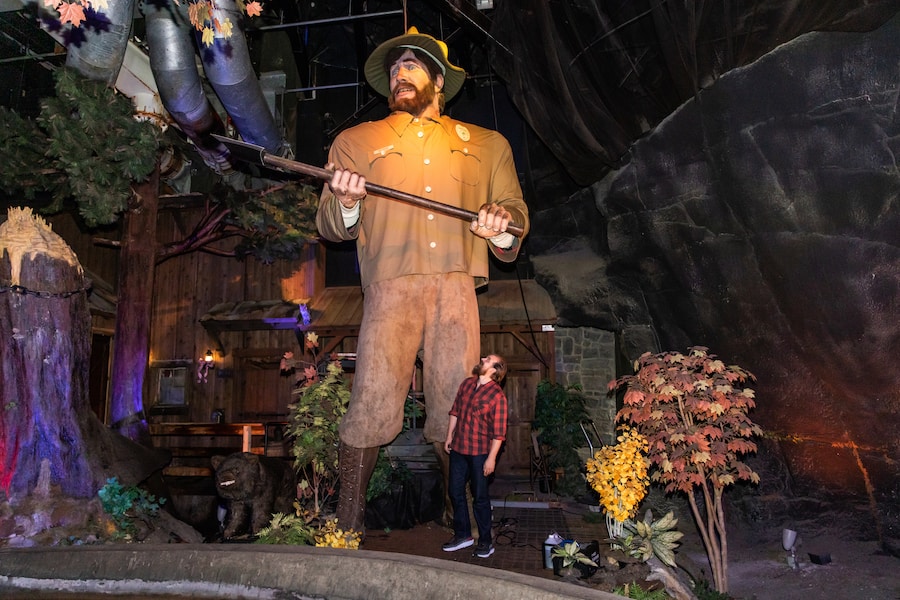 "In a fun release with Netflix, we surprised a bunch of Stranger Things fans. When they got into the logs, it was actually Chief Hopper himself helping them onto the attraction, and greeting them when they came off. That one that was really fun. Everything clicked. It was perfect."
Santa Land
"We also redesigned our Santa Land experience. This is something that has been in the works for about five years and which, over the last three years, has really clicked and turned into something we're all proud of."
The Santa Land transformation was partly born out of Grap's fear of visiting Santa as a child. He explains:
"When we would go to our local mall in Wisconsin, it was just a people corral. When you got to visit Santa, everybody was staring at you; you felt panicked, and then your moment was over. So what we did here is work to create something more rooted in nostalgia, and on the vision the parents and grandparents probably have."
The first step was to create a number of sculpts of oversized toys to be placed throughout Mall of America. For instance, giant tin robots, rocket ships, dream cars:
"Everything that Santa has left has his emblem hidden somewhere on the toy. Each toy is engaging in some way. Whether it's a photo op that lights up, or, like the rocket ship, has a smoke machine hidden in it so that when you push the button, smoke comes out like it's taken off."
An interactive experience
The entertainment team, Grap says, has embraced the concept:
"The elves are so passionate and excited that Santa is here. Along with Mrs Claus, they greet guests and play games with them in the queue, keeping them excited. And when you enter Santa Land, you're transported into your own kind of magical North Pole forest area.
"You don't see Santa until it's your family's turn, so you don't feel like you're being observed by anybody else. Your moment is your moment."
The experience is interactive:
"Santa needs your help in creating holiday snow. When your visit with him is over, he gives you a blank coin. Then, around the corner, as you leave Santa, there's this wacky contraption that you put your coin in. It goes up a conveyor and drops down one of the two sides.
"Then the lights go off, music plays, snow cascades out over the top of everybody that's waiting in the retail environment. And out comes a minted coin with Santa's emblem on one side.
"Every year we change the design to a different oversized toy from the mall. You get that as your little keepsake for helping Santa. We feel it adds a little bit more magic to the experience."
The Twizzard
Snow features in another favourite project of Grap's:
"It was called the Twizzard. Essentially, in 2015, over Black Friday weekend, we wanted to do something strange and engaging. So we created a Twitter activated blizzard."
At Mall of America, the temperature is a steady 72 degrees.
"I like technology when, in an attraction, it's not too forward. We created digital thermometers that began at 72 degrees, and we asked people to tweet using the hashtag #Twizzard. As people would tweet, the temperature on the thermometers would drop, reaching 32 degrees with every thousand tweets, and triggering a light show and snow machines and create an indoor blizzard."
"We played different versions of Let it Snow throughout the weekend. We also took people's tweets as they came in and put them on screen in the rotunda."
It caught on; #Twizzard trended nationally, peaking at number six over Black Friday weekend. It was the number one trending hashtag in Minnesota throughout Black Friday and Cyber Monday:
"We were nominated for and won a Webby award for experiential innovation that year. It was something that I was super happy with because it wasn't about pushing a brand, but about pushing a feeling. The way that people jumped on it just to create moments for other people was unique. It gave me and the team a lot of confidence in how we could take little tropes and tell bigger stories with them."
Black Friday at Mall of America
Mall of America made the decision to tackle the issue of Black Friday bleeding over into Thanksgiving.
"Stores were opening on Thanksgiving five o'clock, four o'clock, getting progressively earlier," says Grap.
"It wasn't making a bigger impact on sales. It was just stretching the sales out over a longer period. We decided that on Thanksgiving, our retail wasn't going to be open. Our mall operations were going to close, and we were getting to give that time back to our staff so they could enjoy it with their families."
"With the support of our management and ownership, not only did we okay closing on Thanksgiving, we were able to take that time-and-a-half pay that people would have received on Thanksgiving, and move it to Black Friday.
"So we really treat Black Friday like it's a holiday here, and our employees are being treated accordingly."
Bringing the magic back
Grap's next challenge was to find a way of bringing the magic back to Black Friday:
"I love using simple storytelling tropes. Like, what's in the box, what happens when the clock hits zero. What I wanted to do with the team was to work on finding a way that grownups could feel like kids again.  So we created the mystery gifts scratch-off game."
Prizes range from a point pass into Nickelodeon Universe or a gift valued under $25 from one of the MOA retailers to a mystery gift.
View this post on Instagram

"If you won a mystery gift, you would go to the giant sculpted pyramid of presents, which is shaped like a Christmas tree. It lights up, and there's one hero box. So you get to open up this one present; inside it is a wrapped gift for you."
These gifts are worth up to $600: iPads, Beats headphones; Kate Spade handbags.  This is the fourth year of MOA closing on Thanksgiving and of its idiosyncratic Black Friday celebration. People travel from around the world to attend.
"And every year we've broken our record for Black Friday traffic. It has become a tradition," adds Grap. "That's what we wanted it to be."
Spending time
The currency Grap is after, he says, is time:
"We talk about time the same way we talk about money; about spending or saving time. When people are choosing to spend their time with us, I want them to feel like what they've gotten for that time is a positive experience in memory.
"Whether they are going to spend a full day here, or they're just coming here for coffee and to enjoy our décor, or it's a staycation weekend. I want the result for everybody to be in that same range of positivity and joy, creating that sense of childlike wonder."
Defining the nature of that experience, he explains:
"I spent my first six years here telling everyone that we're not a mall. But the word 'mall' is in our name, and that's the challenge.
"I have since changed that. We are THE mall, and everybody else who's out there needs to do the things we're doing to remain competitive and relevant."
Retailtainment
Retailtainment, as a concept, fascinates Grap:
"Our ownership, Triple Five, was doing retailtainment before it had a name. If you look at what they have been doing at West Edmonton for over 35 years now, it was always the search for that sticky reason that will make people want to return repeatedly.
"I still maintain that we do it better than anybody else. I work with such passionate and dedicated people that truly care about that guest experience, and have watched retailtainment become a buzzy word, and seen what it's grown into.
"Watching the discussion around retailtainment take shape outside of my little sphere right here has been interesting. Because we are, effectively, pioneers."