British artist Damien Hirst has created a $100,000-per-night art hotel, luxury Empathy suite at the Palms Casino Resort in Las Vegas.
Created in collaboration with NY architects Bentel & Bentel, and local firm Klai Juba Wald Architects, the Empathy Suite is available to the resort's guests at a cost of $100,000 per night, or for free to those with over $1 million in credit at the resort.
Hirst's artworks are referenced throughout in textiles and furniture, and six original full-size pieces of his art are displayed, including a piece titled 'Winner/Loser', featuring a pair of sharks suspended in formaldehyde, and an 18-foot-wide case filled with cubic zirconia crystals called 'The Winner Takes It All'.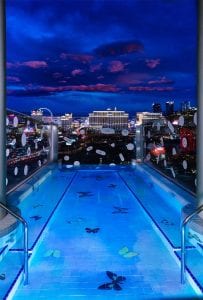 Comprising two master bedrooms, several lounges, a salt relaxation room, massage rooms, a gym, two bathrooms, a powder room and a cantilevered outdoor pool, the Empathy Suite is spread over two stories and covers 9,000 square feet (836 square metres).
Pill, butterfly and skull motifs proliferate on walls, textiles and furniture. References to Hirst's Pharmacy restaurant at his Newport Street Gallery in London can be found in the drug-shaped appliques lining the suite, the pill-shaped stools in one bathroom, and the curved counter cluttered with medical waste that decorates the bar.
Representative of growing trends for art hotels and for luxury themed accommodation, The Palms Casino Resort reopened in 2018 after major remodelling, during which art by Andy Warhol, Takashi Murakami and Jean-Michel Basquiat was added.
Hirst said: "I love what Frank and Lorenzo Fertitta have done with the Palms It's amazing being able to work with them because they are great collectors and totally understand art."
Hirst's Empathy Suite is the most expensive of Palms Casino Resort's six luxurious Sky Villas, which, costing from $25,000 to $100,000 per night, are among the most costly accommodation in the world.
Images: Palms Casino Resort
https://www.dezeen.com/2019/03/04/empathy-suite-damien-hirst-las-vegas/