Bart Kresa brought winter to Los Angeles with stunning projections from the HBO hit series, Game of Thrones.
Projection designer Bart Kresa mapped the upper planes of the Walt Disney Concert Hall with jaw-dropping imagery and scenes from the blockbuster TV series.  Game of Thrones is now in its seventh (and penultimate) season.
The gala premiere included a brief concert with music scored for the show, held in the iconic Frank Gehry-designed concert hall.  Guests then viewed the first episode of the show.
The party then shifted across the street with guests gathering on the rooftop of Classic Parking.  The after-show party was dressed with stunning props and costumes from the lavish production.  However the most enthralling part of the spectacle was undoubtedly the projection mapping.
Kresa painted the concert hall with three content loops, each featuring a different scene.  Many of the images had to be manipulated and reimagined to work with the shape of the hall. One memorably had Drogon breathing fire across the façade.  The spectacular projection mapping wasn't just a continuous backdrop for the party – it provided a thrill for fans watching on the street.
WorldStage provided Panasonic laser projectors and video engineering support for the head-turning event.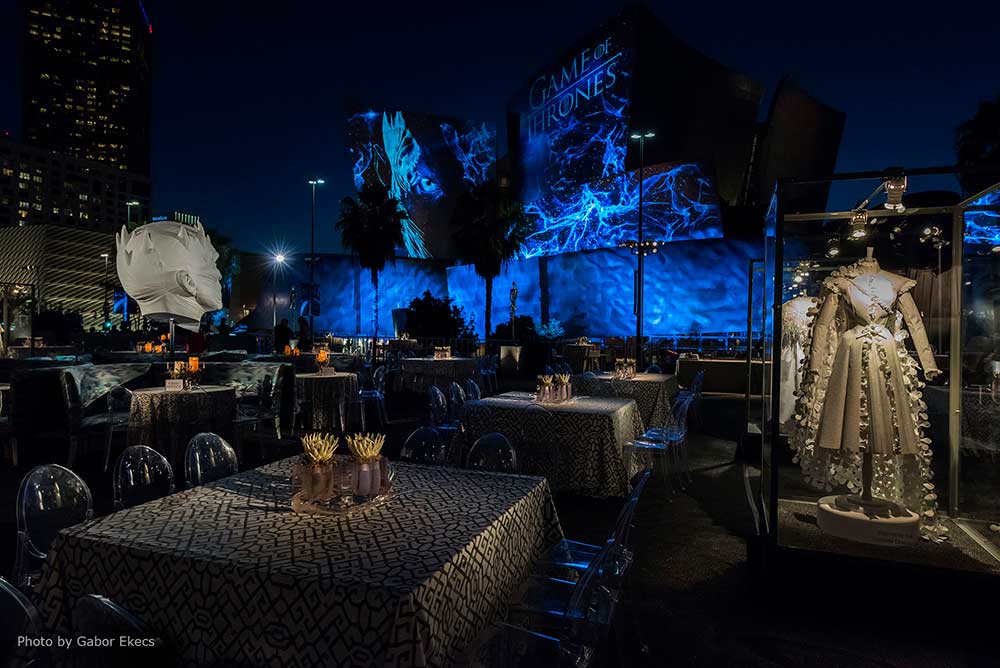 "HBO has been my client for ten years," says Kresa. "I've done numerous post-Golden Globes parties, post-Emmy parties as well as events for Game of Thrones and Westworld.  The Disney Hall is one of my favourite buildings in the world, so when this project came along from HBO I was very excited to do it."
WorldStage and Kresa have been partners on multiple projects in the last four years.  These include the projection mapping of the façade of the San Mateo (California) County History Museum each summer.
"Bart has a very recognizable artistic style.  We love providing displays for him because he totally gets the medium," says Bob Loney, Senior Account Executive for WorldStage.  "He knows what he needs in terms of brightness, saturation and full-frame imagery.  Couple that with the excitement and beauty of Game of Thrones and he delivered an evening people won't forget."
New Panasonic PT-RZ31KU laser phosphor projectors were used.  The projectors have a broader colour gamut and greater colour brightness than conventional lamp source projectors.  They also offer 20,000 hours of use and have a flatter decreasing light output ramp.
"I loved working with WorldStage," says Kresa.  "We had very little time to get this set up and WorldStage was able to get this put together for us very quickly.  They were really on top of their game and it was a pleasure working with them again."
"The projection mapping came off even better than we expected," says Loney.  "There were reports that fans on the street found the imagery just jaw-dropping.  They'd never seen anything like it."
Images courtesy of WorldStage.