Leisure Expert Group, a leading experience design company, brings THIS IS HOLLAND immersive experience to China, showcasing famous Dutch highlights.
Leisure Expert Group is pleased to announce that THIS IS HOLLAND, an immersive experience showing the strength of the Netherlands with iconic scenes from the country, will soon be available to audiences in China. It will be a representative of Dutch business and culture, at the Impressions of Holland Center in the Zhengpu Port New District, near Nanjing.
THIS IS HOLLAND has been entertaining audiences in the Netherlands since 2018, highlighting 22 key landmarks including UNESCO World Heritage sites. The experience lasts for 45-minutes and takes viewers on a soaring journey with a bird-eye view of this beautiful country. In 2019 the attraction's attendance figures grew by 30%. The popular experience has a rating of between 4.5 and 5 stars on Tripadvisor, Google and Get Your Guide.
THIS IS HOLLAND in China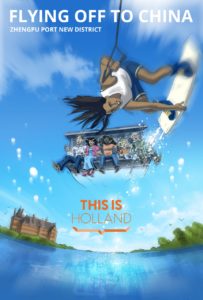 Now the experience is moving to China, where it has been changed to cater to a larger audience in a different language. In its new location, THIS IS HOLLAND can now entertain twice as many visitors at one time.
Frankwin van Beers is the Managing Director of 'THIS IS HOLLAND'. He says, "The international interest in 'THIS IS HOLLAND' validates the success of the concept. To be recognized as an important brand of Dutch culture and tourism only two years from our first flight is something our team and partners are very proud of."
The investment group behind the 'THIS IS…' brand is City Leisure Group Holdings (CLG), who joined forces with Leisure Expert Group to develop the concept in Amsterdam. Leisure Expert Group is pleased to also be involved in this expansion, as well as possible future destinations for the project.
"Within this project, our team was able to bring all their different skills together, from concept development all the way to innovative technologies," says Marjolein van de Stople, CEO of Leisure Expert Group. "We are pleased with the results in Amsterdam and strive to improve the concept for next locations, starting with China."
International expansion
The 'THIS IS…' brand, having proved popular in the Netherlands, is also ideal for expansion to other locations in the future. CLG is already exploring options to bring the experience to other major cities.
Magnús Magnússon, Chairman of the Board of CLG, says: "We are proud of 'THIS IS HOLLAND' and their operational results and how the concept has proven itself to be worthy of international expansion. We are excited to invest in the following steps, of which China is a great opportunity".
The new location for THIS IS HOLLAND is in the Zhengpu Port New District Project, 45 km south of Nanjing. This is part of a special economic zone, in the Wellness Cove destination on the Yangtze River.
"We are very pleased and proud to have 'THIS IS HOLLAND' included in our Impressions of Holland Center in MaAnShan to showcase the strengths and specific characteristics of the Netherlands to the Chinese people", says Aalt Dijkhuizen, co-director of the Holland Center.
The project is part of a move towards more Sino-Dutch trade and investments, and a strengthened relationship between China and the Netherlands. Iconic Dutch brands will be showcasing four keys to wellness in the Impressions of Holland Center: food & health, mental wellness, social connection and sport & fitness.
THIS IS HOLLAND will be part of the project's second phase, alongside an outdoor exhibition by XSAGA and more. Patrick Roubroeks, CEO of XSAGA, says, "Culture is the most international language and goes beyond boundaries and Dutch culture. We are very excited to be part of this international co-production."
Leisure Expert Group also recently announced the opening of Sonar Station, a redesign of the Terra Explorer at Wildlands Adventure Zoo Emmen.