The company enjoyed a successful first appearance at the IAAPA Expo Asia in Shanghai earlier this year. Their showcase of Pierrot Bear at the IAAPA Expo Europe in Paris in September generated a lot of interest, and in response the company are developing their body puppets range.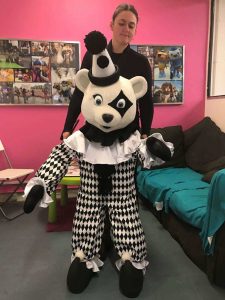 Traditionally, Rainbow Productions have focused on mascot costumes and traditional puppets. Yet body puppets provide an alternative to a full-sized costume that is attractive to many of their clients. Their designs can be used with or without technological requirements, and are therefore flexible based on the needs of the clients.
Immersive experiences
Body puppets are a form of interactive entertainment, and because of their design, the puppeteer can act in union with the puppet. Children can also engage with a mascot that is their own height, leading to better interactions.
"It takes interaction and audience involvement to a completely new level," said Simon Foulkes, Sales & Marketing Director of Rainbow Productions. "The joy of children's faces as they suspend their disbelief in the puppeteer is quite something to witness".
The company has created ZO Robot body puppets for a family entertainment attraction in Kuwait, Tekzone. Leisure and Entertainment Operations Manager Steven Putzeys said "The 3 robots arrived yesterday in the park, and they look amazing! The reactions of the staff handling them and the visitors are fantastic!"
Foulkes and James Barlow, Export Manager, will be at the IAAPA Expo from 19-22 November. They will be available for meetings on the Department for International Trade stand, booth #458.
Earlier this year, Rainbow Productions debuted Duggee, the much-loved children's TV character, at Drusilla's Park. It was such a success that he also visited many other attractions, including Flamingo Land and Gloworm festival. They also supplied over 80 mascots for the Character Parade at the Brand Licensing Expo in London in October.