Storyland Studios, the three-dimensional storytelling firm, has been chosen by Fine Ink Studios to design a brand-new experience and brand refresh. The Orlando-based business is aiming to become the first tattoo and body piercing franchise in the US and requires a design that builds on its reputation as an upscale tattoo studio. The idea is to elevate it to a high-end experience, taking inspiration from luxury spas and fine art galleries.
Fine Ink has four locations in the Orlando region and will soon open another venue in O-Town West, a high-end shopping destination close to Universal Studios and Walt Disney World. This latest location will set the studio's design aesthetic ahead of future expansions.
A complete tattoo or piercing experience
"It will be a complete luxury experience, from the time you walk in to get your tattoo art or body piercing, to the aftercare," says Matt Ferguson, Chief Innovation Officer at Storyland Studios.
The founder of Fine Ink, tattoo artist Rick Barnett, has a background in fine art. He has work displayed in a number of galleries as well as in the Grand Bohemian Hotels, a chain known for its original fine art displays. The studio trains its apprentices to sketch and paint like professional painters, before applying these techniques to the skills of body art and piercing.
Barnett and his team are passionate about the art of tattoos, believing that body art is "Your Story on Your Sleeve."
"Your tattoos, your piercings, are your story," says Barnett. "We listen to our clients and lend our expertise and artistry to make sure they get the body art they want, that expresses who they are."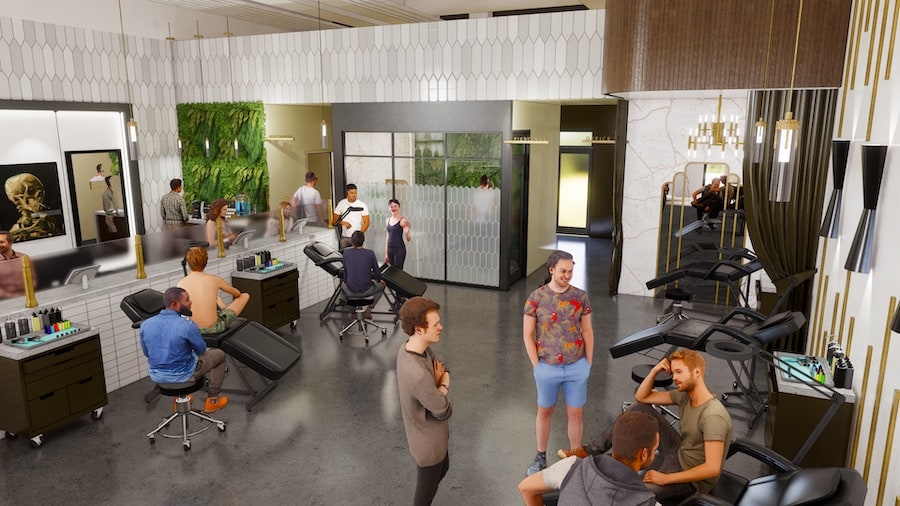 "A lot of tattoo artists won't share their secrets," says Freddy Martin, an Executive Director at Storyland Studios. Fine Ink is more like an academy of painters who want to learn the great techniques to move forward."
To create a new brand story and immersive experience, Fine Ink has selected Storyland Studios. The company will draw on its spatial and strategic storytelling skills to make this vision a reality.
"We're excited to bring it to life," Ferguson says. "The overarching theme of their brand is to allow people to express themselves through a transformative body art experience."
Last week at blooloop V-Expo, Storyland Studios announced the $20,000 grand prize winner and the top three finalists of the first-ever Storyland Design Challenge.