Revenue at Warner Bros Studios Leavesden, which houses the Harry Potter studio tour, increased by 9 percent to a record £158.1 million last year, enabling acquisitions and expansion.
According to The Telegraph, Warner Bros Studio Tour London – The Making of Harry Potter made profits of £67.8 million in 2018. This brings the total to £306.8 million since it opened in 2012.
In 2018, revenue from The Making of Harry Potter rose 6.4 percent to £107 million. Studio income increased 14.7 percent to £51.1 million as costs rose by £8.7 million. This left a profit of £67.8 million, up 4 percent.
Warner Bros buys London Film Museum
In September, Warner Bros bought the London Film Museum, one of London's largest independent museums (via The Express).
The 25,000-square-foot museum in Covent Garden houses the world's biggest collection of cars from James Bond movies. It is as yet unclear what Warner Bros plans to do with the museum, but this seems to indicate a strategy for a growing hub of IP-led attractions in central London. A DC-themed restaurant is due to open next year.
Harry Potter studio tour expands with Gringotts
Earlier this year, Warner Bros. Studio Tour London – The Making of Harry Potter unveiled its biggest expansion to date – the £45.9 million Gringotts Wizarding Bank.
The experience, a collaboration between the Harry Potter studio tour and filmmakers, includes the Lestrange vault, a gallery of goblins, destroyed Gringotts, and more.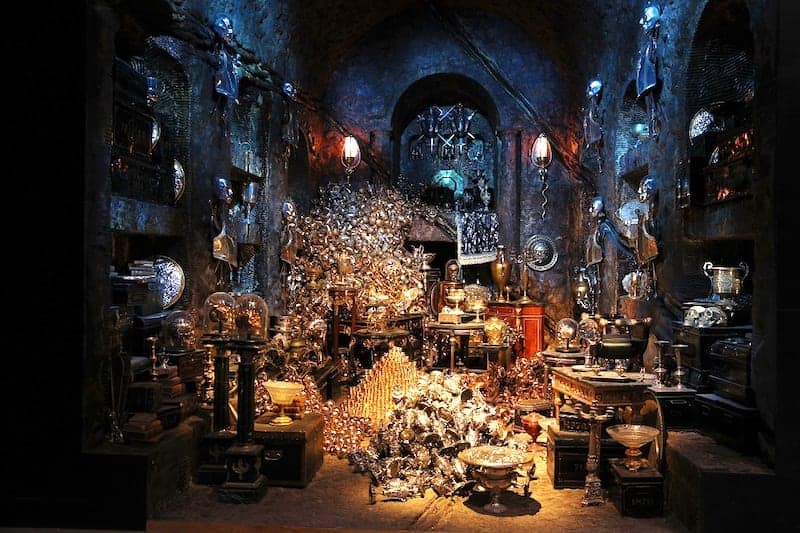 The tour itself includes sets such as the Great Hall, Platform 9 ¾, Diagon Alley and the Forbidden Forest, as well as several sets from within Hogwarts.
Earlier this year, Hagrid's Magical Creatures Motorbike Adventure opened at Universal Orlando Resort, with guests waiting up to 10 hours to ride the new 'story coaster'.
Featuring rich sets, rare magical creatures, groundbreaking coaster technology and a captivating storyline, the Wizarding World of Harry Potter's new addition is highly-themed and immersive.
More Hollywood blockbusters being made in Britain
Hobbs & Shaw, starring Dwayne Johnson and Jason Statham, is one of a growing number of blockbusters being made in Britain, driving up studio income.
Also shot at Leavesden was an adaptation of Cats and the latest Spider-Man film.
Tax breaks allow studios to claim back up to 25 percent of their spending in the country, if it comes to at least 10 percent of the total.
Leavesden has been owned by Warner Bros since 2010. The first film made at the studio was GoldenEye (1995), followed by Star Wars and Harry Potter.
Images: Warner Bros