Welcome to the blooloop briefing; a roundup of attractions news from the last seven days.
In the news this week – Star Wars: Galaxy's Edge prepares for opening, Village Roadshow announce major investment plan, Elysium City prepares to break ground and more details are teased about Europa Park's ultra-themed water park Rulantica.
Watch the news in 3 minutes
For a quick run through the week's most eye-catching stories see our briefing video:
Read the news in 5 minutes
Star Wars: Galaxy's Edge
Disney has released a Star Wars: Galaxy's Edge map including an interactive version on the Disneyland Resort's website and access through the Play Disney Parks App.
An opening ceremony for Star Wars: Galaxy's Edge was held last night at Disneyland, attended by Bob Iger, George Lucas, Mark Hamill, Harrison Ford and Billy Dee Williams.
Bob Iger also says Disney is not over-reliant on the multi-billion dollar investment in Star Wars IP. Star Wars: Galaxy's Edge is set to take theming and attractions technology to a new level.
Museums
The Smithsonian has elected Lonnie G. Bunch III as the first African American Secretary. Bunch is the founding director of the National Museum of African American History and Culture.
The Black Country Living Museum has received the go ahead for its transformational £23 million 1940s-60s expansion project. Construction of BCLM: Forging Ahead will begin in summer 2019.
Technology
Six Flags and Atari have announced a licensing partnership to provide real world theme park content in the RollerCoaster Tycoon Touch mobile game.
The LINQ Hotel & Casino at Caesars is transforming itself into an experiential casino space, with holographic games, interactive art exhibits, esports, fan caves, self-service beer, and virtual reality.
Samsung's Artificial Intelligence Centre in Moscow has developed new AI software that can generate videos using just one image.
Aquariums
Long Beach, California's Aquarium of the Pacific has opened its new Pacific Visions wing. The new glass building houses a state-of–the-art immersive theater and interactive art installations.
The Vancouver Aquarium is suing the city of Vancouver and the Vancouver Park Board over the 2017 cetacean ban. The aquarium claims that it has lost millions in revenue and cites a breach of contract.
Queensland tourism and Uber have announced a new venture, scUber, the first submarine rideshare taking in the underwater sights of the Great Barrier Reef. The ride is available on the Uber app between 27 May and 18 June.
Village Roadshow
Village Roadshow has announced that it will be the operator for Lai Sun's Lionsgate Entertainment World, the world's first vertical theme park, opening soon in Novotown, Hengqin.
Village Roadshow has also announced A$50 million investments in Gold Coast theme parks, including The New Atlantis precinct for Sea World. Attractions include a spinning chair ride and wooden coaster.
New developments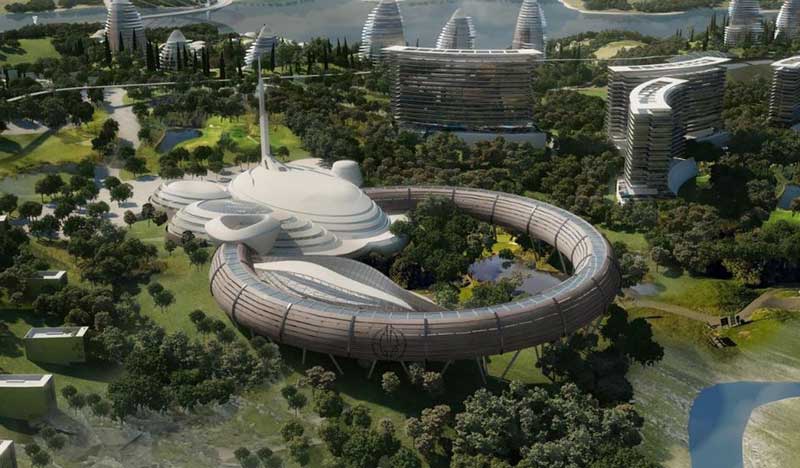 Cora Alpha has shared a progress update on Elysium City, which will include casinos, hotels, a theme park, a water park. The smart city project in Spain is on schedule and plans on breaking ground later in 2019.
Plans for a major attraction featuring a beach, surf lake, adventure play and shopping village in Mid Devon are moving forward. The current plan is to create a £200 million surf lake and 'mini' Eden Project.
Fáilte Ireland have announced an investment of €150 million to develop major new visitor attractions as part of its Grants Scheme for Large Tourism Projects.
Europa Park has released new details of the €180 million highly themed water park Rulantica, featuring 25 water attractions including 17 water slides, as the new Krønasår museum themed hotel opens.
Dubai-based global developer Emaar and Beijing New Aeropolis Holdings (BNA) are developing a business and tourism complex in the Aero-Economic Area of Beijing Daxing International Airport.