The Royal Tyrrell Museum, set in the dramatic landscape of the Alberta Badlands, one of the richest dinosaur fossil locales in the world, is a paleontological research centre, and houses over 130, 000 fossils. 
The Museum is a branch of the Alberta Government: the building itself is Government-owned, and there are in the region of 35 staff members who are Government employees, and the museum is in part Government-funded.
Other funding streams include gate revenue (between 380 and 400 thousand visitors come through the door each year; last year records demonstrate that visitors came from 140 different countries), sponsorship and the gift shop run by the Royal Tyrrell Museum Co-operative Society, a significant form of revenue that has helped fund research and exhibits programmes.
Blooloop spoke to Lisa Making (right), who has been Exhibits and Communications Director at the Royal Tyrrell since 2011.
(Update: April 29.2020, Lisa Making became the new Executive Director for the Royal Tyrrell Museum.)
Background
Lisa has had a love of museums since childhood, visiting them with her family as well as with her schools.
Though she did her Masters degree in Museum Studies (at Newcastle-upon-Tyne University in England) she originally studied Business Administration. Finding she didn't really enjoy it, she took time off as an undergraduate to back-pack through Europe and found her love of museums beginning to emerge once more as she visited some of the great European museums and, more particularly, some of the smaller, more idiosyncratic ones scattered throughout various countries in rural areas.
"When I came back I decided that was the path I wanted to take – to get back into finding out how to tell people's stories – and different cultural stories."
Royal Tyrrell Museum
A Natural History Museum such as the world-renowned Royal Tyrrell Museum is slightly different.
"I learn something new every day. My background is physical anthropology – all about the human story – so this was something new for me, but our scientists are so open to wanting to help you learn, and so passionate about what they do."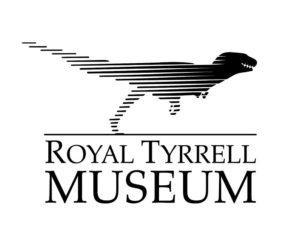 She goes on to point out that there are, nevertheless, common factors in interpreting artefacts, whatever their nature and provenance:
"The visitor is always looking for the personal connection: for the 'So what? That's really cool, but what does it mean to me?' – and that's a really neat opportunity. Alberta's paleontological history is around the 75 million year mark, and finding ways of making that meaningful and relevant to people is a challenge."
Research
One of the ways in which she has achieved this is by opening up the doors to let the visitors meet the scientists behind the Royal Tyrrell's paleontological research.
"We've done a number of exhibits about our scientists and the research they do, but all our visitors can also take a look into our preparation lab where a lot of work goes on in the preparation of specimens for display and research, and this is one of our most popular exhibits."
The Royal Tyrrell Museum is predominantly a centre of research. There are six active full-time research scientists at the museum, ranging from a curator of dinosaurs to a palanologist, or curator of fossil mammals.
"One of the benefits is being an active research facility. We make a point that when a new discovery is made and it's hit the news and the public just wants to find out about. We try to get it on display as quickly as possible, or have it as accessible as possible."
Discoveries
Three years ago at the Suncore mine in Northern Alberta, a 110 million-year-old Anklyosaur was found by a man who had visited the Royal Tyrrell Museum with his family a few days previously. He went back to work at the mine, and as he was working spotted something that looked interesting, so he called his supervisor. Production at the mine was halted for around three weeks to help experts from the Royal Tyrrell excavate the specimen.
Lisa adds, "It turns out to be one of the oldest known dinosaurs in Alberta. Everybody wants to see it. It's still being prepared, but we've moved it closer to the window so our visitors can get a better understanding." There is also a detailed interpretation of the discovery and the work to give visitors an idea of what the process involves and how long it is likely to take.  With many specimens, it can take anywhere from a year to three or four before they can be properly displayed.
"There's a great energy that pulses through the museum whenever there's a discovery made."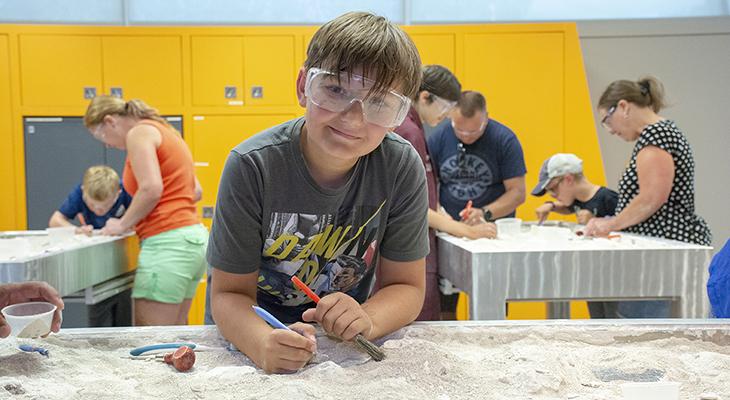 Initiatives at the Royal Tyrrell Museum
Lisa collaborated at one point on a sustainability working group pulled together from museum professionals with the director of the North Carolina Museum of Natural Sciences, Emlyn Koster, whom she describes as "amazing and inspiring".
"He was on the advisory council – we got to pick his brain. I hope some day to get to work with or for him on a project. His vision informed a lot here at the museum when it first opened, and set out much of the educational direction that we take."
Another initiative in progress is the development of the introductory area, setting the groundwork for introducing the public to paleontology and the concept of time.
"Which is not easy to do, " Lisa points out.  "Showing people the past, the present and what that means for the future. Opening people's eyes to the fact that the dinosaurs were on the planet for longer than humans have been. Also to the fact that we are actually in the midst of our sixth extinction. Helping people to understand that humans are not the end product of what the planet has in store. Also that there was a lot more before us and will be a lot more after us.  Huge concepts to try to share, but a lot of fun."
35 hundred square feet of exhibit space are about to undergo a massive overhaul.
"We'll be re-introducing our visitors to the science of paleontology; going back to that 'So what? Why Alberta? What makes this place so special?' "
Essential Storylines
Lisa has noticed that over the past twenty years or so much of the museum's essential storyline has vanished as different galleries evolved at different speeds.
"I'm looking to bring a lot of it back, but to do so in a fun, engaging and entertaining manner. It's a big project. It'll be spread out over two years in two phases, and it'll be a lot of fun."
For Lisa, it's about talking to visitors frequently; bringing them back into the story and trying to make palaeontology a little more relevant. And sometimes, as she says, it's about acknowledging that "sometimes people just want to see a cool dinosaur."
There will always, she is aware, be those visitors who are just coming in to see Albertosaurus or Tyrannosaurus Rex or Triceratops.
"If I can get those people even to walk away having learned something really new and neat, then my job is done."
Fantastical Creatures
Dinosaurs are where magic and the real world meet. This is perhaps why almost all small children seem to go through a phase of being fascinated by them.
Lisa says, "I think it's because these are such fantastical creatures that for most of us they can only be of the imagination. Kids are so open and accepting. As we get older, we tend to get a little more sceptical." She exempts the Royal Tyrrell scientists from this evaluation:
"I've looked at it, and all of our scientists are basically just grown-up kids. They allow their imaginations to just take over, because they have to; following the scientific process always, but with that little childhood spark in all of them."
Science Camp 
The Royal Tyrrell runs a number of innovative education and outreach programmes. One of the most impressive is the Encana Badlands Science Camp. This is where children sleep in teepees, prospect for dinosaur fossils and work with scientists. "Getting hands-on into paleontology", as Lisa puts it. She adds, "The kids start at age 7 or 8, and we've watched kids literally grow up in this programme."  Once they're hooked, the children return year after year. One boy who began attending the camp as a 7-year-old is now studying paleontology at the University of Alberta.
Lisa states, "It's a remarkable opportunity for anyone. What I especially love is that more and more girls are attending, to the point that we're having to have more tents dedicated just to girls. I love seeing more women getting involved in science."
Innovations at the Royal Tyrrell Museum
Lisa has been at the Royal Tyrrell Museum for several years now. One of the personal innovations of which she is proud has been the integration of social media.
"We're a Government organisation, and sometimes governments can be a little hesitant to jump into social media. This museum led the way within our division in terms of integrating social media and using YouTube as a platform; opening up our collections a little bit. We were pushing the envelope on that."
A lot of the other measures she has implemented concern organisational structure and approach:
"When we're working on a new exhibit we try to integrate at least three innovative elements into our exhibits. This is something we've never tried before. Sometimes it works; sometimes it doesn't. I kind of live by the motto 'Fail Harder'. You don't discover new things unless you're prepared to fail."
All images kind courtesy Royal Tyrrell Museum.