Visitors and academics alike form a very personal connection with The Ashmolean Museum of Art and Archaeology in Oxford.
Described by its Director, Dr Alexander Sturgis, as 'feeling like lots of small museums', its collections span ten thousand years – from 8000 BC to the present day.
When Sturgis (shown below and above) assumed his role in 2014, the Ashmolean had undergone a £61m programme of expansion and restoration led by his predecessor, Christopher Brown.

Sturgis himself was no stranger to major museum overhauls, having overseen an award-winning renovation and transformation project at Bath's Holburne Museum which sent visitor numbers rocketing to six times their previous level.
A Fresh Look at Brown's Legacy
So, what was it like to leave his own success story behind and take on another man's vision?
"It was really interesting. It IS really interesting, " he says.
"In some ways, it's much easier stepping into someone else's transformation than overseeing the transformation that you've led, and seeing where it might lead on.
'The question of 'what next?' is much easier in some respects if there is a fresh pair of eyes, without knowing why and how all the decisions were made that affected the transformation."
Freedom to Think Differently
Speaking to Blooloop, Sturgis is full of praise for Brown's legacy:
"I have to say, what Christopher did at the Ashmolean is extraordinary and spectacular, which isn't to say that there aren't elements of the museum that I don't want to look at, because one's given, in some ways, more freedom to think differently when inheriting such a project."

Sturgis's connection with Oxford goes back to his student days – he studied modern history at University College in the early 1980s. His connection with museums goes back even further:
"I was dragged around museums as a child, and at a certain moment which I can't quite put my finger on, I became enthused and excited by paintings, initially; my first love, as for so many people, was Impressionist painting."
He went on to complete a doctorate in Medieval Art History at the Courtauld Institute of Art, London…
"… thinking I wanted to be an academic art historian, but in the process of writing the doctorate realised that actually I would rather be somewhere there was more direct engagement with objects and works of art.
"So, that's when the idea of working in museums really took hold."
Direct Engagement with the Public
"At the moment of deciding I wanted to work in museums, I wasn't at all sure how I might do so, and then, by great good fortune and luck and timing, I got my first job at the National Gallery in the education department, teaching the broad range of the National Gallery's audiences.
"I think, again, that has stood me in fantastically good stead in that, from the very moment I stepped into museums, I was directly engaged with the public and very committed to the public role of museums which can be forgotten if one is working in a curatorial department or in many departments in museums [where] you don't see the public as one might imagine."
The Ashmolean and Oxford University 
Around 20% of the Ashmolean's funding comes directly from Oxford University.
"Without that we would be, clearly, struggling, " says Sturgis.
"But also, there are other opportunities that being part of the university provides, particularly thinking about the huge amount of brain power, if you like, that surrounds the museum. One of the things I'm really keen to do is to think about and try to get as much out of that community of scholars and thinkers and artists as possible."
In contrast, the Holburne Museum was an independent charitable trust, so received no public money:
"We had a board of trustees and, although in some ways our financial challenges were greater, there was a freedom of movement and an ability to act quickly and to decide to do something one day and then do it the next which, being part of a larger organisation is, inevitably, slightly more difficult.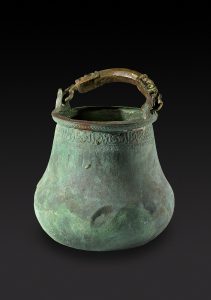 "But, at the same time, being part of a larger organisation gives one an immense amount of security and backing, which is positive."
Most of the people who have studied, lived or worked in Oxford have formed a very personal connection with the Ashmolean, Sturgis included, despite its scale and significance. Coming from a smaller museum, he was slightly surprised by the degree of attachment it inspires.
A Much Loved Museum
"It is a much loved museum. It was much loved by me before I arrived, and the thrill of taking it on is hard to overestimate.
"It's often been described as a collection of collections. It's got these pockets of huge significance and depth in terms of collections, but because the collection is so various, people have special relationships, often with particular parts of the museum. In some ways it feels like lots of small museums as well as being this one great institution."
Having joined the museum in the wake of its expansion, the changes Sturgis plans to implement will be, he hopes, more in the nature of an evolution than a revolution.
"There are areas that I do want to look at. We are a university museum, we should be the great teaching museum, the great research museum."
Technology, he says, is central to this vision.
Focus on Digital
"An area that we need to focus on in the coming years is digital. You cannot have a collection as important as ours and not make it accessible to as wide a number of people as possible; without digitising the collection effectively, both engagingly but also completely."
Sturgis admits that the all-consuming renovation project inevitably put this element of the museum's offering on the back burner:
"Because of the huge amount of work invested in the building, we are behind the curve on the digital side, " he says.
Technology Reassembles Scattered Collections
A key benefit of technology is that it enables scattered collections to be reconciled online, making them easier to study and appreciate in context:
"In the late 19th and early 20th century, the great age of excavations around the ancient world, if an excavation was funded by a number of different institutions, what was discovered would be divided between those institutions and the location of the find.
"Digitising allows one to reassemble those collections that are now scattered, and that's something that is absolutely happening.
Responding to the Needs of Individual Visitors
"The other area where that technology has huge potential, but I'm not sure that it's been realised anywhere in the way that those of us who work in museums dream about, is in interpreting the collections for visitors in ways that respond to the needs of individual visitors."
Nowadays, museum audiences are more diverse than ever, springing from a vast range of backgrounds and cultures. This makes it almost impossible to predict what cultural knowledge and experience they will bring with them.
"A generation ago, it was assumed that any visitor to a museum would know the stories from the Bible and the stories of Ancient Greece. That's simply not the case today, " says Sturgis.
"So, how do you provide that support which is going to be so different depending on who the visitor is? Digital technology suggests ways in which that might be achievable without plastering the gallery wall with labels explaining this and that which simply won't be used by most people.
"It's quite a big challenge to think how one actually manages to do that in a way that is easily navigable, engaging and responds to the needs of visitors, but certainly one can see that the technology might make that possible."
Sturgis is also clear that the Ashmolean must do more to communicate its relationship with the university to the wider world:
"Millions of tourists come to Oxford every year, and most of them are coming to see Oxford and its university. The museums are clearly the open doors to the university, yet at the moment it is perfectly possible to visit the museum and leave without being clear about that relationship."
The Contemporary Nature of Historic Objects
Sturgis is buoyed by the growing interest in museums with more people than ever passing through their doors.
"The great thing about museums and why, in fact, they are as popular as they are, is that they are actually here and now.
"The great excitement of seeing a 3000 year old cup dug up wherever is that one does have a sort of visceral response to the physical survivals of the ancient world. One can imagine holding the cup; it's a direct connection back to the past. Of course, everything within museums is a historic object, but because it's here, it's also a contemporary object."

While the job of a museum might in part be to make those connections for its visitors…
"…actually, any of the objects in museums do that automatically, " insists Sturgis. "The important thing is to take that moment, that excitement, and to encourage people to explore further and suggest ways in which that experience might be richer."
Connecting with a Wider Demographic
Could museums do more to widen the demographic of their visitors?
"Although museums have never been as popular, it is perfectly true that there are sections of society for whom museums don't feel as if they are for them.
"I think the Ashmolean does fantastically good work through its education and outreach departments and through events it puts on to try and break some of those barriers, to suggest that museums can be social spaces, that they are unthreatening, that there are different kinds of enjoyment to be had within them, but that's a constant challenge.
"One does it through programmes, different types of exhibitions, different types of public events, but also through community outreach, going out into hard-to-reach groups and working closely with them to bring them to the museum and to work with them within the museum."
According to Sturgis, schools are a critical entry point:
"That is where one can most effectively and simply bring people to museums from all areas of society."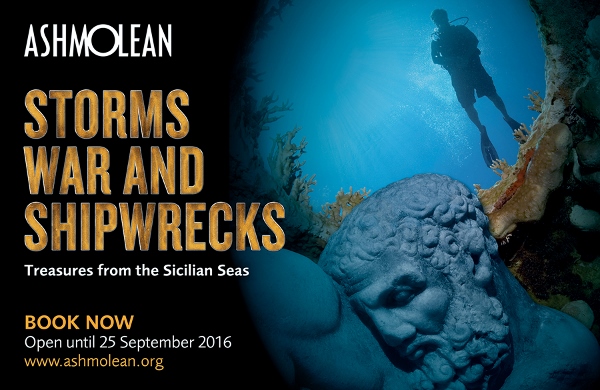 "Children are key, " he says. "I had my Damascene moment in a museum as a child. If you speak to almost anyone who works in a museum you will find that why they're here, why they're doing what they're doing is because they had some formative experience as a child in a museum."
Special exhibitions are another way of reaching new audiences. The Ashmolean's current exhibition celebrating the treasures of the Sicilian seas, Storms, Wars and Shipwrecks, has particular resonance in light of the current events in the Mediterranean.
"It's about this extraordinary island in the middle of the Mediterranean, and because it's told from things discovered under the water around it, it becomes an exhibition about trade, about warfare, about migration, about the connections and the influences of cultures on each other.
"This exhibition suggests and then demonstrates that these movements of people have been going back thousands of years."
The Key Functions of The Ashmolean Museum
The key functions of a museum in today's world are, he says, very much the same as they have always been:
"To help us all understand the world, understand who we are, and where we came from; to understand the commonality of human experience but also the variety of ways in which that's been expressed through time and across cultures.
"Enjoyment is the other thing, " he says.
"There is huge pleasure to be had from looking at extraordinary creations of humanity across time, and there's wonder, there's excitement, there's awe."
All images kind courtesy The Ashmolean Museum of Art and Archaeology.