The Minneapolis Institute of Art (Mia) has chosen David Chipperfield Architects to create its masterplan for the museum. The aim is to work on Mia's long-term strategy to enhance the visitor experience and to expand the public's access
to the art space as a community resource.
This is a time for expansion during which the Minnesota art gallery has seen tremendous growth in recent years. It has also seen record-breaking attendance. Fuelling this growth are the innovative exhibitions and accessible public programmes that have captivated audiences.
The pressing needs of the Minneapolis Institute of Art include improved parking facilities, additional art storage space and public gatherings. The master plan will also consider potential opportunities such as enhancing visitor circulation through the galleries and updating its auditorium and eateries.
Matthew Welch, Mia's deputy director and chief curator played a key role in pinpointing the museum's strategic vision.
"The present auditorium was really designed as a lecture hall. There is no backstage, so it's impossible for performances," Welch told Blooloop.
"Technologically it's completely outdated. We're looking forward to re-configuring that."
Welch currently administers eight curatorial departments. He is also overseeing an initiative to optimise visitors' experience through compelling, accessible narratives and welcoming in-gallery experiences.
A full-scope masterplan to marry the old and the new
The deputy director joined Minneapolis Institute of Art in 1990 as its curator of Japanese and Korean art. During his time as curator, he organised 11 exhibitions. He has authored six catalogues and contributed many essays to other publications. In 1998, he led an expansion of the display of Japanese art at the museum from two to nine galleries and then again in 2006, when the museum unveiled six additional galleries—making the Japanese art display at Mia one of the largest in the country.
Welch explained the reasons why David Chipperfield Architects was chosen. "Initially, we were looking for four elements. Firstly, the firm had experience in master planning, which we found was quite unusual. Many architects have worked on buildings but not full-scope masterplans which look far into the future – not just into the immediate future." Secondly, Chipperfield had a great deal of museum experience. "It's a pretty specialised industry and that learning curve is pretty steep," he said.
An important task for the architects is the ability to marry old and new. Mia has existing structures which need to be married together and complement each other. Chipperfield had experience with this, especially in their work with the Royal Academy in London. Last but not least, working in a cold climate and understanding the needs of this was vital.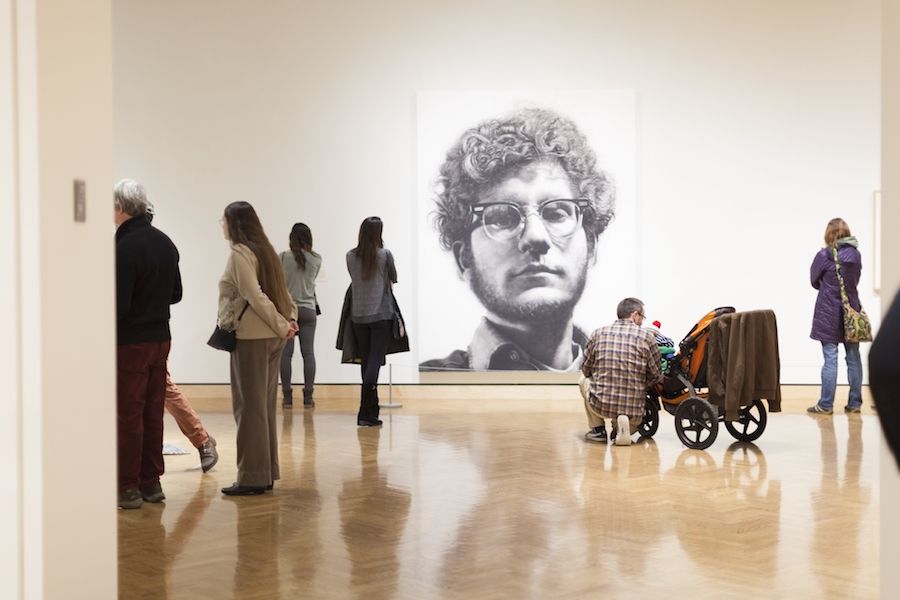 "It sounds like a small thing, but it's important," says Welch. With the exception of Alaska, (Minnesota is) the coldest state in the United States. Freezing winds sweep down from Canada, so it's not unusual to reach 30 degrees below in the winter. Visitors come to the gallery not just as a place to view art but also as a meeting place.
MIA attendance doubles in last 4 years
"Our most heavily trafficked time is in the winter months," says Welch. Going forward, the work with Chipperfield is seen as an opportunity to re-examine the museum and how it functions.
Welch says, "They are evolving as institutions. We are finding in our case that we need to be more responsive to the surrounding community – being friendly to visitors, rather than just playgrounds of the wealthy."
Mia is keen to position itself as not just a place that shows works of art. It also wants to be a place where the community feels comfortable to come together for various activities and events. Improving the layout of the building can really help with this, explains Welch. "We find the existing nature of the architecture is really hamstringing us. We don't have basic amenities that visitors are expecting these days – cafes, restaurants, gathering spaces, event spaces, learning spaces. These kinds of multi-functional spaces don't exist."
The deputy director is keen to capitalise on the continuing growth and popularity of the museum. "We have doubled our attendance over the last three or four years. Visitation has increased from 450,000 to almost 900,00 visitors per year. It is one of the largest art museums in the United States and is on a campus that covers nearly 8 acres. The collection comprises approximately 80,000 objects spanning 5,000 years of world history. It includes paintings, photographs, prints and drawings, textiles, architecture, and decorative arts.
The People's Museum of Minnesota
A key ingredient to their success was rebranding the museum, says Welch. "The campaign really emphasised that we are the people's museum. This is a collection owned by the people of Minnesota. So really encouraging them to enjoy these things and to come and spend time is key."
Education has always been an important aspect of the art institute. But Welch wanted to add a new value proposition. This was to provide a new take on classical art in a museum "where family and friends can enjoy the triumphs of human creativity."
New ways of appealing to a younger audience are also continuing apace at the gallery. Mia has its own media and technology department which produced programmes for in-gallery and online use. There are tethered iPads throughout the gallery and a mapping project where visitors can explore the collections. Use of new media has enhanced the ways in which the gallery's objects are seen.
"One fear was that people would spend all of their time with the technology, not look at the art. But we found exactly the opposite was true'" Welch says. "Particularly younger people who are comfortable with technology. They will explore online one of the in-gallery programmes. Then they quickly run off to find the object and look carefully at it. I think it's a wonderful thing."
Most important, says Welch, is to make the galleries more comfortable. In order to do this, comfy couches in the galleries have replaced the more traditional hardwood benches. "There's a change in people's perception of the institution. People with kids are coming and using the amenities. The target audience is not scholars but ordinary people."
All images credit Minneapolis Institute of Art