The Mack family has expanded its knowledge significantly in four decades of running Germany's Europa-Park. However, when it came to the most ambitious project in the history of the park – a second gate waterpark, Rulantica – Roland Mack turned to industry colleague and friend Chip Cleary to help him. Here they speak exclusively to Blooloop.
Unless you're lucky enough to be staying at the new Krønasår hotel, you'll need a shuttle
bus to reach Rulantica from Europa-Park. Construction is now in full swing on the 450,000 square metre project, set open in late 2019. The waterpark will feature 25 attractions and an elaborate Nordic theme. The indoor-outdoor project expands the footprint of the famous Germany theme park resort and takes it closer to the autobahn. And there is lots more land to develop. In total, the Mack family has a 45-hectare wide area to expand into towards the southeast of Rust near Freiburg.
Rulantica – the new Water World at Europa-Park represents the family's most ambitious project since the founding of the original park back in 1975. It is also one of the biggest individual investments ever by a private company in the Baden-Württemberg region. Some have called it Roland Mack's swansong. Yet the 68-year-old shows no sign of retiring any time soon. He is, however, ceding more control to his children. Since 2016, Michael and Thomas Mack have been Europa-Park managing directors, working alongside Roland and their uncle Jürgen Mack. Rulantica is also the first big project to feature input from their sister, certified architect Ann-Kathrin Mack.
Year-round water fun
The waterpark will feature eight themed areas. Open year-round, the approximately 32,600 sq m indoor area will be housed beneath a 20m-high, shell-shaped hall. This will be complemented by a 8,000 sq m outdoor area. A total of 17 waterslides are promised, together with Germany's largest wave pool, an outdoor pool and relaxing mystery river. Key vendors include Aquarena and ProSlide. There will be 2,500 deckchairs throughout the facility. Those in search of a more exclusive experience can rent a cabana. A family restaurant themed as a boat house will be complemented by a self-service restaurant, cafe and poolside bar. And of course there will be shops selling Rulantica and Europa-Park merchandise.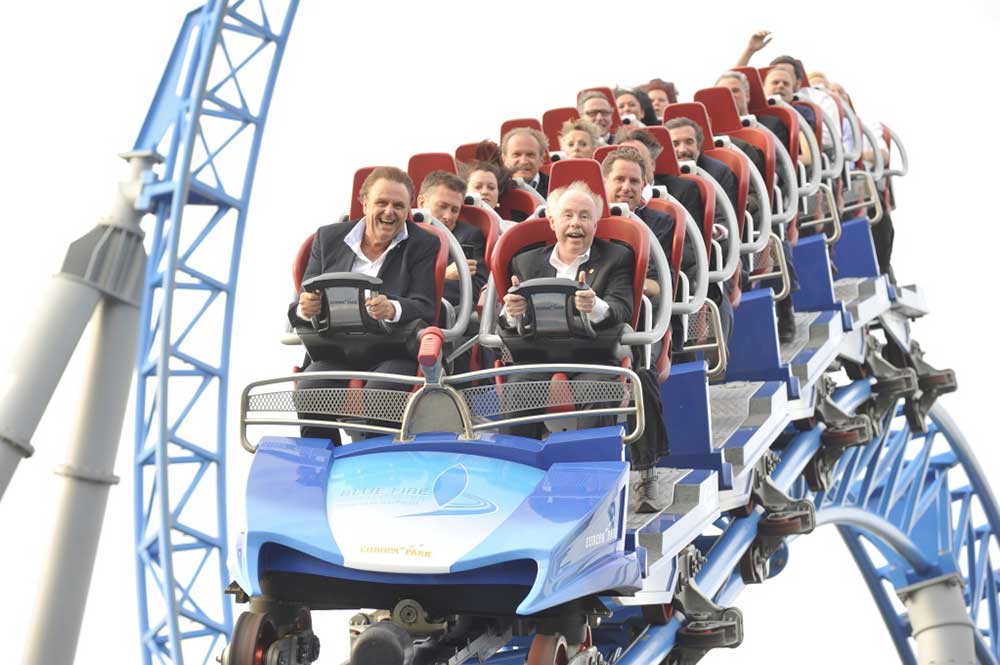 The Krønasår hotel, linked to the waterpark by a bridge, will be the sixth hotel at Europa-Park. Up to 1,300 guests will be able to enjoy 4* superior service, taking the total number of beds on site to 5,800. Themed as a natural history museum, the new property will feature 'artefacts' that tie back into Europa-Park's wider Adventure Club of Europe storyline. A total of 277 guest rooms will be complemented by 27 lovingly designed suites. There will be two restaurants, one of which will offer fine dining and a chef's table, plus a bar spanning two floors. Room bookings will be open from Summer 2018 onwards, ahead of a spring 2019 debut.
Working with friends and family
The waterpark and hotel are expected to add 550 new positions to the Europa-Park staff. As one of the most famous families in the theme park business, the Mack company likes to work with other family firms wherever it can. Helping to realise the Rulantica project will be the local construction firms Rendler Bau GmbH and Wilhelm Füssler Bau GmbH.
Roland Mack, who founded Europa-Park together with his late father Franz, today serves as its owner and managing partner, and still takes an interest in Mack Rides. The doctor of engineering is also a goodwill ambassador for families at the Council of Europe. Both Franz and Roland Mack are members of the IAAPA Hall of Fame. Roland and Chip Cleary are former chairmen of the board at IAAPA, where they struck up a great friendship.
Cleary, a senior consultant at Europa-Park since 2013, has also served as the association's president and CEO. In the early '90s he founded Splish Splash in Long Island, New York, one of America's largest and most successful waterparks. He later went on to serve as senior vice-president at Palace Entertainment. Here Roland looks back on his career and together with Chip discusses what lies in store at Rulantica.
Why did you choose a waterpark, as opposed to any other kind of attraction, as a second gate to Europa-Park?
Roland Mack (RM) – We did surveys some years ago, and the number one wish of our clientele was a waterpark, much more than a science centre, another amusement park or whatever. We have good weather here in the Black Forest but we can't work all year round. This waterpark will allow us to open 12 months a year. Together with the new hotel capacity, hopefully we will have a great business.
Will Rulantica really be your 'swansong'?
RM – The headline in one German newspaper was that this is my last big project. It is right that this is a big project. Maybe my role in other projects will be different to what it is now, but I hope this will not be the last big project I go with.
With Mack Rides we have a project for 2018 to change the Eurosat coaster in the French area of the park. It will be two types of coaster in one building, with a big improvement on the decoration. In the centre of the park we are planning a big rollercoaster in the next three to five years. So parallel to the development of the waterpark there is still development being seen in the main park.
With a family business you have to hand it over to the next generation. As long as I am fit I think I have a training role to play. As with an aircraft, you have a pilot and a co-pilot. I am now in the role of co-pilot. At the moment all three children are involved in the business. Ann-Kathrin is 10 years younger than Thomas. She started as an architect, she was in several departments and now she's in charge of the waterpark hotel. I think this is a great job for her.
With its Nordic theme, Rulantica continues the park's European tradition. Why did you choose Europe as the name/theme back in 1975?
RM – Europe was always going to be part of the name. First of all, we are located in a three country corner, at the border of Germany, Switzerland and France. Personally, I have been heavily involved in the European business for many years because we sold rides to France, Switzerland, Scandinavia and England, as well as the USA. I grew up with quite an international outlook and a belief in the European idea. At the age of 12, I remember participating in a painting contest between French and German schools. I was declared the winner in my age group and was invited to the European Council in Strasbourg to collect my prize. That brought me close to the European idea at an early age.
When it came to starting the park, everyone thought the European theme was too big for this small park that we were building at that time. But a lot has changed. Europe has got bigger and the borders are all gone, and now we are the biggest park in Germany and one of the biggest in Europe. The European idea really comes alive in our park. It is not just the name, it's also the atmosphere; the feeling of the park and the people in it.
Was it ever a difficult decision to decide between devoting your time to Europa-Park or Mack Rides?
RM – I was in charge of the business when my father left in the late 1980s. The daily operation of Mack Rides proved very difficult because there were big developments in the park in the time. We were trying to grow by building the hotels and new themed areas. At the same time, we were losing ride sales to the carnival people and had to change the production line to better focus on parks. Finally, I said I can only follow one daily operation, so I decided to take in a manager at Mack Rides and switched back to Europa-Park. But I am still involved in the money side and decision-making of the manufacturing business.
Europa-Park is really a showcase for Mack Rides. We meet all the clients in the park because we have everything there: the rides, the restaurants, the conference rooms, the hotels. And then we take them to the factory in Waldkirch to see the production. I think we are the only company with this combination worldwide. It's the USP of Europa-Park and the Mack family.
How daunting was it gaining experience in new areas like hotels and waterparks?
RM – Everything was a new area when we went into it. The plan originally with the park was to just build the rides and operate them. But you can't run a theme park without restaurants. There's a saying that you should only do in you life what you know about. So we tried to find someone who knew the food business, but the guy died three months ahead of opening. We couldn't find anyone else so we had to do it on our own, it was the same with the merchandise and souvenir business.
Twenty years later, we wanted to open our first hotel but couldn't find anyone that would take the risk. We did that on our own, and kept learning. Now everything is under one umbrella and the decisions are much quicker and easier.
With the waterpark we have had to understand another new industry. But once we decided this was the direction we wanted to go, we went straight ahead, took the risk and spent the money.
How do you keep the family spirit alive when the business is now so big?
RM – By being involved in all details. The kids grew up in the park so they had a quite close relationship with the business from the very beginning. We lived in the castle on the edge of the park. After school, on vacation, every day and night they were in the park. Usually if parents tell their kids they should do this or that they say no. But when you grow up with something like this park, which is a special business, it is hard to imagine that you might do something else when you grow up.
It was the same with me as a kid. When I looked out of my window, I could see all the rides set up and being tested for the carnival people. I was the test pilot as a kid and all my friends came with me sitting on the rides. When my father came out of the business, I felt that for my personal development I should go and study engineering. It was not my father's decision, but it was the right decision.
Who do you most admire in the industry? (living or otherwise)
RM – I admired my father. He was a guy who was always taking risks, but I had always the feeling that if he did something he would be successful. I really appreciated that and it took me a long time to realise that I could follow in his big footsteps.
There is always admiration for somebody like Walt Disney because he put a lot into this industry. I still admire the development of Disney theme parks as family places. My father always said that if we build a park it must be a family park because there are very few places where the family can go and enjoy time together.
I think Greg Hale has done a lot of good things in his career. You find in our industry mostly business people, designers, creative guys, but Greg showed that engineers can also be creative. He has done a great job at Disney and for the safety of the industry.
There are other great people I remember. Geoffrey Thompson and Bo Kintorph were great guys and good friends; it was not only a business relationship. That is the nice thing about our industry, we have business issues to talk about but you soon become friends. People in the business are normally people who like people, they are emotional and open, and I love those people.
Why did you decide to work with Chip Cleary in a professional capacity at Europa-Park?
RM – Because he couldn't find any jobs no more! I'm joking, actually we have been friends for many years. We got to know each other when we were on the board of directors at IAAPA. There had been a lot of talking, talk about his future and what he would do when he was no longer involved in the daily business of running the association. Chip is a very educated person, not only about the industry in general but in particular waterparks. When we decided to build a second park with water, the idea of working together was born.
Chip Cleary (CC) – I have always had a love of Germany. Thirty years ago I had German partners, so used to visit a lot. I was really impressed with my first visit to Europa-Park all those years ago. My sister lived for nine or 10 years in Switzerland and speaks Swiss Deutsch. I'm also a fan of model trains, and Germany was the model train capital of the world! The original call from Roland was "Chip, why don't you come over for four months and we can talk about the waterpark?" Four years later, I'm still here.
What have you learned during the development of Rulantica?
RM – Chip soon learnt that everything takes longer in Germany. It took a long time to get all the permissions for the waterpark.
CC – One of the beauties of having a long submit process is that you have time to think. When you are building something like this, you only have one shot at it. Originally we were thinking should we try to build a bigger hall. After much conversation and strong involvment from the [Mack family] children, we came to the conclusion that we won't necessarily be the biggest when we open, but we want to be the best. That was a big day, when we decided let's go for a hotel and a phase I waterpark, learn a little bit, then do phase II, phase III etc.
What qualities does Chip bring to the team?
RM – Chip's character is very much focused on detail. If any of us were to look back at this project, I think it would scare us. There's so much more to it than you could ever imagine. But Chip just jumps in. If he gets a problem he solve its, if there is another problem he solves it.
CC – When I got involved with this project, I didn't want to come here as an American that knows it all. I wanted to come here with a toolbox of what I've learned but then surround myself with European colleagues who know what Europeans want and expect. We will have a really good blend of history and technology from the North American parks; that's where the industry started. But I think what we are creating will probably be the most story-driven indoor waterpark ever built. From the hotel to the lake out front, and then coming into the building, that story is going to be everywhere.
RM – Chip is so right. You can't turn everything upside down, but if you just copy from somewhere else and ignore the local culture you will not be a success.
How did you choose the waterpark vendors?
CC – Again, it was very much a case of combining what we have in Europe with the best from elsewhere. We have a German vendor, Aquarena, which is providing some attractions and also engineering support. ProSlide from Canada is supplying some big attractions. There are two or three other vendors; it's an international team. The project has its roots with PGAV Destinations from St Louis, which did some of the masterplan and design work.
What sort of attractions can we expect?
CC – We have one ride that has never been done before in the waterpark industry. It's a very interesting family attraction. Also I can promise you that our lazy river will be one of the most immersive lazy rivers I have ever seen or been involved in. We are going to be telling an ambitious story.
Which other waterparks and attractions did you visit for inspiration?
CC – The Mack family has a right to be boastful. It has 237 years' history in this business, with the eight generation working and the ninth generation in strollers. But we want to be humble about this thing. Our team visited 26 other places in Europe, about 15 big places in the United States, plus some in other regions of the world. We went to a lot of places. We saw things we liked, we saw things we would never do.
I remember this one place where there was a guy who was very excited to meet Mr Mack and show us his creation. And his 'creation' was that he had copied something exactly from Europa-Park. Right down to the very last detail; it was like we had walked into Europa-Park! I don't think I will ever forget that, we were very confused as to why we were there, but Roland was very gracious to the guy.
It was a long year of visiting places and documenting what we saw, but it certainly gave us a good perspective on what's happening both indoor and outdoor in this industry.
What impact do you expect Rulantica to have on the industry in Europe?
RM – We spent a long time getting the right mix with this project. If you are too big you will never make money, but if you are too small the public will not show up. I think we have come to a solution which balances both things and allows us to grow. But it's really not easy. We have already seen others, like Liseberg, coming to us, looking at our plans and asking questions. I think what we are doing will open a lot of doors for others in this business. They will learn with Europa-Park, and we will learn also.
CC – I think the biggest thing you can expect here is Mack quality. We will be true to the history of the Mack company. And ready to open at the end of 2019 hopefully. We have learned a lot, and we are going to learn a lot more in the first year. We have plans underway for many more phases. When Europa-Park opened, Roland's father put a sign at the entrance that said over the next several years this park will double in size and become the most amazing park in the world. I wish we could find that sign. I would put it outside the waterpark and say that was 1975, here we are in 2019 and we are going to do the same thing all over again.
RM – What is completely different this time is that when we started Europa-Park we didn't have the land. It was quite complicated trying to cater to the demand of the visitors. You can never have too much space, and now we have the land to grow over the next 10, 15, 20 years. It will not just be the waterpark, we also want to expand our overall offer so that people will want to stay more than one night.
You are already in a strong area for tourism?
RM – When we started the park, everyone thought Rust was the wrong place because we had no big city around us. But now I think the location is much better than anyone thought. We are between two strong tourist areas, the Black Forest and Alsace-Lorraine. With the most sunny hours in Germany, we are the only theme park for Switzerland. We cannot afford to standstill if we want to remain attractive to guests who are travelling from further afield. I think there is a big expectation from people already coming to the park. They are very much used to our quality and what we have offered them over the years. We don't want to disappoint our guests.
Images courtesy of Europa-park.