Businesses from all sectors have been expanding into the growing Chinese market. These range from football teams and car manufacturers to fast food and jewellery labels. But it is not only big businesses that are after a slice of the pie. Many leading western museums are also growing their brands in China.
China's middle class is growing fast. It has the potential to be one of the most powerful demographics in the world. A study by consulting firm McKinsey & Company found that over 75 percent of China's urban population will be middle class by 2022; that is a whole lot of spending power.
Western museum brands in china
It is no wonder that many big western brands are growing their brands in China. In recent years, some of the western world's biggest museums have also been expanding in this way. But what benefit does this have for the museums?
By launching projects in China, museums can promote cultural ties. It also gives them a chance to increase brand awareness. They have an opportunity to appeal to a new audience of potential visitors. These are people who are likely to spend money on merchandise.
They also might visit the institutions in person while taking an overseas trip. Both of these are positive outcomes for the museums involved. Some of the world's most famous museums have recently been working on projects in China. Here are some interesting examples.
The National Gallery, London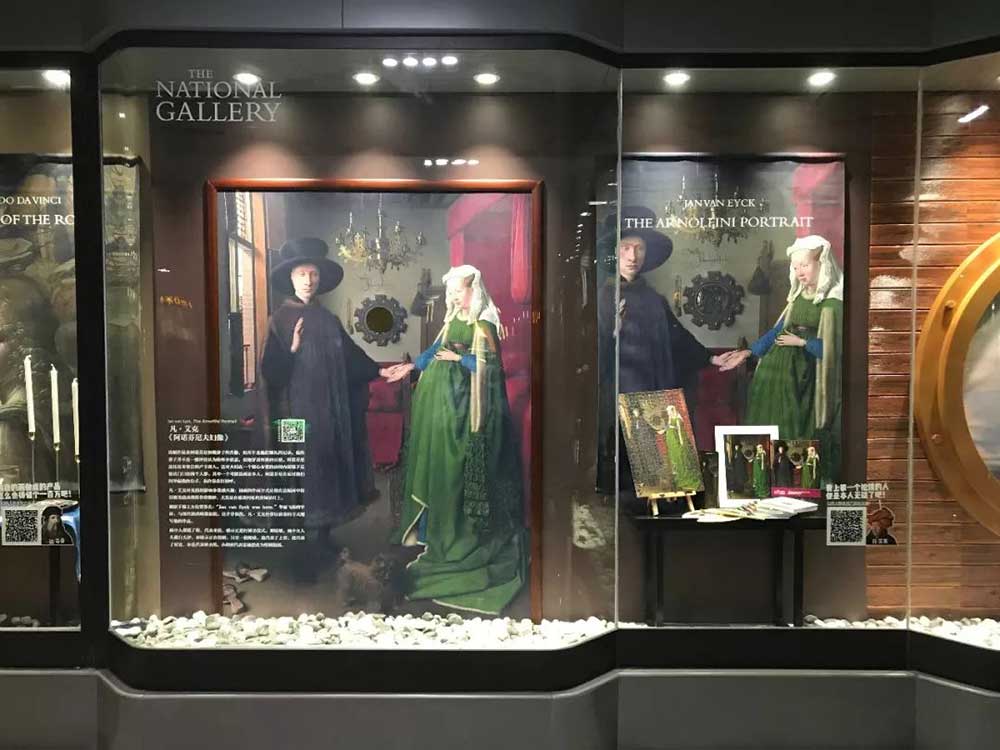 The National Gallery has run several projects and pop-ups in China. It has developed a five-year plan to engage with the Chinese market. The campaign began with a subway takeover in June 2018 at Shanghai metro station. It also launched a pop-up gallery featuring some of the world's most well-known paintings.
The location of this installation helped to reach a large audience. Over 200,000 people use the Shanghai metro station every day. Around six million commuters observed the National Gallery brand during the 30-day campaign.
Judith Mather is the Buying and Merchandising Director at the National Gallery Company. She called the project, "a great step in our international strategic ambition."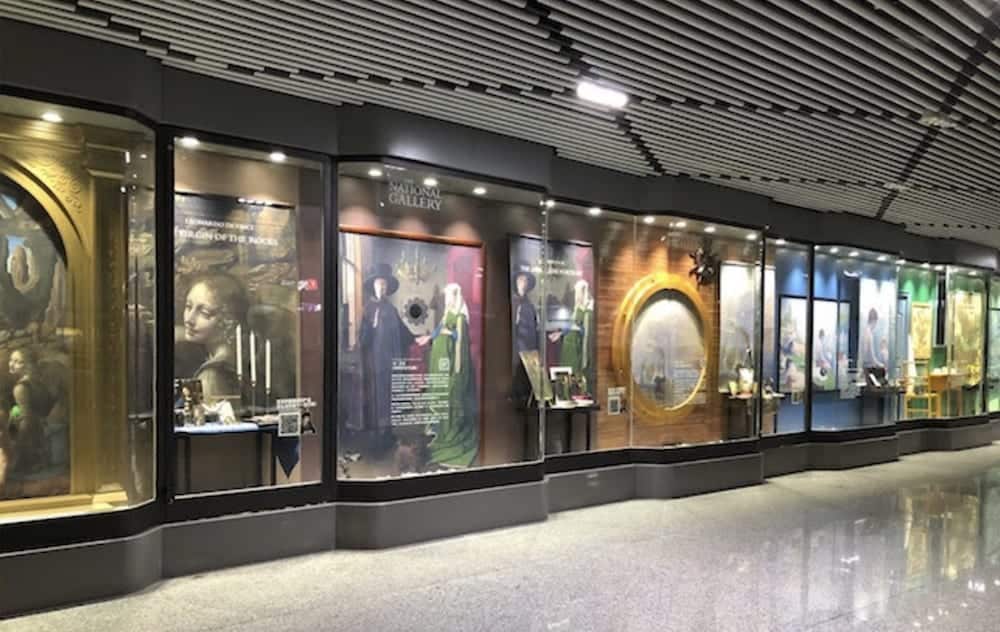 The exhibition contained information about the artwork alongside QR codes. These allowed people to buy souvenirs and branded merchandise right from their phones. Commemorative metro tickets were also issued. All this meant that the National Gallery made quite an entrance in China.
An interactive pop-up store
Hot on the heels of this project came an interactive pop-up store in Guangzhou. Gallery displays took over 200 sq. metres of the Grandview mall. Visitors were able to view replicas of famous paintings. The exhibition showcased well-known artists such as Monet, Da Vinci and Raphael.
Like the subway installation, visitors were able to buy National Gallery merchandise. They were also encouraged to take pictures and share on social media. 150,000 people visited the exhibition.
These projects enabled the National Gallery to create more brand impressions. It hopes to make itself more well-known in this market. The aim is to increase the number of Chinese visitors to the museum in London to one million. In addition to this, it will also be generating more income. This is through merchandise sales on the online retail platform TMall.
The British Museum, London
The National Gallery was not the first to branch out into the Chinese retail sector via TMall. The British Museum opened its online store on the platform in July 2018. Some items sold out within days, and the store was almost out of stock by the end of the first month.
Western museums growing their brand in China should take note from this example. Souvenirs are big business. The store sells a range of objects from keyrings and mobile phone cases to notebooks and mugs. The products echo some of the most popular collections from the museum. Designs include Egyptian figures and hieroglyphs. One single day during the launch month saw visitor numbers topping 30,000.
Like the National Gallery, The British Museum hopes this will expand brand awareness. It intends to attract more Chinese visitors to the museum back in the UK, as well as generating income.
Craig Bendle, the museum's merchandising and licensing manager, said "The British Museum is a museum of the world, for the world." In his view, this programme provides a unique opportunity to share the museum. The museum has also partnered with Chinese institutions before. In 2017 it opened an exhibition in the Shanghai Museum called 'The British Museum: A History of the World in 100 Objects'. This highlighted some key pieces from the museum's collection.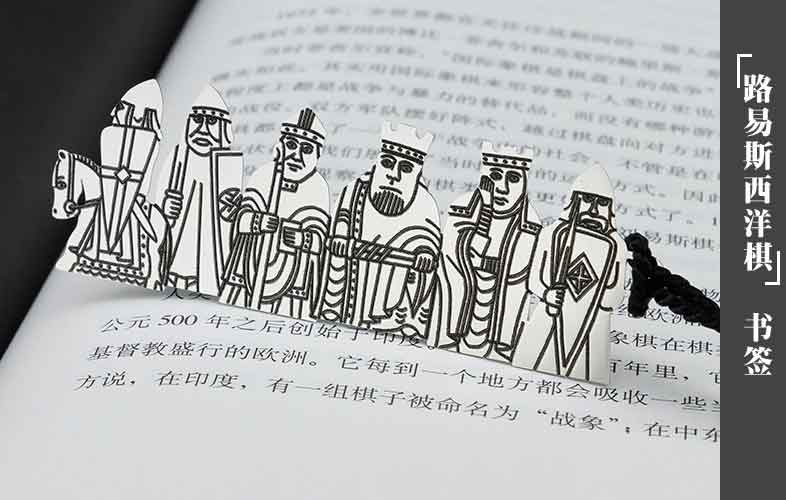 The Pompidou Centre, Paris
The Pompidou Centre signed a deal with a Shanghai museum in 2017. The Chinese outpost of the Pompidou is set to open in a wing of the West Bund Art Museum in 2019. The Paris gallery holds the world's second biggest collection of modern art. It plans to show 20 exhibitions over five years in its new location.
Although the negotiations lasted over a decade, both partners are positive about the deal. The Pompidou hailed it, "the most important long-term cultural exchange project" between France and China. This shows how important it views this section of the market.
In 2016 it staged its first show in China called 'Masterpieces from the Centre Pompidou 1906-77'. The installation featured work by Picasso, Duchamp and other well-known artists. It took place at the Shanghai Exhibition Centre.
The Pompidou Centre might be the latest French museum to reach out to Chinese markets, but it is not the first. Even The Louvre, the world's most visited museum, has been touting for Chinese custom. In 2017 the museum ran a touring exhibition in China.
Titled 'Inventing le Louvre: From Palace to Museum over 800 Years', the installation visited the Hong Kong Heritage Museum. It also ran at the National Museum of China in Beijing. This campaign highlights how important Chinese visitors are to the Paris museum.
Pascal Torres, Chief Curator of the Louvre's department of interpretation and cultural programming said, "The most important visitors of (any) foreign country are Chinese."
Science North, Ontario
As well as growing their brand, some western museums are working together with Chinese institutions. These collaborations are creating exciting new projects. Science North is Canada's second largest science centre. It signed an agreement with Grandview Enterprise in 2017.
It will help create a new science attraction in Guangzhou. The museum has a huge amount of knowledge in the field of science education. It has agreed to contribute this expertise to the project.
They signed the agreement during the Guangzhou International Shopping Festival. The festival theme was 'Creating a World Class Tourist City'. It focused on Canadian collaboration. Guangzhou wishes to foster cultural awareness, exchange, and sensitivity with Canada. The aim is to promote commercial prosperity and tourism between both regions.
By providing their expertise, Science North are establishing themselves as a global authority. The collaboration could also generate interest in the museum amongst Chinese visitors.
Eleanor McMahon was Ontario's Minister of Tourism, Culture and Sport at the time. Speaking about the agreement, she said, "This is a wonderful way to establish collaborative relationships, explore new frontiers and offer unique exhibitions for residents and visitors alike."
The Eden Project, Cornwall
In 2015 the Eden Project announced their first collaboration outside of the UK. They signed a deal with China Jinmao Holdings. Together they will establish a £150m ($208m) tourism and education centre.
The location for the new venture is the city of Qingdao. The city is halfway between Shanghai and Beijing and is home to almost nine million people. The Eden Project aims to create an iconic tourist attraction. It also wants to establish an educational centre which demonstrates the benefits of sustainability. It will build on an environmentally damaged site.
The location was previously used for salt production and prawn farming. In 2018 an announcement revealed that plans for the centre will focus on the theme of water. It will include the world's highest indoor waterfall. The feature will be more than 50 metres high. This is roughly the same height as the world-famous Niagara Falls in the USA/Canada.
Tim Smit, Co-Founder of the Eden Project said the new location in China could be recognisable all over the world. He aims to "build on 4,000 years of Chinese relations with the environment and Eden's fresh approach to education." The Eden project is committed to expansion into Chinese markets. It is currently working on four projects in the country, including one in Beijing's Sheng Lu Vineyard.

Is the trend for western museums growing their brand in China set to continue?
The growth of China's economy has begun to slow. However, the popularity of taking a foreign holiday shows little sign of stopping. In 2017, 88.9 million Chinese residents made overseas trips.
According to Britain's national tourism agency, China ranks number one for international tourism expenditure. This demographic has money to spend and is willing to travel to do so.
Western museums are striving to appeal to a share of these visitors by growing their brands. Projects such as those described above may give them a head start in reaching this audience. They do not want to wait for potential visitors to research destinations.
Instead, they have aimed to make their brands recognisable on this market's home turf. People are more likely to include a museum on their itinerary if they already have knowledge of the brand.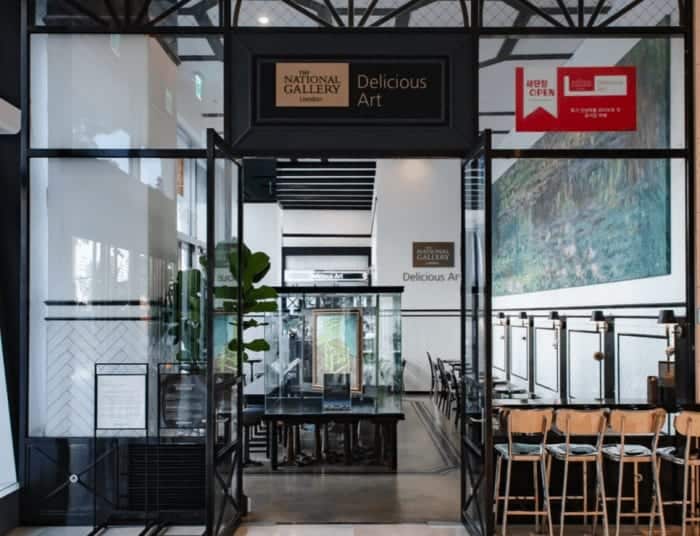 What does the future hold for western museums in China?
Technology is likely to play a key part in further projects and campaigns. For example, France is the second most popular country for Chinese tourists after the USA. It's no surprise that French museums want to attract a slice of this large and lucrative audience.
Consequently, many French institutions have been using WeChat and Weibo accounts for some time. Using Chinese social media platforms enables museums to connect with potential visitors. Social media is a useful tool for museums who are growing their brand.
Many other western museums have followed suit and are establishing a presence on WeChat. It's likely that future efforts to reach Chinese markets will focus on technology. Museums will need to keep up with new ways of communicating with this audience. For example, MoMA launched an interactive advent calendar in 2018 using WeChat.
Some museums are also expanding into neighbouring Asian countries with fast-growing economies. The National Gallery is hoping to replicate its success in China. It has planned a series of projects in South Korea. This includes a café in Seoul branded to its Delicious Art IP, which opened in 2019.
There are also many more projects in the pipeline. The Rodin Museum in Paris is looking to find a sister site in China. The Centre Pompidou Shanghai is set to open later this year and the China Eden project intends to open in 2020. It is certain to be an exciting few years for western museums who are growing their brand in China.