Al-Tayeb Abbas, Assistant Minister for Archaeological Affairs at GEM, confirmed that 98 percent of construction work on engineering facilities has been finalised.
Abbas revealed the construction news during an interview with Egyptian satellite channel Extra News (via Egypt Independent).
GEM's construction has taken eight years so far, with the opening delayed several times. It was pushed back from late 2020 to 2021 following the outbreak of COVID-19.
Abbas also said that artefacts are set to be placed within the Tutankhamun galleries, which include a replica of his tomb. Tutankhamun's outer coffin and two inner coffins will be on display.
World's largest archaeological museum
The museum, which covers a vast space of 490,000 square metres, has been designed by Dublin-based architects Heneghan Peng.
It will feature panoramic views of the pyramids of Giza, and the biggest artefact will be a huge statue of Ramses the Great. The grand staircase will boast 87 statues of pharaohs and Egyptian gods.
The collection will be comprised of approximately 100,000 objects, including all 5,600 objects from the tomb of King Tutankhamun.
The Grand Egyptian Museum will be the world's largest archaeological museum. It will house 28 shops, ten restaurants, a conference centre and a cinema.
Museum scheduled to open in 2021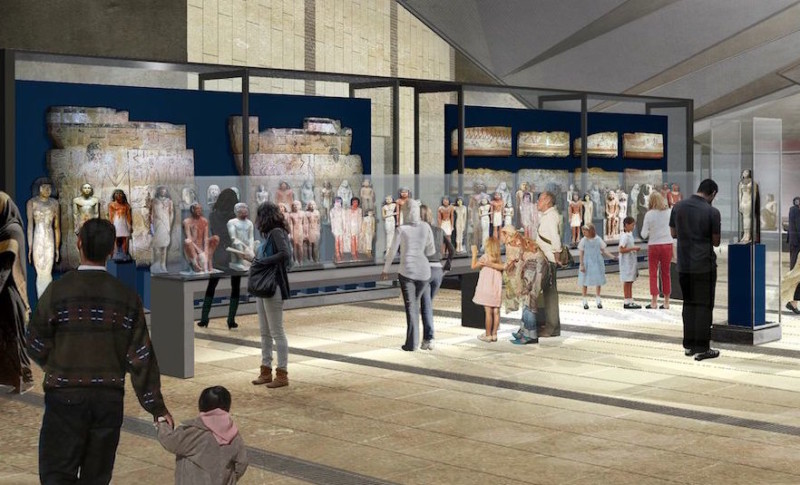 It was revealed last summer that museum was on track to finish in 2020 as it was "96.5 percent" complete. The opening of GEM is scheduled for 2021.
Elsewhere, Saudi Arabia has opened a new museum dedicated to the Prophet, located near the Prophet's Mosque in the Al Madinah Province of the Kingdom.
The opening ceremony was attended by the Governor of Madinah, Shehzada Faisal bin Salman. He said the museum is the first of many similar offerings in Islamic countries.