The landmark bequest will establish an acquisitions fund for the Metropolitan Museum of Art, alongside several endowment funds for the Department of Asian Art.
The gift comes from museum trustee Florence Irving and her late husband Herbert Irving (right).  It represents the largest financial gift the popular New York City museum has received in recent history.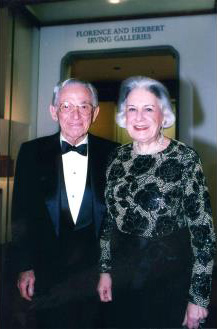 Although the Irving's bequest will support general acquisitions, it will focus in particular on acquisitions, exhibitions, and publications of the arts of China, Japan, Korea, Southeast Asia, South Asia, and the Himalayas.  The Irvings collected art in the fields of Chinese Decorative Arts and Indian and Southeast Asian Art, so these will be a particular focus.
An endowment will also support the Florence and Herbert Irving Galleries for South and Southeast Asian Art. These were named by the Irvings in 1994.
The Irvings have been landmark benefactors of the Metropolitan Museum of Art for 30 years.  The museum designated the Florence and Herbert Irving Asian Wing in 2004 in recognition of their generosity.
The Met Museum, the Irving family and New York
Daniel H. Weiss is President and CEO of The Met. He says, "The Irvings have been inspirational donors in building the museum's collections and galleries of Asian Art since 1987. This additional gift is truly transformative for The Met. It will ensure that the legacy of scholarship, programming, and collection-building they have been so instrumental in building will continue to thrive.  We are profoundly grateful to the Irvings for their tremendous generosity and vision."
The Irvings spent more than 50 years avidly collecting Asian art.  In 2015, they donated more than 1,200 works of art to the Met Museum.
Numerous galleries bear their names in recognition of their support. In 2011 the couple endowed the position of the Florence and Herbert Irving Curator of the Arts of South and Southeast Asia. This position is currently held by John Guy.
As Blooloop recently reported, the museum won TripAdvisor Travelers' Choice® awards for three years in a row.
News of the gift is one of two announcements made concerning the Irving family's philanthropy. The family also announced a joint bequest of $700 million to Columbia University and NewYork-Presbyterian for cancer research and care. When added to previous gifts, this brings the Irving family's total support for these three iconic New York City institutions to over $1 billion.