Mad Systems Inc., the award-winning audiovisual and interactive system designer and integrator, is marking Earth Day by highlighting the importance of one of our most precious resources, and one which covers 71% of the planet: water.
One Southern California community now has the opportunity to learn more about this resource through a new exhibition at the LEED Platinum-certified Albert Robles Center for Water Recycling and Environmental Learning (ARC).
Southern Los Angeles County is home to four million residents, and the need for fresh water far exceeds nature's ability to replenish groundwater. The district's reliance on imported water was ended in 2019 with ARC's opening, the pinnacle of nearly two decades of efforts by the Water Replenishment District of Southern California (WRD).
The achievements of this facility are explored in its adjoined Learning Center designed by Mad Systems.
Leading by example in sustainability education
ARC is the only water education centre in LA county that focuses on groundwater management and recycled water, and it features Mad Systems' QuickSilver® solution.
Through over 45 immersive exhibits, ARC delivers a fully digitalized educational experience with QuickSilver's dynamic, projected graphics. The only printed media in the learning centre is the wallpaper, creating a space tailored to modern audiences whose smart devices are central to their daily lives.
Every aspect of ARC's five-acre site has been designed to show the importance of resource conservation. The ARC facility is LEED Certified Platinum for efficiencies in energy, water, and waste – the highest rating available from the Green Building Council.
Solar panels power the entirety of the education centre making ARC a truly sustainable model for education and building. The learning centre runs wireless QuickSilver on a commercial-grade wifi network, which significantly reduced the amount of cabling and conduit needed to wire the exhibits.
Additional benefits of QuickSilver exhibits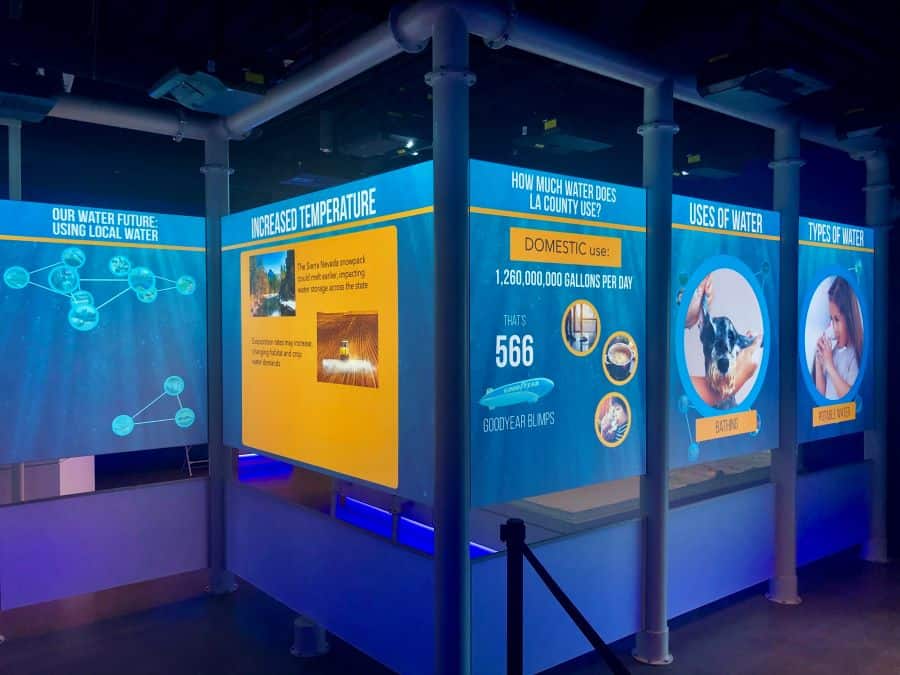 The QuickSilver system was designed by Mad Systems to give exhibit spaces flexibility over time and to provide a more sustainable audiovisual solution where content and even AV equipment can easily be updated. Projected graphics can be replaced more easily than printed signage, which increases the longevity of ARC's exhibit space.
QuickSilver uses non-proprietary hardware so that equipment can be replaced as needed. ARC has the opportunity to adapt beyond the lifespan of any media or hardware contained in its exhibit space.
The technology's interchangeable media allows docents in the ARC learning centre to change seamlessly between Spanish and English content. That means visitors don't have to see all the extra translations they would on fixed graphics, and a clean visual aesthetic can be maintained.
The system is also pre-configured to adjust content based on ADA needs – meaning a visitor could see a display in high contrast, or hear an exhibit with amplified volume, or lower touch buttons to make taller interactives wheelchair accessible. The system is also pre-configured to work with one of Mad Systems' patented recognition based media delivery systems, such as facial, colour, or license plate recognition.
Earlier this month, the company announced that QuickSilver can function both with wired infrastructure or as a wireless solution.