Mad Systems Inc., the award-winning audiovisual and interactive system designer and integrator, is working to make maintenance contracts obsolete, thanks to its unique QuickSilver® technology.
Most AV systems need to continue running day in, day out. This means that, when a problem occurs, it is vital that it is detected and fixed as soon as possible. Traditionally, this would result in an ongoing charge for the operator in the form of a maintenance contract, where the system is monitored in a remote facility, usually manually.
New self-monitoring, self-reporting solution
However, Mad Systems has been working on making that a thing of the past:
"We are proud to announce an option for an autonomous monitoring system," says Mad Systems' founder, Maris Ensing. "QuickSilver now incorporates a self-monitoring, self-reporting option. Of course, the monitoring screen still displays the status of each exhibit: all devices that can be monitored are monitored for presence, and on the screen, this will result in a green indicator, as this image shows."
A red indicator will show if a problem is found. For instance, in this mock-up image, a red indicator is showing that the "Iron Player" has an issue.
The end of monitoring contracts
Information is continuously extracted from all the devices that make up the AV system. Depending on the device this may include the presence, temperature, fan speed, processor loading, available free memory and, in the case of interactives and other computer-based devices, even the software that is consuming most processor resources.
This means that if an application has crashed, or another process has taken prominence, this information also is available and can be acted on. When the monitoring system notices a problem, a message is sent to the Mad Systems team, as well as to the client, so that immediate action can be taken to correct it.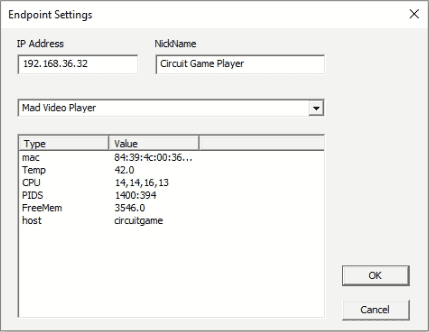 "This self-monitoring option no longer requires a remote control room, and it no longer requires someone to physically keep an eye on things," adds Ensing. "In the spirit of Mad's work over the past 20+ years, this means that no ongoing maintenance contract will be required, resulting in a system that will monitor itself and warn whoever needs to know when an issue is found.
"The next step will be to attempt at an automatic correction where it is possible to do so – another step forward!"
Mad Systems Inc. recently celebrated the opening of Crayola IDEAworks: The Creativity Exhibition at its world premiere location, the Franklin Institute in Philadelphia. This is the first travelling exhibit to use Mad Systems' QuickSilver solution, making exhibition operations easier.
Header image: Jekyll Island