Even before the global coronavirus pandemic, the use of cash has steadily been declining. As attractions prepare to reopen, we know that using contactless payments will be key to keeping guests safe, but what are the other benefits of cashless technology?
It's clear that the use of cashless technology across the world is on the rise. And in a post-COVID-19 world, cashless solutions will be more important than ever. As attractions turn to cashless technology and contactless payments to safeguard visitors from the spread of the virus, what other benefits can these solutions bring?
The world of attractions and family entertainment has undoubtedly been hit hard by COVID-19 and the resulting closures. But cashless solutions and more specifically contactless payment could spearhead the road to recovery, says Renee Welsh, CEO of Embed, a leading worldwide supplier of point-of-sale and revenue management systems.
"A new type of customer will emerge from this pandemic. After a long-lockdown period, the surge of consumers will emerge and only go to businesses they perceive as safe (businesses that have taken steps to mitigate risk and have pervasively communicated the measures they are taking to provide safe, clean fun). Consumers will be more conscious of hygiene, price and social distancing than ever before."
"It is unmistakable that people don't want to touch cash, coins, papers or anything that transmits viruses."
We spoke to some of Embed's clients to find out how the company's integrated cashless solutions are changing the game. We also took a closer look at the company's COVID-19 Relief Act and their recently announced COVID-19 Resource Center.
Benefits of contactless payments
1. More hygienic
The pandemic means that hygiene is the number one concern on everyone's minds. Attractions of all types are bringing in new safety measures to prevent the virus from spreading. For example, stricter cleaning protocols and guest screening. And one of the simplest ways they can do this is to opt for contactless mobile payments.
The World Health Organisation (WHO) is advising the public to wash their hands after handling money, to help stop the spread of the virus; some governments outlawed the usage of paper currency and credit card swipe machines, only allowing contactless payments. And many shops and businesses are requesting that customers pay by contactless card only to minimise human interaction.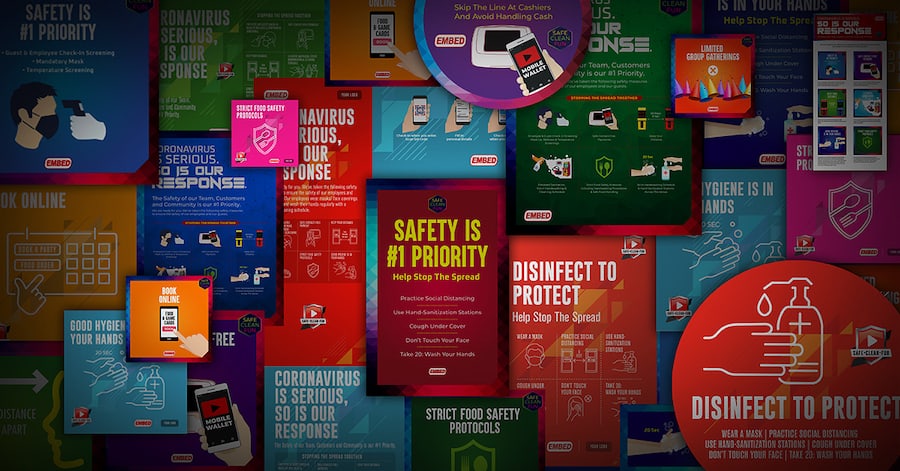 "A simple Google search will confirm the universal fact that the rise of mobile payments using the mobile phone wallet is an immutable force. It is the purest and safest form of contact-virus-free payments," says Welsh.
"The Embed Mobile Wallet solution is the only FEC business solution certified by Google Pay and Apple Wallet. It's the only non-finance or loyalty card that sits in the mobile wallet. It's a virtual game card. And we are giving it away to everyone for free simply because it is what the industry needs most! The mobile encryption technology ensures secure payments for the operator and their customers. Safe and secure –  nothing beats that!"
While many FECs and entertainment venues are currently closed, using contactless technology will help make them safer places once they reopen.
2. More efficient
FACE Amusement, which operates a variety of venues in the US, uses Embed to provide cashless technology:
"Guests love it because they don't have to use cash for games," says Rusty Mabe, VP of Customer Experience at FACE Amusement. "And we love it because of the automated reports we receive daily. It means that we are able to be more efficient in labour and operations at each of our locations."
3. Increases profitability
Following the loss of revenue while closed during the pandemic, FECs will need to do everything they can to increase profit in order to recover from the impact. A key benefit of cashless technology is that it can help operators to increase their revenue.
"We've seen time and time again, around the world: FECs open and close due to the virus," says Welsh. "When they open, they are 95% below last year's revenue. Embed wants to help them accelerate their recovery."
Cashless solutions offer a simple way to boost revenue, as Midwest Coin found out. The operator saw a big increase in revenue after installing Embed's cashless solutions. By getting rid of cash and tokens, Midwest Coin no longer had to pay for costly service calls due to coin jams and ticket machine malfunctions.
Another reason why the company's profits went up was the ability to accept payment by credit card through the emONE kiosk.
"It was phenomenal how much credit card use went up [with the kiosk] over a token changer that accepted credit cards," said Chip O'Hara, Owner of Midwest Coin Concepts. In fact, after installing Embed's solutions into small game rooms, Midwest Coin saw a 600% increase in credit card usage and a 40% increase in overall gross year-on-year.
"We installed the emONE into our unattended hotel game room areas and have seen a substantial increase in non-cash revenues, an overall increase in revenues, cannibalization of service calls and optimised guest experience," said O'Hara.
4. More environmentally friendly
It seems we are all trying to live a greener, more sustainable life these days. For many, the virus has brought this goal into sharper focus, and one of the benefits of contactless payment is that it can help operators to achieve this.
For example, Embed allows operators to swap plastic or card tokens with virtual game credit that sits in the Mobile Wallet. When everything is virtual, there is no waste. One operator who has seen this first-hand is Shaffer Entertainment, a company which runs FECs, cinemas, bowling centres and more across the US.
"One of the things the locations were nervous about was that FEC visitors were used to using tickets and tokens and making the switch to [an arcade cashless system] would be difficult," said Andy Shaffer, President of Shaffer Entertainment.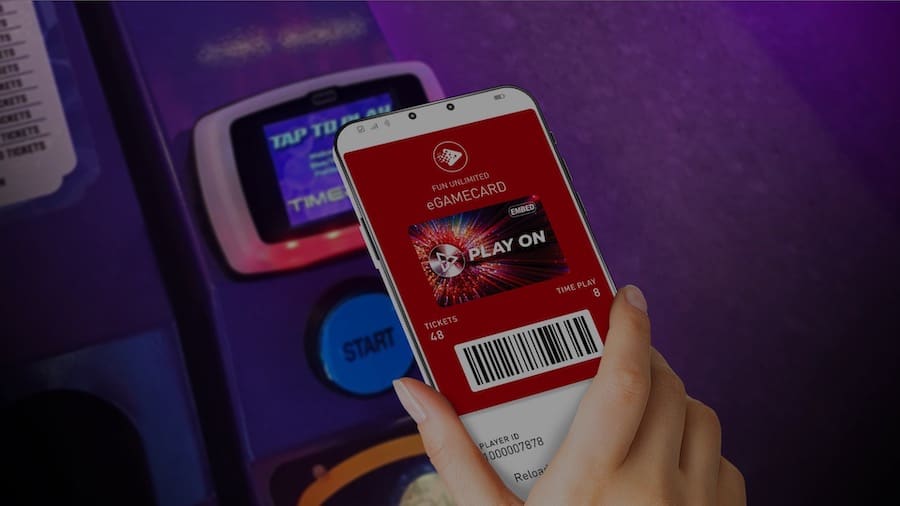 One of the ways that the centres promoted the new system to customers was by talking about the greener benefits. The operators spread the message that their locations were now environmentally friendly by removing wasteful paper tickets
"The promotion minimized potential frustration guests visiting these locations might experience," said Shaffer. "They thought the go-green promotion was cool, so no one argued against us being environmentally conscious."
5. More secure
One of the reasons that Shaffer Entertainment chose to install the Embed system was to eliminate any accounting security risks. The software they implemented enables clear business visibility, tracking and reporting.
The Mobile Wallet provides a secure and seamless way for guests to pay for their experiences. This is a virtual game card that guests can add to the Apple Wallet or Google Pay. It allows them to seamlessly carry on gaming without downloading an app, finding a kiosk to check their balance or fiddling with cash, and they can reload from anywhere, anytime, without waiting in line.
It is also a highly secure way of paying, as advanced security and encrypted mobile technology protect the customer's information. There is also no need to worry about losing game cards, and no risk for operators. Following the coronavirus pandemic, guests will be more aware of risks and will appreciate measures that operators take to keep them safe.
Key benefits of contactless payments
As we head into a post-COVID-19 world, it is clear that contactless payment has a range of benefits, both from the point of view of the operator and the guest, as seen in other industries that have seen contactless payments skyrocket.
For guests, not only is it the most hygienic option, but cashless technology also makes their experience easier and more enjoyable, as well as protecting them by being secure and reliable.
Meanwhile, operators can also reap the rewards, such as increased operational efficiency, increased profits and better accuracy. Guests will reward businesses that show they are putting customer safety first, through repeat visits and by telling their friends and family.
As we head into a post-COVID-19 world, it is clear that contactless payment has a range of benefits, both from the point of view of the operator and the guest
Contactless payment is a key step in the transformation of the FEC industry, both at this moment of crisis and as we head into the future. Embed's Chief Marketing Officer, Sara Paz says, "We are committed to the transformation and the evolution of this industry. Because it results in everyone winning – the operator and their guests. And when the operator thrives, we thrive."
How Embed is helping operators to recover
"Since March, Embed declared its commitment to doing everything within its means to support our customers, partners and the industry's recovery," says Welsh. "We are a small company weathering this storm too. And we believe our actions speak louder than words."
To this end, the company announced its COVID-19 Relief Act. It includes a year's free access to its award-winning Mobile Wallet as well as an online COVID-19 Resource Centre. Here, operators can find robust creative toolkits to help them successfully launch the Mobile Wallet and run their reopening campaigns. There are also free resources and a downloadable Insights Paper.
In addition to this, they can access EmbedLIVE which features insights from industry experts, alongside blog content written by the team. Best of all, they don't even have to be an Embed customer.
"I am focused on being in a position where we can work through this together and make sure we can support each other out of it," concludes Renee Welsh. "Currently we are moving away from "firefighting" and towards Embed's COVID-19 Survival Plan.
"This is a living, breathing, short term plan and has the goal of allowing us to thrive, not just survive, through this pandemic. I am extremely confident that our industry has the ability to overcome this pandemic and make a strong comeback."