Andy Welsh is the Chief Technology Officer at Embed, a leading worldwide supplier of point-of-sale and revenue management systems, where he is working to transform the family entertainment industry. Most recently, he is responsible for trailblazing the FEC-first Mobile Wallet, Embed's ground-breaking new virtual game card.
He was also recently recognised in the 2019 CIO50 Awards, a list of the top technology professionals in the ASEAN region. Blooloop spoke to Andy Welsh about his journey so far, his work with Embed, the Mobile Wallet and where he sees the industry going in the future.
Early career
Welsh attended Jakarta International School in Indonesia. He then moved to the UK to study at the University of Greenwich. He graduated with a bachelor's degree in Resource Management. Following this, he went on to have a varied career in the field of software development.
Andy Welsh has a strong background in software development. One of his earliest projects involved pioneering an early 90's migration of university research into an online system. He then moved on to projects in a diverse range of fields.
This includes being part of the team that helped develop housing valuation systems used daily by four major Australian banks. Welsh also worked on the development of software that powers a leading car parts system in the U.S.
Andy Welsh and Booking Boss
In 2012, along with his wife Renee, Andy Welsh co-founded Booking Boss. This a powerful ticketing and booking management platform dedicated to attractions, tours and entertainment industries.
Booking Boss centralises ticketing and booking operations, providing a streamlined experience for both consumers and the Attractions industry. It allows operators to manage ticket sales centrally, resulting in fewer queues, increased profit margins and an improved guest experience.
Renee Welsh has a great deal of experience in the online tourism industry. This led her to observe that too many tourism businesses were still working from diaries and spreadsheets. Andy and Renee created Booking Boss in order to help assist these companies in making the transition to online sales and to help them create a more enjoyable ticketing experience for their customers.
Booking Boss won Best Software Product of the Year in the Australian Business Awards 2014. It also won Silver at the NSW Tourism Awards 2016. Since then, Booking Boss has grown into a 20-strong team. The company prides itself on hiring tourism professionals with a genuine understanding of its client needs.
The transition to Embed
Booking Boss was acquired by global organisation Helix Leisure in 2017.
Soon after, Andy Welsh joined Embed, a worldwide leader in cashless business management systems and solutions for the amusement, entertainment and leisure industries. Embed also operates under the Helix Leisure umbrella. While he initially worked as Head of Cloud Development, he was quickly promoted to Chief Technology Officer.
His move to the role to CTO came at the same time as a raft of new appointments, as CEO Renee Welsh established a new executive team and marked a new chapter in the company's growth. This also included the appointment of Sara Paz as Chief Marketing Officer and Michael Lopez as Chief Experience Officer.
"I'm proud of the team that I've recruited and assembled," said Renee Welsh at the time of the new appointments.
"Embed is a balanced mix of people who embody deep industry entertainment business knowledge and experience, and high-tech professionals with experience transforming companies and industries. They not only epitomize Embed's values but bring the experience to reimagine, reinvigorate and transform the business of fun."
Transforming the business of fun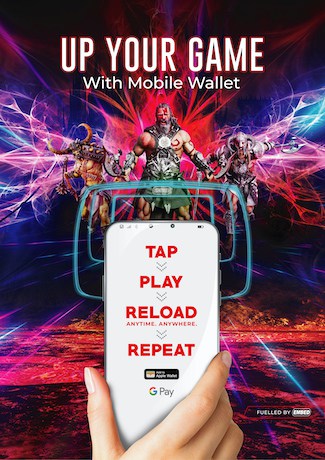 Since joining Embed, Andy Welsh has worked hard to update some of the ways in which the company works.
Previously, the average time to deliver software to customers was around 12 months. However, thanks to Welsh, the company is now able to deliver both on-premises updates and cloud migrations to clients, within days of delivering new features. This was achieved through the reorganisation of teams and the realignment of priorities, as well as a whole new business strategy.
One of the key drivers behind this change was the need to understand the complete customer journey, and to understand what guests want.
"This was a real shift in mentality," he says. "Our team has been B2B for 18 years. And then to actually put themselves into the guests' shoes and see it from a guest perspective, their minds were blown. I really applaud the team for getting to that level."
He also championed a move away from the company's hardware-centric origins towards a more cloud-centric, digital organisation.
Andy Welsh and the Mobile Wallet
In 2019, Embed launched an innovative new product, the Mobile Wallet. This is a virtual game card that guests can add to the Apple Wallet or Google Pay. It allows them to seamlessly continue their gaming session, by simply tapping and reloading their game cards.
Thanks to the Mobile Wallet, guests can enjoy the fun without having to leave the game to top up. In addition to this, it also means that operators can get insights into their guest's behaviour and their spending habits.
During the development phase, the Mobile Wallet project was top-secret while in development. Embed worked with a big name in the FEC world, alongside Google and Apple to ensure there was compliance approval for its smartTOUCH readers.
"This Mobile Wallet is a result of a collaborative effort with our partners and customers (the Operators, Apple and Google)," says Andy Welsh.
"We listen and work very closely with our clients, drawing inspiration from other industries, monitoring technological advancement and closely research consumer behaviour to deliver this end-result, and ultimately enabling business owners to increase profitability."
A new experience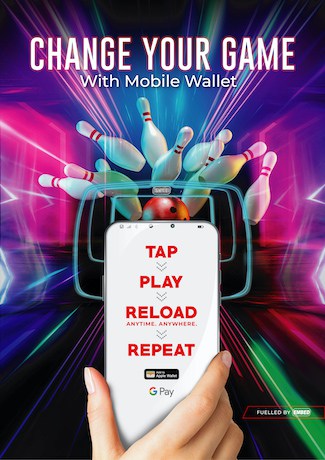 The Mobile Wallet is a real big break for our industry," says Andy Welsh. "For us, it is the first time that our industry is moving along with the titans. For example, Apple and Google. And we are really leveraging this to make something special."
"It's very different from traditional offerings, where you have an app, you download the app, you register on the app, you put your credit card on the app, and then you can use it. That traditional funnel is expensive, it's a crowded market and it's very difficult to make an impact.
"The Mobile Wallet cuts through all of that very simply. You just put your card in the wallet and use the wallet as your main point of contact with the system.
"When we spoke to a lot of our customers, there was obviously this need. We are an economy that is based on self-serve. However, there were just these blocks, and if you take a look at the apps that some other companies in the industry make, the uptake hasn't been that great. We realised that what people have to go through to actually use these was way too complicated."
The 2019 ASEAN CIO50 Awards
At the end of 2019, Embed announced that Andy Welsh had been recognised in the first CIO50. This is a list of ASEAN's 50 most innovative technology leaders. Organised in association with IBM, this recognises the most successful and influential CIOs, CTOs and CDOs in the region.
Welsh came in at number eight on the list. In fact, he was ahead of executives from some of the world's most well-known brands. For example, Dyson, Air Asia and BP. The judges took into account two core strengths when compiling the list: business innovation and leadership.
"This recognition is a validation of a year's hard work," says Andy Welsh on the award. "When it comes to technology innovation, Embed draws inspiration from emerging technology in hyper-competitive industries, keeping a finger on the pulse of emerging consumer trends and consumer behaviour.
"Embed is dedicated to supporting the operators of the future. As Innovators in this category, we partner with amazing partners (operators and tech players) who have a long-term view and shared commitment to the evolution of our industry.
Piloting new technology
"After piloting new technology with our partners, we've built the start of an amazing guest experience; a big paradigm shift for Embed," says Welsh. "We've worked hard on creating an agile system that supports ongoing refinement based on usage data, ensuring our solution only gets better and better."
"We take the business of fun seriously. In fact, no one takes the business of fun more seriously than we do. We put people at the centre of everything we do and how we do it. Our 'Customer First' approach focuses on solutions that enable the optimum guest experience. This results in increased revenue, reduced costs and bigger profits for the operator."
Andy Welsh and the future of the entertainment industry
Embed's mission is to transform the business of fun. It prides itself in putting the customer experience at the heart of everything it does. As the company looks to the future, Andy Welsh reflects on where the industry might be headed next.
"The FEC industry is starting to become much more complicated," he says. "For instance, you have laser tag, escape rooms, video games. All of these things have different management styles and different customer experiences."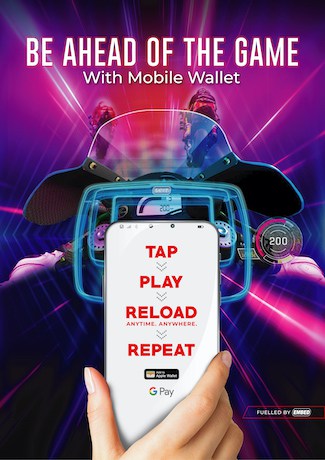 "But the amount of content that FEC's generate is amazing. Take a look at any kind of thing that has a booking. You're looking at an exchange of data every three seconds. For example, a booking is changed or cancelled, or someone makes a booking online.
"For our guys on the ground, our operators, to actually turn that into something that is useful, and helps them to engage with the customer? Well, that's where the trends are."
"With partners like Amazon, Google and Apple, and working with leading brands in the FEC space, our brainstorming sessions leverage next-generation industry technology from industries that are hyper-competitive and fast-paced," says Andy Welsh.
"The mobile wallet is only the beginning for the FEC industry. The current work we are doing in our tech lab with these partners is cutting-edge and next-generation. It is purely focused on the 'FEC of the Future' and it is crazy-cool… stay tuned!"