Cod Steaks, an award-winning Bristol-based creative design and build team, developed and built all the courses and the show lighting at the new Pop Golf. Located at BOXPARK Wembley, the novel social play experience for crazy golfers and pop music fans alike opened May 2021.
Pop Golf was created by Allan Saud and Smith & Devil.
Storytelling in space
With a well-appointed sound system and 9 themed holes, Pop Golf is a carefully themed venue with a future-focus. "Our mission with Pop Golf was to create a rich experience that tells a story," says Allan Saud, Owner.
"This is not just another standard crazy golf course; this is a celebration of music. From the design to the innovative and sustainable drinks menu, to the team behind it and the brands we're partnering with, pop music has led the way."
Also the Founder of Mighty Adventures, Saud says he wants guests to "have an awesome time and leave feeling that music has the power to change the world!" What's more, award-winning designers—Zachary Pulman Design Studio—delineated the vision for the course. The design team set out with the intention of creating a cool-looking and fun yet challenging indoor course.
Of course, sound was very important, too. Reactive audio technology adds dimension to gameplay, however, the "sound lounge" area provides a high-quality audio experience in between rounds.
Discussing the concept, Alex Lewis of Smith & Devil said, "We were asked to create something that does crazy golf differently. When a client like Allan has the ambition to give you that creative freedom, it's amazing what you can do. Usually, experience concepts start with big ideas and get pared back, but with concept, design and build working so closely together right from the get-go we were able to deliver our vision as it was intended to be. 
"Pop Golf lets you play in iconic music videos. The tone of voice behaves like a pop blog, and the visual identity stems from the landscape of 21st Century pop.
"The result is a purpose-built for social sharing brand and an experience that evolves in tandem with the sound, personality and values of today. Not to mention an unforgettable social experience, after all, it only takes one fabulous pop song to bring back a million memories."
Celebration of music
"In designing Pop Golf, we aimed to create fully immersive gameplay in a crazy golf venue that feels as if you're moving between dramatically different pop music worlds," says Zachary Pulman of Zachary Pulman Design Studio. "We had alot of fun dedicating each hole to a sub-genre covering everything from 80s neon boombox nostalgia, to analog music tech and equalizers, to pop-star excess!
"When we started the project eight months ago we were faced with some of the most bold, exciting, innovative and eccentric designs we have ever seen come off a drawing board," says Mark Pyrah of Cod Steaks Ltd.
Pyrah says that "we have had to replicate the design whilst adhering to the concept in its fullness and at the same time create a playable golf course! We had to research a huge arsenal of materials, finishes, lighting effects to faithfully replicate this incredible design and I am delighted with the outcome—a huge team effort!"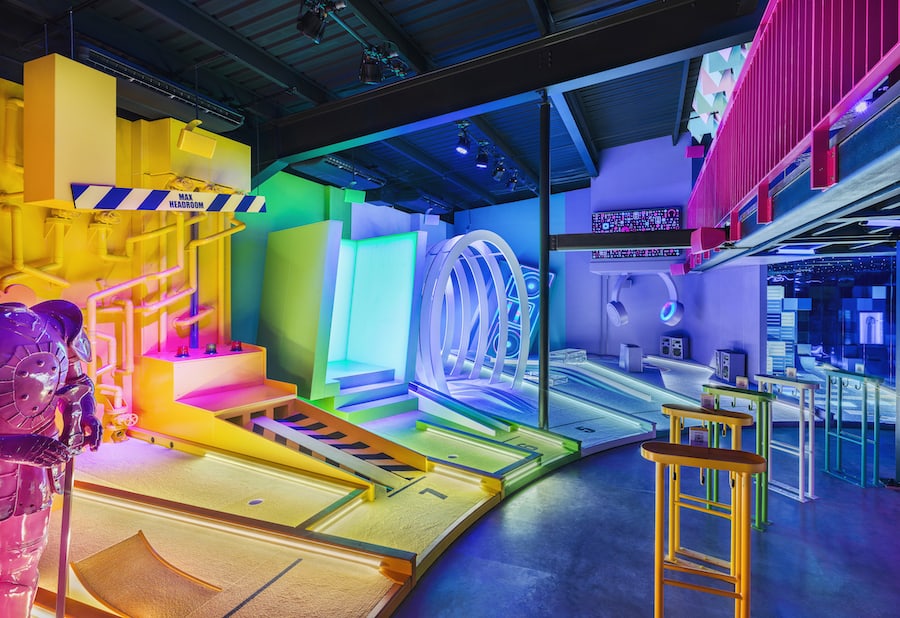 Pulman explains that the end result was a collaborative process. "Constant dialogue with the whole team resulted in a truly collaborative process from concept to creation. The process was time-intensive, but we think the final result reflects this comprehensive and nurtured approach.
"What's great about working with Cod Steaks Ltd is they're very hands-on, in dealing with the people actually making it, the venue is beautiful and durable. It's amazing to see the end result so close to the visuals."
The venue's design certainly owes its inspiration to recognizable pop promos through the years. From cassette tapes and boomboxes, to a set inspired by Drake's "Hotline Bling" video, each hole is especially different.
Cod Steaks recently worked with Yorkshire Wildlife Park to create Evolution, a brand-new themed restaurant and bar at the Yorkshire Hive.