Embed, a leading worldwide supplier of point-of-sale and revenue management systems, will be demonstrating new innovations at Amusement Expo International 2020.
Embed is pleased to announce that it is exhibiting at Amusement Expo International 2020, which takes place in New Orleans, Louisiana, from 9 – 11 March. The team will be highlighting a range of new products and services.
The Mobile Wallet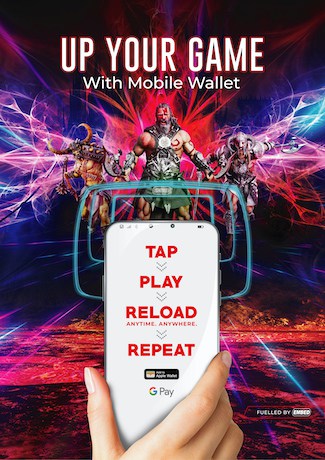 One key product on show is the Mobile Wallet, a next-generation cashless solution that the company launched at IAAPA Expo 2019 in Orlando to much acclaim. Embed is the first-to-market with the Mobile Wallet, which allows guests to add a virtual game card to their mobile wallet and continue to play seamlessly, without downloading an app or having to queue at a kiosk.
Embed partnered with Google and Apple on this innovative solution, in order to gain compliance approval for Embed's readers.
RFID wearables
Attendees will also be able to visit Embed's #BLING bar at the show, where they will discover the company's new range of wearable media. This includes more than 200 different designs to cater to every consumer demographic and amusement category, with different textiles and themes. These reimagined game cards drive return visits and encourage customer loyalty.
"This is beyond great designs on two-dimensional game cards," says Rob Thompson, Chief Supply Chain Officer in Manufacturing & Supply Chain. "We are working in 3D! These cards include embossed graphics, printed in full colour on a shimmering metallic base; unlike anything in the category now. Matte embossed game cards. The collection even includes an eco-friendly natural and organic wooden card series."
Integrated solutions
TOOLKIT is an all-in-one engine that provides operators with a complete integrated solution, allowing them to benefit from improved operational efficiency, reduced costs and increased profitability. It includes a simple interface that is easy to use, meaning operators can focus on running their business.
Embed has also partnered with OpenEdge, in order to provide a safe, secure and reliable payment solution.
"OpenEdge ensures our operators can access a central system for secure, reliable payment solutions through all aspects of our Toolkit and Kiosk solutions which means reconciling daily payments is easy because all payments are recorded directly in the software, making end-of-day reporting a breeze," says Renee Welsh, CEO, Solutions Group, Embed.
OpenEdge will be giving demos at the Embed booth and offering a free Ingencio device when customers sign up with OpenEdge for payment solutions with Embed's platform.
The Embed team is looking forward to welcoming visitors to booth #406.
The company also recently attended SEA 2020, where the Mobile Wallet was positively received and Welsh presented a session at the SEA Summit entitled "The FEC of the Future."