Embed is pleased to welcome Bell Casino AB as its latest partner. Bell Casino AB operates casinos in restaurants and amusement parks in Sweden. It also operates maritime casinos on cruise ships in Northern Europe. The company has been in operation since 1979.
Thanks to Embed, Bell Casino's cruise ships now operate a cashless integrated software and hardware solution platform. This allows the company to both increase its revenue and provide an improved experience for its guests. Having the solution on its point-of-sale and self-service kiosks means that Bell Casino can take advantage of real-time reporting and automated scheduling, accessible from many venues.
Embed's solutions make it simple to create attractive offers and to upsell packages, in order to drive revenue. The award-winning SmartTOUCH by Embed is the most advanced game card reader, meaning that for guests, fun is just a tap away.
Transforming the business of fun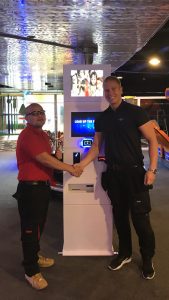 "We're extremely happy to welcome Bell Casino AB to the Embed family," says Rosa Tahmaseb, Managing Director of Embed EMEA. "Winning this business widens our presence in Europe and transforms the business of fun by delivering a superior guest experience to this fantastic entertainment and leisure site."
The company also recently announced that an impressive new line-up of sales professionals has joined the team, marking a new chapter for Embed. It welcomed several new faces to the sales team in the first of a series of announcements regarding professional appointments.
Embed is dedicated to growing its global presence and has announced several appearances at trade shows and events for the second half of 2019. The company is looking forward to showcasing its cashless business management solutions around the world this year.