Australian software company, Euclideon Entertainment, has turned a futuristic gaming concept into reality with its Hologram Gaming Table.
Once the dream of sci-fi movie-makers, the Hologram Gaming Table generates objects out of light that appear to float in front of players in mid-air.
As soon as a game is selected, the table 'vanishes' and the objects come to life. The holograms appear on each user's side of the table. They are projected up to 70cm above the table and up to 100cm below the table.
The arcade table features Euclideon's advanced motion tracking technology, and employs the company's real-time 3D algorithm that bends the light to the user's perspective. It is this combination of technologies that allows the player to view the holograms as solid objects floating in the air.
To add to the immersive experience, the interior floor vibrates with music and game sound effects.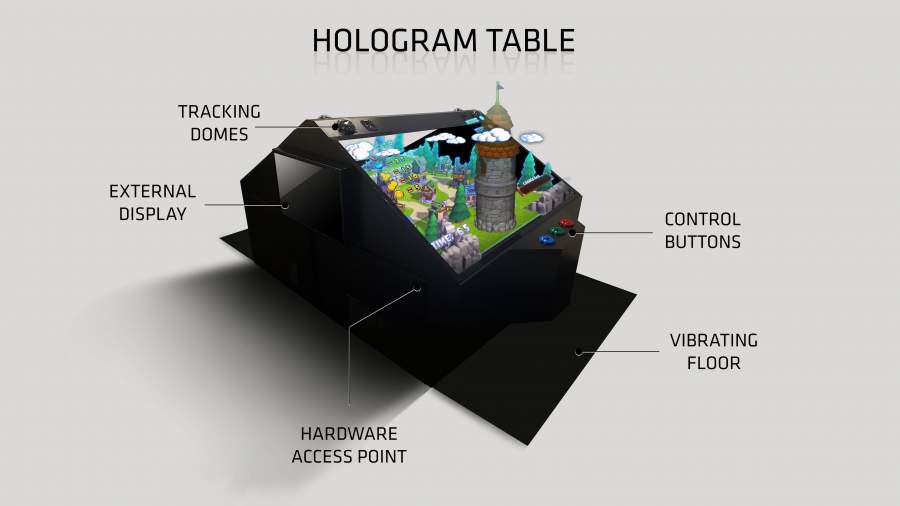 See Hologram Arcade Table at IAAPA Expo
Designed for two players, games currently available for the tables include Aerial Assault, Hungry Crocodiles and Catapults and Castles. In Aerial Assault, planes appear to fly around in the air shooting at each other. Hungry Crocodiles features holographic fish that jump out at the players. In Catapults and Castles, players interact with a little holographic model village.
According to Euclideon, the company's development team is currently creating a number of new games for the Hologram Arcade Tables. By December, it expects to have 12 games to choose from.
The company advises that the tables need to be situated in a dark booth or box as the holograms fade in the light.
Each Hologram Arcade Table has the following footprint:
Length: 13.1 feet / 4 metres
Width: 6.6 feet / 2 metres
Height: 6.9 feet / 2.1 metres
Euclideon will be exhibiting the new Hologram Arcade Table at Booth E7145 at the 2018 IAAPA Expo in Orlando, from 13th – 16th November.